The Checkout: Albertsons Moves Plated to Private Label, Honest Tea Co-Founder to Focus on Beyond Meat
Welcome to The Checkout: an express lane for weekly news you need to know, always 10 items or less.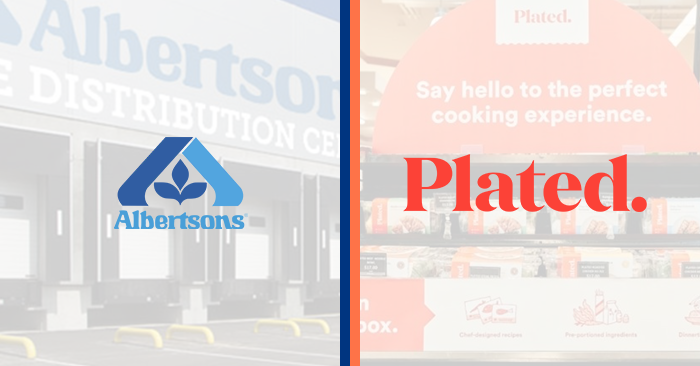 Albertsons Moves Plated to Private Label
Retailer Albertsons Companies is reworking dinnertime. Albertsons is shifting meal kit brand Plated, which it acquired in 2017, from a subscription-based model to offering products in-store under its private label imprint, Own Brands. Plated will move its resources to Albertsons and end its subscription service at the end of this month, with plans to launch more products in Albertsons' stores in 2020.
"Our vision for Plated includes an expanded set of products that goes far beyond a dinner-based solution and into a comprehensive in-house culinary brand," said Geoff White, Albertsons' EVP and chief merchandising officer. "We see Plated solving customer demands around convenience, lifestyle, and cooking experience, while adding yet another layer of interest to our in-store journey."
Aside from adding Plated products to store shelves two years ago, the purchase by Albertsons also provided more resources for Plated deliveries, as meal kits were starting to face challenges in transporting fresh food quickly. Meal kit brand Chef'd adapted a similar strategy, selling in retailers like Gelsons, Costco and Walgreens before ceasing operations in 2018.
To help continue Plated via private label, Albertsons' marketing and product development team will manage the transition, having previously helped grow existing brands O Organics, Lucerne, Signature Select, and Signature Café, along with launching 1,100 new Own Brands items last year. Albertsons owns 20 banners including Vons, Star Market and Safeway, and after testing Plated meal kits at Northern California-based Safeway stores, found the items were especially popular with families.
"Plated's brand appeals to our most loyal and highest value customers, especially those that skew towards convenient, fresh, and organic products," White noted.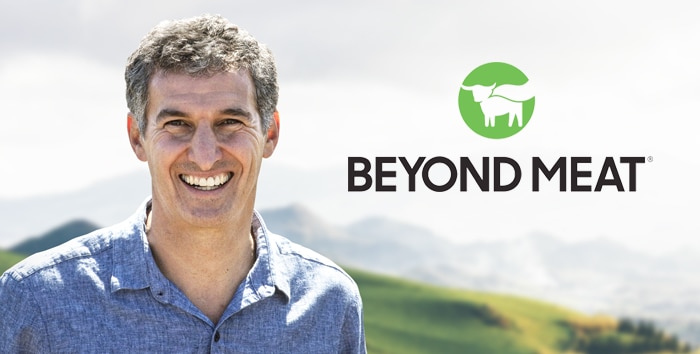 Seth Goldman Leaves Honest Tea to Focus on Beyond Meat
Ready-to-drink tea brand Honest Tea's co-founder and president, Seth Goldman, will leave the company to focus on his role as Executive Chair of plant-based meat brand Beyond Meat.
After launching Honest Tea in 17 Whole Foods stores in 1998, the tea brand is now carried in over 140,000 stores, with Goldman noting in a statement Thursday the brand is like his "fourth offspring." In addition, since 2015 Goldman has served as Executive Chair of Beyond Meat, helping the brand "grapple with the wonderful challenge of hyper-growth, while innovating and improving [its] products," he said.
As for evolving Beyond Meat, Goldman noted he's inspired by the brand's ethos, including its environmental and health impact, but will give CEO Ethan Brown "the room and reins to run the business" while serving as his partner.
But not everyone is seeing a lasting impact: Beyond Meat CFO Mark Nelson was the latest of the brand's executives to sell his company shares; selling 70,000 for $5.7 million this week, while last week chief people officer Cari Soto sold 10,000 shares for $824,471, according to regulatory filings. Chief growth officer Charles Muth also sold 50,000 shares.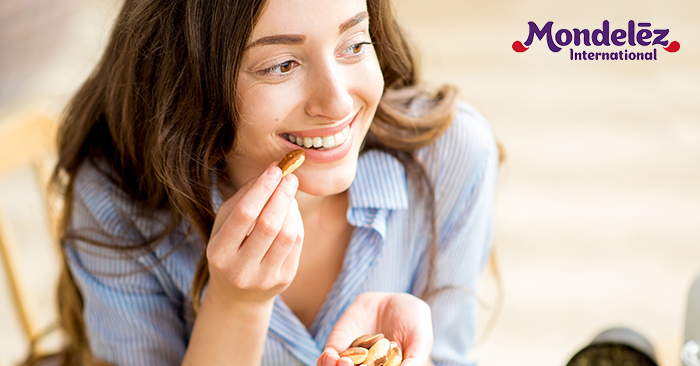 Mondelez: Consumers Crave Snacks Over Meals
Americans — especially younger adults — are increasingly choosing snacks over meals. In a report released this week, global snack company Mondelez noted trends in snacking, including how and why people snack — and found it's not just for instant gratification.
In an online survey in September, consumers said their snacking habits are tied to the past and present: 83% of U.S. centennials (under 25) and millennials said they use snacking to remind them of home. Snacking is also seen as part of the personal and cultural identity of 71% of those younger eaters, with three out of four making efforts to share their favorite childhood snacks with others.
Additionally, the appetite for smaller bites has grown: the average American eats more snacks than meals — about 1.09 snacks for every meal. Sixty percent of Americans are choosing small meals during the day rather than a few large ones, and 80% say snacking gets them through the day, with 78% noting it helps control hunger and manage calories. Seventy percent see a snack as a more personal choice, while meals are seen as meeting the needs of others.
So what type of snacks are fueling them? A taste for both sweets and healthier eats is holding on: 31% of consumers look for a quick, sweet treat and another 31% look to enjoy something tasty and healthy. For Mondelez, such trends have already fueled the creation of SnackFutures, the company's innovation and venture arm, which has invested in brands like Uplift Foods and Hu Products and launched its own lines, Dirt Kitchen and CaPao.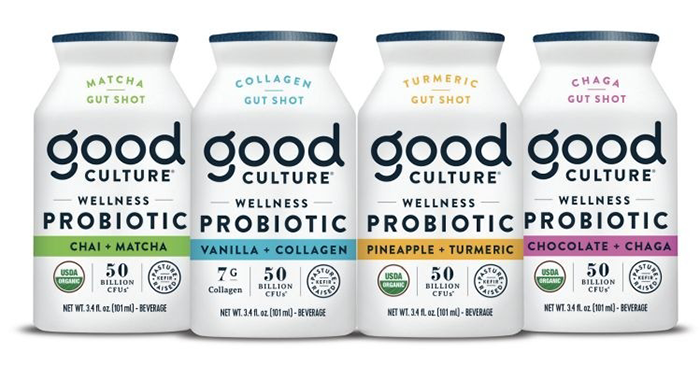 Cheers to Gut Health: Good Culture Launches Probiotic Shots
Better-for-you dairy brand Good Culture is expanding its range of belly-friendly options and moving into a new category, launching a four-SKU line of Wellness Probiotic Gut Shots in Whole Foods this month.
Sticking with its gut health goals, the brand, which launched in 2015, in February released sour cream, its first non-cottage cheese SKU. Maintaining the gut health trend, the new shots include probiotic-rich kefir and functional ingredients like turmeric, matcha, chaga, and collagen, with slight sweetness from sweet potato juice and coconut sugar. Flavor options include pineapple and turmeric, vanilla and collagen, chai and matcha, and chocolate and chaga for functions like brain function, joint health and immunity.
"We saw a void in the space with an opportunity to merge functional ingredients with probiotics," Jesse Merrill, Good Culture co-founder & CEO, said in a release. "As we looked to expand our portfolio of pasture-raised cultured dairy products, we wanted to offer an easy on-the-go way to get your daily dose of gut-friendly probiotics."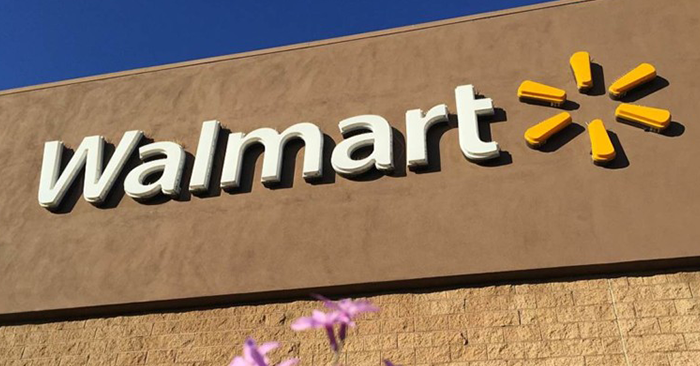 Walmart: Online Grocery Drove Q3 Growth
Walmart reported $128 billion in total revenue, a $3.1 billion increase from $124.9 billion, during the company's third quarter of fiscal year 2020, according to an earnings call. Online sales helped the company's e-commerce grow 41% over the period.
During the quarter, the retailer also tested new delivery and pickup options, including InHome Delivery services, with Walmart EVP and CFO Brett Biggs noting over one million U.S. consumers can have Walmart groceries delivered to their refrigerators.
"Customers are enjoying the convenience of grocery pickup and delivery and this service was a meaningful contributor to overall eCommerce growth," Briggs noted. "We're on track to offer free same-day grocery pickup from more than 3,100 stores this year and expect to have more than 1,600 stores that offer same-day grocery delivery."
Fresh food and private label were particularly strong during the quarter, Briggs said. But the retailer also strives to support emerging brands and recently added moringa powder brand Kuli Kuli to its shelves.