Protein Players Add Seasoned CEOs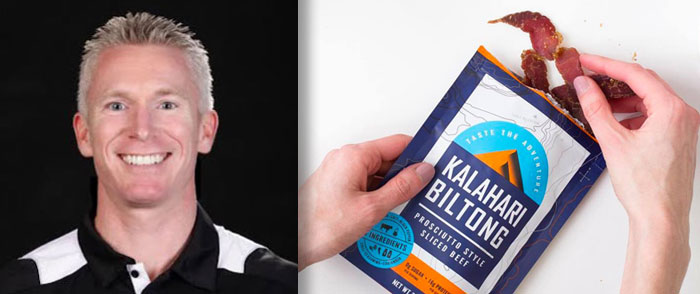 Kalahari Biltong Brings on No Cow CEO
Biltong player Kalahari Biltong announced today that it has brought on Chris Hickey as CEO. Most recently, Hickey spent 21 months as CEO of bar brand No Cow (formerly known as D's), which he departed in October. Hickey also was also previously the CEO and president of sports nutrition company Isopure.
He joins the company after a period of growth for the meat snack brand. Founded in 2015, Kalahari saw 500 percent growth in 2018, Hickey told NOSH. The brand is now sold in 1,000 stores, most of which came online in the past year. The company has a "bicoastal" sales strategy, focusing on East and West coast urban markets before it plans to expand distribution to the rest of the country.
Kalahari co-founder Tyler Noyes, who previously served as CEO, will assume the role of president, while his two co-founders, Robin Ginsburg and Brett Johnston, will remain as CMO and COO respectively. Noyes told NOSH that the company's rapid growth was part of the reason the leadership team decided it needed to look for a more experienced CEO.
"There comes a point where its grown and you can't do it all because there are too many balls in the air," Noyes said. "We have these really big aspirations for achievable goals…. [and] you don't personally have to have all all the answers."
Biltong as a category has seen growth over the last year, and investors are taking note. Competitor Stryve closed a $10 million round of funding in the fall to further build out its own distribution and facilities. Currently Stryve is Kalahari's "partner" and produces the company's biltong.
Kalahari has also taken in funding — raising a seed round from AccelFoods, where Hickey recently joined as an operating partner. Hickey told NOSH that the brand's team of co-founders, investors and board of directors were a large reason he chose to join the startup.
"Not every role, not every founder, is created equal," Hickey told NOSH "I think we all sometimes underestimate the power of the people or the importance of the team… You have to feel a sense of connection to those people and really want to win for them."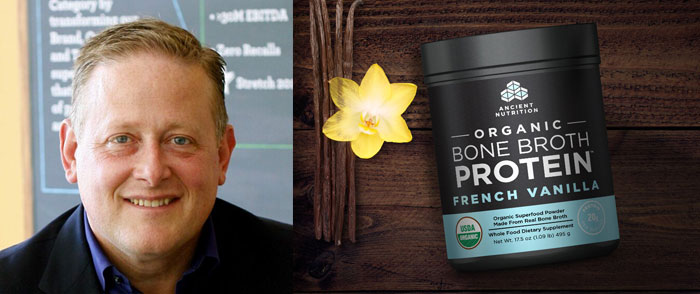 Ancient Nutrition Adds Shearson to team
Supplement player Ancient Nutrition this week appointed Greg Shearson, former CEO of Merrick Natural Pet Care, to the role of CEO. Shearson will relocate to the company's headquarters in Franklin, Tenn. to manage the business.
With his addition, co-founders Jordan Rubin and Dr. Josh Axe will transition to the roles of chairman and chief visionary officer, respectively. In his role as Chairman, Rubin will manage innovation for the company, whose lines include bone broth protein, collagen protein, essential oils and probiotics.
Rubin told NOSH that the omni-channel company sought an individual who was "classically trained" as a CPG leader, but also understood the "power of an educated retailer and advocate."
In March 2018, along with investment firms VMG Partners, Hillhouse Capital and ICONIQ Capital, Shearson was an "ancient pioneer" — one of 100 members of a co-investor network that took part in Ancient Nutrition's capital raise of $103 million.
"We are excited for Greg to join the Ancient Nutrition team," said Wayne Wu, managing director of investor VMG Partners. "[Greg will bring] the synergies from connecting great operational leadership with the innovative engine and spark that brought Ancient Nutrition to where it is today."
Shearson told NOSH that he plans to initially invest in five focus areas: providing "strategic clarity" to all involved parties, developing plans to deliver on the company's current and future business objectives, further building partnerships with consumers, assisting the Ancient Nutrition team members with their own growth and creating a values-driven culture at the company. The last is particularly important to Shearson, who told NOSH that the company's mission was a main driver in joining 2the brand.
"Many businesses profess to be 'purpose driven companies' but very few have it in the DNA of everything that they do," Shearson said. "Jordan and Josh have it too, at off the chart levels, both are so passionate. Their personal stories of how their own, and their families physiological lives were changed through nutritional discovery was very inspiring to me."