Biltong Brings Taste of South Africa to U.S. Market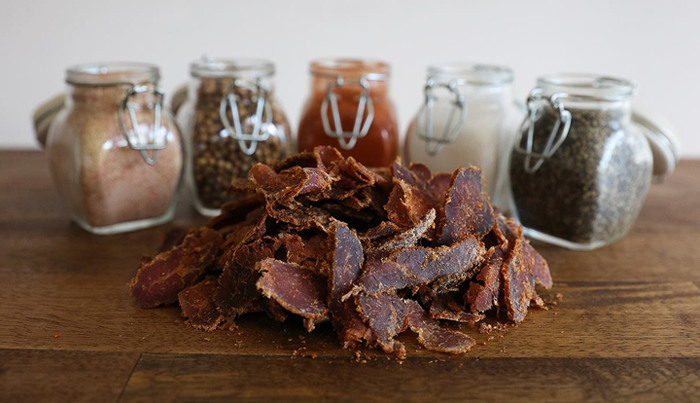 Can biltong — a dried South African beef snack — become the next Greek yogurt? Emerging U.S. brands making the air-dried meat strips think so. With the rise of beef jerky, the companies are using consumers' desires for high protein snacks to introduce shoppers to a different kind of meat snack with a long history in South Africa.
The potential for a U.S. biltong boom is built at least partially on its kinship to beef jerky, which saw more than $1 billion in sales last year and is forecast to grow an annualized 4.2 percent through 2022. Both jerky and biltong play to U.S. consumer desires for low carb and high protein, but it's the category's low or no sugar callouts that have already made it appealing to investment firms like Meaningful Partners and retailers like Walmart.
Like any emerging category, there is still education that needs to be done. Biltong is not the South African answer to jerky: it has its own spices, creation process and history. Biltong makers are hoping the similarities between the two categories help consumers understand biltong's eating occasion and use, while also believing that its differences will allow for separation from other meat snacking options.
Building out a category with deep roots
In South Africa, biltong is about culture. Most families make the snack at home and have their own recipes. Because it's a product that is so deeply rooted in South Africa, emerging biltong brands in the U.S. are stressing their own ties to South Africa to highlight their authenticity.
For brands like Ayoba-Yo and Brooklyn Biltong, bringing biltong to the U.S. was personal. Both company's founders are South African and created their brands as a way to bring the taste of their culture to the U.S. consumer.
"I'm South African; I don't know beef jerky so it wouldn't make sense for me to go and make jerky," Brooklyn Biltong founder Ben van den Heever told NOSH. "I am familiar with it and the culture and I would love to bring the South African culture to America. I think there are so many worldly products like Siggi's and Chobani, all of those things came from their motherland and became very successful in America. That is the similarity we are trying to claim with what biltong is."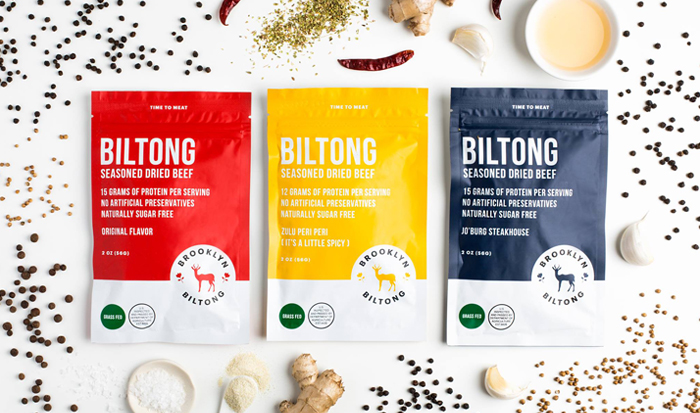 For Stryve — one of the category's current leaders in terms of distribution and funding — the tie to South Africa is less direct. The company acquired a South Africa copacker's U.S. facility, Biltong USA, in 2017, and its main branding focus has been on the product's nutritional benefits.
Then there is the newest entrant in the space, True Jerky, which has rebranded to Made By True. The jerky maker, who has distribution in over 2,500 locations, announced its move into biltong last week. Though not South African themselves, the brands three founders saw potential in the market for the product and went to South Africa to learn more. During the trip, the company also received a minority stake investment from South African investment firm 1K1V in order to produce the product for the U.S. market.
"We were not going to do it unless we could do it authentically and could understand where it comes from," Made By True CEO Jess Thomas said. "1K1V is a South African fund and the majority of the work they do is empowering and growing companies to create economic growth in Africa so we feel like there is an added connection there."
Made By True's branding also alludes to biltong's South African roots. Each of the brand's three SKUs shows a picture of three locations the founders visited during their trip.
The Land of Opportunity
While biltong's roots may be in South Africa, when it comes to its growth in the packaged food world, there may be great opportunity in the U.S. In terms of timing, the sector is growing as sugar has become increasingly demonized throughout the food industry. According to consumer research firm Nielsen, 57 percent of consumers report that low-sugar is important in deciding what to buy for their households — up 55 percent from last year.
"We have found in certain sectors of the country there are certain people who want that jerky — they want that sugar — that is what they are used to. But we also found that there are other areas that are willing to explore and want to eat healthier," Ayoba-Yo founder Wian van Blommestein said. "It is especially beneficial in the paleo, keto and Whole 30 communities: the people that care about what they eat and want the protein, but want it in a healthier way."
The category is also being introduced at a good time for the industry as it looks for ways to differentiate. Jake Capps, partner at investment firm Meaningful Partners, told NOSH that his firm acted as the lead investor on Stryve's recent $10 million round of funding because he thinks the product can appeal to both current and potential meat snack consumers. The product has the tender texture that has catapulted other emerging jerky brands to success, but without added sugar. As a former partner of Lion Capital, Capps said he sees a lot similarities between biltong and other sector spin offs, such as Kettle Chips.
"They were really bringing something different in terms of mission, culture, and also, most importantly, product form … and the kettle chip now is its own subcategory within chips," Capps said. "Meat protein and jerky is now a multi-billion dollar category that has had massive growth over the last number of years. We fit within that but also I think we can fit on the side of it as well, just as Kettle did."
There is also an appeal for retailers burdened with the task of adding new offerings to an often crowded and repetitive jerky set, according to natural products broker John Maggiore.
"Over the past few years with the growth in the jerky category retailers have expanded the space for the category and added brands but the 'variety' aspect has been limited," he said. "Biltong adds a new twist to the category and is typically a higher retail."
A learning curve
While biltong may have characteristics that can make it a leading sector in the meat snack space, its track to potential success does not come without hurdles. All of the brands that spoke with NOSH stated that finding a copacker that has the capability to make a quality product and scale was the most difficult part of the launch process. Not all jerky manufacturers have the right equipment and, according to van Blommestein, not all are willing to allocate the space because it takes 14 days to make biltong rather than the roughly six hours it takes to produce jerky.
Making biltong is also time sensitive in terms of quality. Because it is air-dried, even an hour longer in the drying room can take a product from enjoyable to subpar. Once in the bag, brands are also working on ways to keep the product from continuing to dry to help create a more consistent brand experience.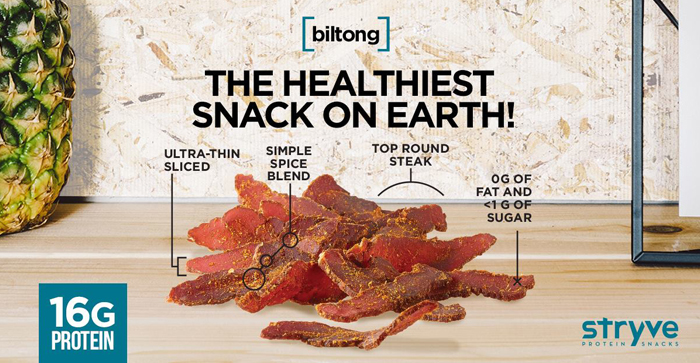 There's also a learning curve for consumers, who are not familiar with the word, the differences between the product and the jerky it sits alongside, or why it costs more.
"The biggest challenge is that most people don't know what biltong is and with a high price point they may have difficulty getting consumers to try something new and unknown at this type of retail," Maggiore said. "If you think of Greek Yogurt yes it was more expensive than the other yogurts but it was still less than $2 so it was not a big cash outlay for the consumer to try it."
Realizing this, all of the biltong brands that spoke stressed that in-store demos and events will be a vital part of their marketing process moving forward. Much of Stryve's most recently raised round will be put toward this, Stryve co-founder and CEO Gabe Carimi said.
"One thing that we know for a fact is that if you try [our biltong] you'll like it but we need our teammate to be there because you can't have the lunch lady handing it out and not fully understanding what biltong means," he said. "It is expensive to demo, but we need it. And not only do we need it but we need people who are very educated on the process."
Brands interviewed also noted that the increased competition as more brands have entered the category has actually helped during this growth period. For example, van den Heever told NOSH he thought Stryve's recent marketing campaign explaining what biltong has actually helped his brand. He also noted that fellow biltong brands making high quality products help to uphold the reputation of biltong during a time when it is still very new to U.S. consumers.
"A few years ago Trader Joe's actually sold biltong for a while and we would get it there and the product that we got wasn't good. We thought, 'This is actually bad; they should not sell it because it's hurting the name of biltong and people are going to think that this is what biltong tastes like,'" van den Heever said. "We want them all to sell a good product because it helps us keep opening doors for biltong."
But can biltong be to meat snacks what Greek yogurt was to the yogurt cooler? Maggiore isn't sold.
"It could but it will definitely take time to do so, not fast like Greek yogurt did," he said. "My major reason as to why I say this is because we are already seeing some 'better quality' jerky items on the market and I think they will keep coming, especially if the biltong category starts picking up momentum. So it will have competition."