Beyond 'Bubba': How Better-For-You Jerky is Changing Convenience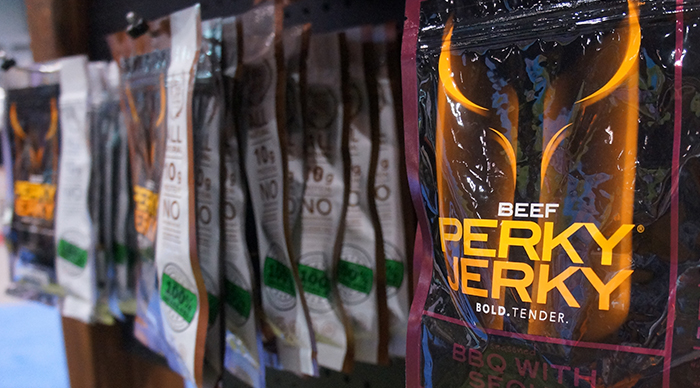 Chew on this: at more than $1 billion in sales last year, the jerky business is just entering the growth phase of its life cycle. Jerky — in all its snacking forms — is forecast to grow an annualized 4.2 percent through 2022. Much of that will be driven by the natural jerky set, according to research firm IBIS World.
To capitalize on this potential, both emerging and major jerky companies have launched products emphasizing their artisanal, natural, gourmet or premium origins. While those offerings have mostly been seeded in the grocery channels, for jerky, the convenience store has always been — and will most likely always be — king, and anyone who wants to rule the category will have to win the c-store as well.
It's a change, because, convenience store retailers have not historically been the most outspoken nutritional advocates. But as consumer preferences have evolved, the convenience industry has committed to making healthier choices easier for consumers, as well. The industry recently joined up in an agreement with Partnership for a Healthier America (PHA), which works with the private sector and PHA Honorary Chair Former First Lady Michelle Obama, for one thing.
For another, while the $550 billion industry was largely built on the back of "Bubba," its composite blue collar consumer seeking beer, cola, and snacks, it's moving past that. While Bubba remains a core jerky consumer within convenience, retailers are also looking to cater to new consumers that are starting to frequent c-stores: millennials, parents and women.
A TASTE FOR SOMETHING NEW
Meat snacks are among the most popular snacks in the savory snacks category, witnessing a compound annual growth rate of nine percent over the past five years. Still, while jerky and its high-protein benefits suddenly became on-trend, it hasn't always been an innovative category — for the past 40 years, jerky was largely dominated by a few big players offering similar variations of their dried meat snacks. Jack Link's alone holds between 50 to 55 percent of the category's market share.
It wasn't until 2010, when Krave first entered the scene with its natural credentials and gourmet flavors that jerky started to resonate. Because of its apparent potential, The Hershey Company, developing a snack portfolio of its own, acquired Krave for $220 million in 2015.
The company's success is reflective of an overall change in consumer preferences. Premium is the name of the game, with more and more consumers seeking callouts from organic and grass-fed to antibiotic-free labels. Once known for its chewy, leather-like texture, jerky is now being highlighted for extra-tender pieces. And now retail buyers are responding with their purchasing decisions.
In order to stay relevant to category manager, new brands are creating premium options while legacy brands are acquiring or innovating.
"People's palates today are more sophisticated," Lance Pitts, 7-Eleven category manager for snacks, told NOSH. "While popular, original, teriyaki and peppered flavors are still available, today's flavor variety is more complex with recipes like brown sugar bourbon or even sriracha."
But that doesn't mean they're indiscriminate. One habit these new consumers are bringing to convenience is their attention to detail. Pitts said that even before new jerky consumers taste the product, customers want packaging with more information. To stay ahead of the trends, Pitts said when he is looking to add new jerky brands, he seeks out clean labels, including gluten-free, non-GMO, low sodium, no MSG, no artificial ingredients or flavors, no antibiotics and minimal processing.
"7-Eleven is continually looking to expand our assortment, and when it comes to our 7-Select brand, our goal is to offer something more – whether that's a better value or a flavor combination you won't find anywhere else," Pitts said.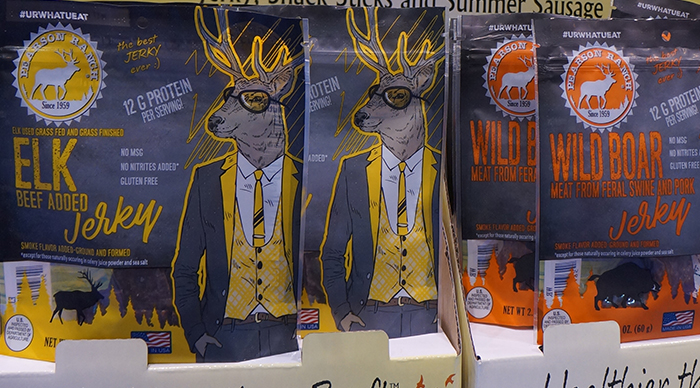 EMERGING BRANDS BUST INTO C-STORES
Many jerky brands have avoided convenience as a launch platform. But now they are warming up to the channel where the category was born — and retailers are responding as the strive to broaden their consumer base.
"While our core meat snack customer is still male, we know that the customer is changing," Pitts said. "Millennials and females are looking for protein-based snacks made with higher quality, cleaner ingredients."
Within the last year, emerging brands like Country Archer, Chef's Cut, Perky Jerky, Fusion Jerky, Lawless Jerky and The New Primal all announced growth within the convenience sector. Even tea titan Arizona Beverages is getting in on the jerky action with the launch of their first natural food line, Crazy Cowboy jerky, made with no nitrates, MSG or artificial preservatives.
Pioneering convenience's better-for-you jerky set hasn't been without challenges for emerging brands, though. While these new entrants are making traction in the space, legacy brands still maintain their grasp on convenience with total category sales, in part because of their familiarity and in part because of their lower price point.
According to market research firm IRI, the meat snacks category saw over $1.549 billion in sales, with jerky raking in over $694 million of that total within the last year ending in October. The leader, Jack Link's Jerky, had about $324 million in sales — quadruple that of its closest competitor, Old Trapper Smoked Products. Oberto, Frito Lays and Tillamook also topped the chart in terms of yearly sales.
Even so, the data also showed that more natural focused brands like Lorissa's Kitchen, Krave and Duke's saw greater year-over-year unit sale growth, meaning more consumers are picking up natural products — even if they are owned by CPG giants Jack Link's Jerky, Hershey's and Conagra, respectively — and giving them a try.
Brian Levin, founder of Colorado-based Perky Jerky, said the struggle for many emerging brands in the convenience channel is finding the right balance to reach both old and new jerky consumers. Many companies are still trying to figure out the intricacies of the convenience channel, even down to where the product is placed, he said.
"It's interesting from the perspective of the better-for-you customer set because it is not the same consumer who is shopping the jerky set. This is something these guys are just figuring out," Levin said. "They will put better-for-you offerings in jerky, but it doesn't do as well if you put jerky in a better-for-you set."
That's because a jerky consumer and a better-for-you consumer are not mutually exclusive. They shop in different aisles; they look for different callouts; they crave different textures and flavors. So as a brand, is it possible to win over Bubba and be appealing to a younger, or female, audience? Levin thinks it is — but he's also not betting his business on it.
"The good news is because we focused on taste, quality and texture, we can pull Bubba into the natural side," Levin said. "But I'm not going to build my career on it." Instead, he said, "there is a much bigger opportunity in bringing new customers to the category like millennial and female consumers."
This is something that brands are hoping to usher in its own stores change.
"I think in general it's a learning curve for consumers. We always say traditionally jerky for years has been 'Bubba and a shotgun,'" Bart Silvestro, CEO of Chef's Cut, told NOSH. "And I think convenience has always had that truck driver appeal. I think people are starting to see it differently with remodeled stores and a better experience in general."
LEGACY PLAYERS EVOLVE
That hasn't escaped the notice of the major CPG companies, who have taken advantage of the growing meat snack category by purchasing smaller brands. Hershey's led the charge with its acquisition of Krave in 2015. Then Jack Link's bought grass-fed beef supplier Grass Run Farms in order to launch its own natural line, Lorissa's Kitchen. Last year, Chicago-based Conagra Brands — the parent company of Slim Jim — acquired Thanasi Foods, the maker of Duke's meat snacks.
Aside from acquisitions, some of these larger companies are also reformulating and changing their supply chains. ConAgra announced in October the launch of Slim Jim's Premium smoked sticks made with 100 percent grass-fed beef and premium pork. Even Krave, which helped to chip out this better-for-you space in jerky, is being forced to adjust to the new retail environment: As of October, it changed its sourcing so its pork, turkey and beef bars and sticks could carry attributes like hormone-free, antibiotic-free and grass fed.
As some companies work to change and improve upon the products within their bags, brands like Pearson Ranch and Tillamook are focusing on their packaging. After a 2014 decision to remove nitrates from and reduce the sodium of its jerky, Pearson Ranch rebranded its lines of elk, buffalo, venison and wild boar meat snacks to feature millennial-inspired cartoon animals. Tillamook, a 17-year-old jerky company that relies on the convenience channel for about half of its sales, switched to transparent packaging that emphasizes its "naturally wood smoked" callout. Newly appointed CEO Shane Chambers — Tillamook owner Insignia Capital brought on the KRAVE veteran in June — told NOSH that the design was based entirely on consumer feedback and focus groups.
The idea of evaluating a brand for more than its ingredients, but also its packaging, is something that Pitts said he considers heavily when deciding what brands to stock.
"Even before opening or even purchasing, the packaging plays a significant role," he said. "That is what the customer will see first and can make the difference in whether they buy and try."
SaveSave