People Moves: Snacklins Names CEO, Cali'flour Adds CMO

Kevin Blesy Named Snacklins CEO
Vegan pork rind brand Snacklins has named Kevin Blesy CEO. Blesy was previously head of strategy at Washington, D.C.-based pizza chain &pizza.
On his transition to CPG, Blesy told NOSH that regardless of format, "food is the ultimate unifier."
"Snacklins believes health and wealth are not mutually exclusive – we all deserve guilt-free indulgences," he said. "I don't see this new role as a move or pivot. It's really just a variation on a theme I wholeheartedly support."
Blesy said he was drawn to Snacklins because of its simple ingredients and affordable price point.
To start, Blesy said he will focus on establishing a consistent and scalable production system and optimizing its supply chain processes to expand distribution while maintaining a low price point. He added that "attracting, retaining and developing" employees in both the production and corporate sides of the brand will also be a priority.
"We believe our product speaks for itself today but to be a brand people talk about 5, 10, 20 years from now, we need to build a core base of evangelical employees who understand the why behind Snacklins," he said.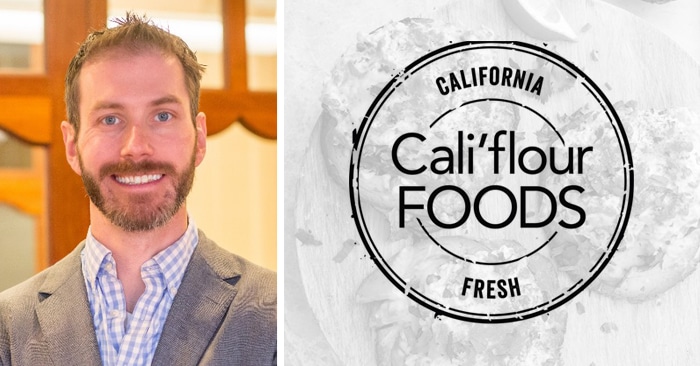 Cali'flour Foods Adds Patrick Hughes as CMO
Frozen food and snack brand Cali'flour Foods has added Patrick Hughes, former VP of commercial operations for Sunrise Strategic Partners, as its CMO. Sunrise Strategic invested in the brand in April.
Hughes said he expects the biggest challenge going forward will be "sequencing opportunities" which satisfy both customers and retailers.
"The team's focus near-term is on putting the right foundation in place across all business functions to support future growth, supporting our rapidly expanding grocery distribution, launching new innovation, and positioning the brand for long-term success," he said.
Though Hughes sees the brand's taste and ingredient deck as a "compelling point of difference" for Cauli'flour in the increasingly competitive cauliflower space, he said the brand still has room to grow brand awareness by educating consumers about the product.
Other recent additions to the company include Mike Anderson as CEO and Scott Donnel, former VP of operations for Sunrise Strategic portfolio company Perky Jerky, as COO.
"We've assembled a great team that will, without a doubt, take Cali'flour to the next level," he said. "We're excited to grow this business and will have a lot of fun along the way."
Ken Plasse Steps Down from Fishpeople
Ken Plasse has stepped down as CEO of sustainable seafood brand Fishpeople, effective August 2, according to an email auto response NOSH received from Plasse's account.
"After 4 years at Fishpeople we have decided to part ways," the email said. "It's been an amazing journey that allowed us to launch some wildly delicious products together while making an impact. However, it's time for Fishpeople to move to its next iteration, and for me to move to my next challenge."
In response to the departure, Fishpeople co-founder Kipp Baratoff has assumed the role of president and absorbed Plasse's day-to-day responsibilities. The company is actively interviewing for a new CEO, a spokesperson told NOSH.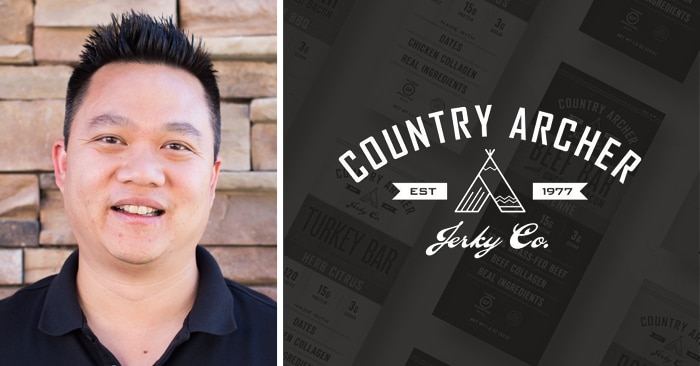 Country Archer Adds New VP of Marketing
Jerky and meat sticks brand Country Archer Jerky Co. has named Jeff Wong it's new VP of marketing. Wong will oversee the brand's newly opened marketing headquarters in Los Angeles.
"We're thrilled to call LA home for our new marketing headquarters, as the culture and community here lend themselves well to driving future innovation and inspiring novel flavors," Eugene Kang, co-founder and CEO of Country Archer, noted in a release. "I'm eager to hit the ground running in LA."
Wong was formerly marketing director at PepsiCo, where he led strategy, innovation and design for the Naked, Kevita and IZZE brands, and also previously held several leadership positions at Unilever.
CircleUp Hires First Chief Investment Officer
CircleUp, an investment platform for emerging consumer brands, has added Dr. Neil Constable as its first Chief Investment Officer. Constable will oversee the company's three investment strategies: private market systematic equity, discretionary equity, and credit.
"The private markets are one of the few areas that have remained untouched by the advent of data driven investing — until now," Constable said in a press release. "I am very excited about the data and technology that CircleUp has built. The opportunity feels a lot like the early days of quant in the public markets from several decades ago
Constable was previously partner, head of global equity and head of quantitative research at investment management company Grantham, Grantham, Mayo, Van Otterloo & Co.
Ryan Caldbeck, co-founder and CEO of CircleUp, said in the release that Constable will bring "deep quant expertise" and "genuine intellectual curiosity" to the role.
"As CircleUp has evolved to now managing multiple investment vehicles, we were looking to add a unique perspective to the team," said Caldbeck. "Someone who is grounded in data and will further refine our point of view."
Other notable new hires and promotions include:
Rizal Hamdallah has been named global chief innovation officer for Ocean Spray Cranberries. Hamdallah was previously head of Tyson Foods' Innovation Lab.
CBD-infused food and beverage brand Weller added Megan Siegel Jansen as VP of sales, where she'll oversee the national sales team as they expand distribution.
KEEN Growth Capital added Ed Creamean as VP of operations, Simone Luke as VP of strategic sales and Sally Maxwell as senior financial planner and analyst.
Jen Paragallo, former VP of marketing for Fishpeople, is now VP of marketing for meat snack brand Tillamook Country Smoker.
Ka-Pop! Chips maker Ancient inGRAINed Snack Co. has named Christina Finkel, previously VP of marketing at Danone and the wife of founder and CEO Dustin Finkel, as its new CMO.
Jake Ellerbrock, who previously led marketing for Annie's and EPIC Provisions at General Mills, has been hired as Lotus Foods' new Director of Marketing.
The National Grocers Association board of directors named Greg Ferrera its next president and CEO, effective Sept. 1, succeeding Peter Larkin, who announced his retirement last fall.
Urban Remedy has promoted Katie McMahon from director of business development to VP, head of business development.