Cali'flour Closes Round, Brings on New Executive Leadership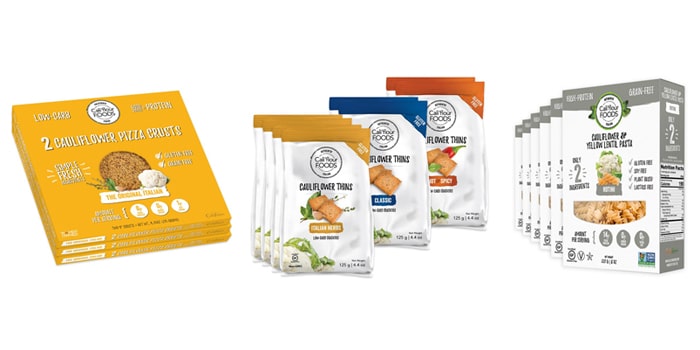 The consumer craze with cauliflower shows no sign of slowing down. But to make the jump from niche product to a household staple, many cauliflower-focused brands are looking for guidance — both in the form of strategic investors and experienced talent. Today, frozen food and snack brand Cali'flour Foods is taking that next step, announcing the close of a round of capital led by Sunrise Strategic and a leadership transition.
The company declined to disclose the size of Sunrise's investment but the firm typically writes checks of $10 to $20 million. Part of the round also included $3 million invested by CircleUp Growth Partners in February via a convertible note. Cali'flour was represented by Whipstitch Capital and Nutter McClennen & Fish LLP.
Founded in 2016, Cali'flouer was sold exclusively online until 2018. In the last 16 months the brand has added roughly 3,000 stores, including King Soopers, Kroger, Whole Foods and Natural Grocers. Although it now has a significant retail presence, 95% of the brand's growth in 2018 still originated from online sales, founder Amy Lacey told NOSH.
Cali'flour is aiming to be in another 7,000 stores by the end of this year– which means more production, sales and marketing expenses. Sunrise, which was founded by Healthy Choice creator Steve Hughes, offered the company capital but also a strategic understanding of the frozen set.
"Just as Healthy Choice was a solution for so many people in the freezer aisle, Cali'flour Foods frozen products can deliver a solution for those fighting auto-immune diseases, eating Keto, paleo or just low carb," Hughes told NOSH,
To support its next growth phase in brick-and-mortar retail, the company has also added Mike Anderson, formerly of "scale up facility" Factory and sales and marketing agency NS Sales, as CEO. Scott Donnel, former VP of Operations for fellow Sunrise portfolio company Perky Jerky, has also been hired as COO.
Lacey and current COO Jimi Sturgeon-Smith will subsequently shift their focus to product development and "brand voice."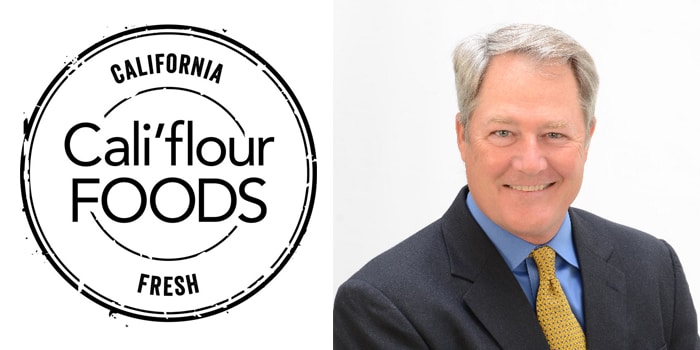 The company has already made strides with the former. Cali'flour sells 19 cauliflower-based products online, including four types of crusts each in multiple flavors, crackers and pasta along with "bundles" of products. Lacey told NOSH the brand created a robust product line to have products that could meet every dietary need.
"We've realized that we're all different and that diversity doesn't just stop at the color of your skin or your gender," Lacey said. "Diversity is in your gut and in your body. We have to speak to the individual and not one niche or trendy philosophy of health."
In retail, however, the brand will focus on crusts, with plans to eventually add other frozen products — all made with fresh cauliflower. Anderson told NOSH that doing so will help avoid "fragmenting" the company's product line and strengthen the brand amidst an increasingly competitive environment.
According to research firm Nielsen, dollar sales of cauliflower across the store have increased 14% this year alone. Much of those sales have come from value-added products that use cauliflower to make Pinterest favorites such as cauliflower rice, frozen cauliflower and cauliflower pizza crusts, that are aimed at saving consumers time in the kitchen.
While some might fret over the increased competition, Anderson told NOSH he sees competition as an educational opportunity.
"When a consumer is trying to discover a new concept or a new food — whether it's coconut water or kombucha — it takes more than one manufacturer," Anderson said. "This is multi-billion dollar category just with pizzas and frozen entrees. We need additional competitors, doing the right thing, to bring notoriety to the category."
Another way the brand hopes to bring consumer awareness to cauliflower is through its Cali'Concept Kitchen restaurant located inside of New Earth Market in Chico, Calif. and Lacey's recent cookbook, which details how to use cauliflower crusts in new ways. Although both of the launches helped advance the company's growth over the last year, looking back, Lacey recognizes it was a lot to tackle without more support.
"The growth of the company along with the deadlines of the cookbook, we really strapped our team," Lacey said. "Everyone did it with so much love and has so much passion for the brand, but we really had to persevere through last year's growth."