Tyson Tackles Food Waste, Expands Portfolio with ¡YAPPAH!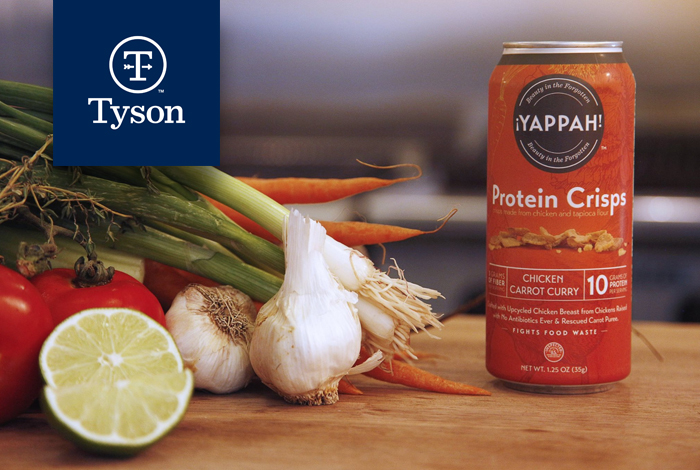 Over the past year meat producer Tyson has worked to diversify its portfolio into new categories, as well as tackle global issues of sustainability. The company has done so through acquisition, investment and, now, innovation. Today the company announced the debut of ¡YAPPAH!, a line of "protein crisps" made from upcycled chicken breasts, juice byproducts and spent grain from Molson Coors.
The line will launch in four crisp flavors: chicken and carrot curry, chicken and celery mojo, chicken IPA white cheddar and chicken shandy beer. Each will retail for $2.99 per single-serve, 1.25-ounce metal canister, which resembles a beer can.
The name ¡YAPPAH! comes from a South American term referring to the tradition of merchants giving valued customers extra product in order to not be left with food waste at the end of the day, Rizal Hamdallah, head of Tyson Innovation Lab, told NOSH. It's an appropriate moniker considering that the products are made from the trimmings of Tyson's chicken breasts.
Hamdallah told NOSH that the concept was developed by the lab over five days in early January during what they call a "design sprint" — a term largely used by tech companies to describe a brief, finite period to attack certain product problems or features.
¡YAPPAH! debuted on crowdfunding platform Indiegogo for a 30 day campaign. It will then be sold for 90 days in one unnamed Chicago supermarket as a further test. Although many businesses use crowdfunding campaigns to raise capital, the lab is looking to Indiegogo as a data provider as well as a marketing tool.
"Indiegogo can help us learn through their technology about our communication, about our branding, about our product," Hamdallah said. "[Also,] we want to tap into a consumer that we don't have today, which is the early adopter. They shop online, they communicate differently and through this platform we may learn how to access them better."
Following the Indiegogo campaign, the brand will run its test in retail. At that point, the lab will either iterate on the product or decide to halt production. Hamdallah told NOSH that as long as the brand achieves certain key metrics, the lab will proceed forward, "because there are signals to show this is something appealing."
From there, ¡YAPPAH! will launch regionally by Fall 2018 for more testing before hitting stores nationally in 2019.
Despite ¡YAPPAH!'s accessible price point, the team aims to position the crisps as a premium product in an effort to shift consumer perception that extra vegetable puree, spent grain and chicken trimmings are only something to be disposed of. When in retail, ¡YAPPAH! will not be sold with other potato or corn -based chips, according to Hamdalla, but instead will be sold in the natural and "alternative" snack set. It's a different tactic from other alt-chips — such as Wilde's chicken chips and AvoLov's avocado chips — that are sold alongside traditional potato chips in order to capture the most consumers.
While the crisps are currently a small part of Tyson's overall business, they represent a larger movement by the company towards diversifying its portfolio and exploring ways to better the health of the planet.
Over the past year the company has routinely been in the news for investments in forward thinking brands including plant-based meat company Beyond Meat, clean-meat brand Memphis Meats, and oven and meal kit company, Tovala. It also acquired prepared foods provider AdvancePierre Foods Holdings. Hamdallah noted that while investing is a key part of the Tyson strategy, the lab represents another tactic to achieve the same goals.
"We have four different approaches on our growth model. The first one is build — that's where the innovation lab is located; we build new brands. The second one is investment…The third one is partner… and the fourth one is buy." Hamdallah said. "This is part of a proof point for people to see our commitment in diversifying our portfolio."