Oberto Looks Ahead, Naturally, by Going Back to Its Roots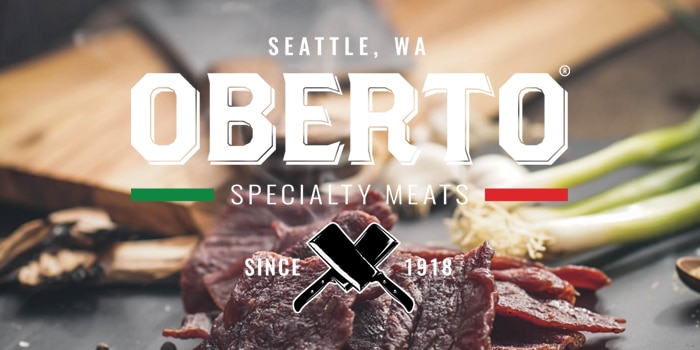 Oberto Snacks is looking to its century-old legacy to solidify its future in premium meat snacks. After being acquired by Canada-based Premium Brands last year, Oberto is going "back to its roots" to inspire new product innovations, the company says.
"We have this incredibly rich heritage as a brand and company, so repositioning is about a taste that takes you back," CMO Stephen Oberto told NOSH.
Founded in Seattle in 1918 by Constantino Oberto and currently based in Kent, Wash., the company is in 75,000 stores nationally with its brands Oberto Classics and All Natural jerky, Pacific Gold, Pacific Gold Reserve, Lowrey's and Cattleman's Cut. It's still partially family-run; Stephen, Constantino's great grandson, calls the company's relationship with Premium Brands a "partnership" more than an "ownership," noting a shared goal of preserving Oberto's culture — while also driving what he calls the "most significant quality improvements in the history of the company," through updated recipes and product relaunches that bring Oberto beyond the snack aisle.
The company has revamped its all-natural jerky and smoked sausage snack recipes; the jerky now features a more tender taste and flavors of wood smoke, with 27% less sugar than before, while the meat-stick-like sausages now are smoked for six days. Packaged jerky comprises a 30.3% share of the natural packaged snacks segment and 12.7% of conventional packaged snacks (according to SPINS.) An increasing number is aiming beyond the c-store, as well. Oberto noted that while the company saw increased sales in the early 2000s at the height of the Atkins craze, the category has since evolved — and the company has had to evolve as well to stay relevant.
"Anyone with a gun and an oven can enter the jerky category," he said. "But there's a very high barrier to doing it at a consistent level of quality and sustainable economic proposition. So long term I think you'll see a consolidation within [the category], and we'll certainly be one of those brands that's thriving in that environment."
Although today's market may have a fairly low barrier to entry, consumers are paying attention to ingredients and taste, Oberto said, noting that the brand's jerky hits both of these marks. And despite the rise of plant-based meat alternatives in the meat set, Oberto believes it will be harder for competitors to come after jerky.
"A lot of people find meat snacks to be indulgent because it's coveted and craved and delicious and expensive," he said. "I don't know if that's something that plant-based protein can solve for because it's generally a compromised taste and experience."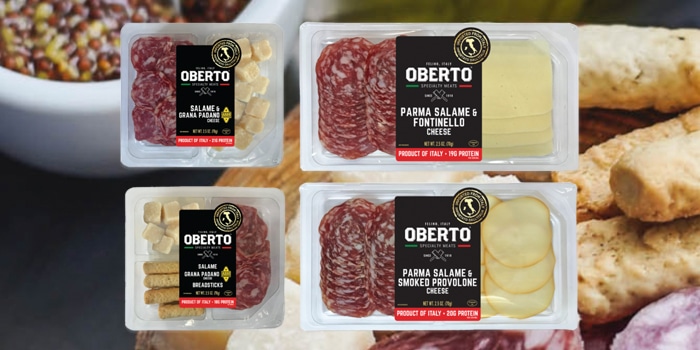 To satisfy cravings beyond jerky, Oberto is relaunching two products from the past: Italian charcuterie and fully cooked sausages, both of which will be available in August. When the company was founded, it offered authentic Northern Italian salame products and sausages made from family recipes, Oberto said, but in the late 1990s shifted its focus toward jerky, which was booming at the time. By the early 2000s, Oberto transitioned exclusively to meat snacks, becoming the nation's top jerky seller, according to the company website. Now Oberto wants to pay homage to the family's roots in Felino, Italy, by offering a product type that's widely unavailable in the U.S.: the new charcuterie packs of gluten-free antipasto, prosciutto and salami are paired with Italian cheeses, with all of the ingredients produced, sliced and packaged in Italy.
Additionally, the brand's fully cooked sausages, including "hot links," last available in the early 2000s, have been updated to a recipe free of nitrates, nitrites and artificial ingredients. To kick off this relaunch, the product is deemed the "official sausage" of the Seattle Seahawks and served at CenturyLink Field.
When off the field, Oberto's products are mostly found in c-stores, grocery and club stores; the new charcuterie and hot links bring Oberto to the deli section, offering the ability to reach new shoppers who perhaps have left the jerky set.
"It's another nice growth opportunity for us to expand the brand beyond center store grocery and back into the perimeter where there's a lot of really positive connotation with consumers and fresh products," Oberto told NOSH. "As a specialty meat heritage brand it gives us a lot of flexibility to sell our product in multiple store points."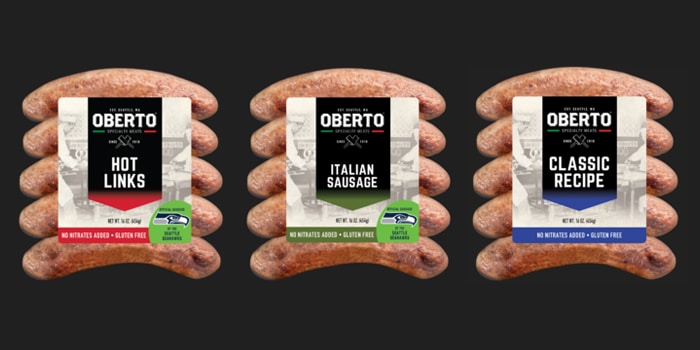 The company's offerings are all-natural, but it's still fine tuning what other unique selling points might help fuel the next 100 years (or more) of jerky fever. To stand out, the company is debuting fresh packaging for its core Oberto jerky this Fall that includes "Specialty Meats," along with a black and white photo of the founder and an updated logo. Pacific Gold's packaging was redesigned in 2017 and features an additional call out — a grass fed beef seal to leverage its premium status in the portfolio. Though currently Pacific Gold is the only brand in Oberto's portfolio that uses grass-fed beef, the company may expand its grass-fed offerings in the future, Oberto said, and is also weighing a transition to antibiotic-free meat.
"I don't think that consumers necessarily understand the full benefit of that claim yet, [but] there's certainly a niche of people that do," he noted.
Oberto isn't alone in the quest to marry a powerful, well-known meat brand with better-for-you attributes; other major players have strived to do that by acquiring smaller jerky brands. Jack Link's bought grass-fed beef supplier Grass Run Farms to launch natural line Lorissa's Kitchen in 2017, while Conagra Brands, which owns Slim Jim, acquired Thanasi Foods, producer of Duke's meat snacks, in 2017. The industry's growth as a whole helps the consumer better understand jerky, Oberto said.
"The big problem 10 years ago was that it was mired in its perception of being unhealthy, too salty, too full of preservatives, or too tough for people to eat," Oberto said. "There's still a tremendous amount of white space in the category for people to realize [its] tangible benefits."