Latin 2.0: Teasdale Launches Protein Enhanced Beans & Evolves Brands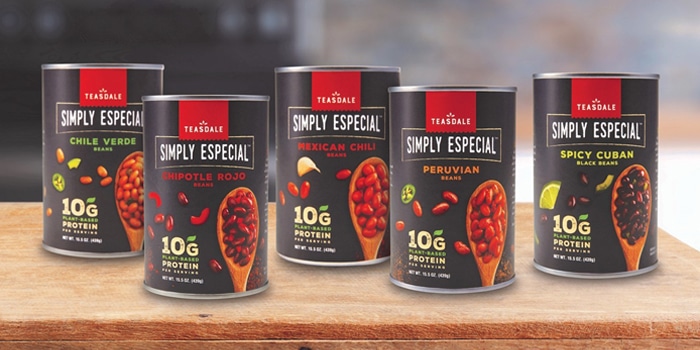 Latin-inspired food manufacturer Teasdale Latin Foods has been producing classic Latino staples for over 70 years. Now the company, which says it had about $20 million in retail branded sales last year, is trying to rethink its offerings for the next generation of shoppers and bring more differentiation to a typically commodity-priced category.
"We're really just honing in on how the trends are transitioning, because they are," Yvonne Conroy, Teasdale's head of product innovation, told NOSH. "People are looking for better ways to eat, healthier ways to eat, simpler ingredients, clean labels. That's where the market is shifting, and we're just evolving with it."
As part of this evolution, the company has turned to the functional food trend, launching a line of pea protein-enhanced, canned beans under the Teasdale Simply Especial brand. Available in Chili Verde, Chipotle Rojo, Peruvian, Spicy Cuban and Mexican Chili, each offering has 10 grams of plant-based protein per serving, 3 to 4 grams more protein than most other canned bean products at 6 to 7 grams of protein, Conroy said.
The new beans are already in 1500 stores nationwide, mostly on the west coast, including Publix, Vallarta, Save-A-Lot and Food 4 Less and many independent grocers, as well as Publix in the southeast, Conroy said. The MSRP of $1.69 to $1.89 per 15.5 oz. can is slightly higher than Teasdale's other canned bean offerings, which retail between $1.29 and $1.49.
The bulk of Teasdale's business is in manufacturing private label products for major grocery stores like Kroger, Safeway and Walmart, however they have a branded presence with Jardines salsas, Sontava! hot sauces, Mexene chili powder, Casa Fiesta authentic Latin foods brands and Teasdale beans and hominy.
While Teasdale has been producing canned and dried beans for decades, it saw a decline in sales in the 1990s as its legacy brands faced more competition from Ortega (owned by B&G Foods) and Old El Paso (owned by General Mills). Ortega's net sales increased $4 million, or 2.9 percent, for fiscal 2018 compared to fiscal 2017, according to B&G Foods, and General Mills reported growth for Old El Paso in Q3 and Q4 of 2018. But neither brand offers organic or enhanced canned beans.
To differentiate itself, Teasdale is now bringing more creative ideas to the commoditized category.
"A healthier version proved to be an opportunity for us because [other brands] weren't offering that," Conroy said. "So for us to go organic or non-GMO, that really carves a little space for us that we can be successful. We're differentiating ourselves from these giants that live on shelves because we are the little guy; we are the fighting brand."
The company tested different claims, such as improving heart health, before settling on increasing beans' natural protein content. The difficulty, Conroy told NOSH, was achieving this goal without using common allergens such as soy or wheat.
Not all of the upcoming Teasdale Simply Especial products will feature a health-focused claim or enhanced protein levels, but each will offer a point of differentiation from what already exists in the market.
Meanwhile, Teasdale's Casa Fiesta line will transition to a "cleaner, greener label" — a process that was started with the brand's non-GMO taco shells and organic launches. The brand believes that two kinds of shopper groups will likely gravitate to the new products: mainstream shoppers who enjoy Tex Mex, and also acculturated Hispanics. According to a 2018 Nielsen report, the median age for Hispanic consumers is 27, giving Teasdale ample time to benefit from brand loyalty.
"It's an interesting group because they're still looking for the quality and flavors of home but in a much more convenient way," Conroy said.