KIND Announces Move into Frozen Foods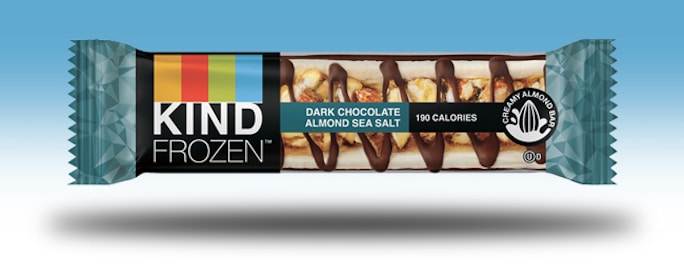 KIND Snacks is freezing out its nutrition bar competitors with its latest innovation. Last week, the brand announced the launch of KIND Frozen Creamy Almond Bars, the brand's first entry into the frozen category, available exclusively at Wal-Mart.
As KIND reaches across the aisle from its shelf-stable lines of bars and granola to its new sweet treat, the brand looks to break through the increasingly cluttered category of better-for-you frozen snacks with transparent ingredients.
"While the health and wellness trend has started to influence innovation, many of the aisle's best selling items still use high fructose corn syrup, artificial sweeteners, sugar alcohols that can cause digestive discomfort, and other unrecognizable ingredients," said KIND CEO Daniel Lubetzky in a in a LinkedIn post.
KIND Frozen is currently available in one flavor — Dark Chocolate Almond Sea Salt. It's made with a creamy almond base, chopped almonds, sea salt and dark chocolate, which Lubetzky said draws inspiration from the brand's popular Dark Chocolate Nuts & Sea Salt nutrition bar. The new bar does not contain artificial sweeteners, sugar alcohols or genetically engineered ingredients, according to the press release, and sets itself apart from other products in the category by counting almonds as its primary ingredient.
"Since 2004, KIND has sought to introduce products that disrupt categories, and KIND Frozen bars are no exception," Laura Merritt, VP of innovation at KIND, told NOSH.
Merritt said the two bars have "more similarities than differences," other than the creamy almond base, and contains 6 grams of sugar more than its nutrition bar counterpart. Single-serve bars retail for $1.97, while 6-packs are $5.97.
The refrigerated bar category has been a burgeoning space in recent years, led by Perfect Bar and followed by brands such as OHi, NuttZO, Wella Bar and ProBar.
Frozen nutrition bars, however, are largely uncharted territory, and KIND faces stiff competition in the growing frozen novelties category. IRI's State of the Snack Industry report last month noted that frozen novelties is one of the snacking subcategories which saw the greatest growth last year, with dollar sales up 4.1% and unit sales up 2.4% from 2017. Nestle and Blue Bunny are among the subcategory's leaders, while both dairy and non-dairy innovations from brands like Halo Top, Magnum and My/Mo Mochi Ice Cream have also contributed to the space's recent growth.
In recent months ingredient transparency has been a major focus for the brand. Last month, KIND launched a "Sweeteners Uncovered" initiative and New York City pop-up installation, highlighting the sugar content of popular bars, granolas and cereals and identifying the many names brands use to identify artificial sweeteners on their product labels. In March, the brand publicly sparred with Clif Bar over a New York Times ad Clif ran urging KIND to go organic, in which Clif referred to the brand as KIND Snacks (Mars Candy). Clif launched a new ad campaign two days before the announcement of KIND Frozen, entitled "Make it good," which focuses on the brand' sustainability efforts.
In 2017, confectionary and snack company Mars Inc. acquired a minority stake in KIND, adding it as the anchor brand of the company's health and wellness platform. At the time of the investment, Lubetzky said the brand would use the funds to expand into new categories.
In his online post about the KIND Frozen launch, Lubetzky said KIND has developed several new products over the years that ultimately were never launched because the brand believed the products were not better than the leading items in that set.
"It takes significant discipline to be able to accept that what you've created is not better than the leading offerings in the set and hence should not be launched," he said. "These experiences taught us that when you are building a long-term brand that aims to always exceed expectations, it is less costly to accept that you should not enter a new category unless you can meaningfully elevate the consumer experience."
When asked if KIND will expand its frozen offerings, Merrit said the brand is "always exploring new flavors and new categories that would benefit from products that lead with nutrient-dense ingredients and adhere to the KIND Promise."
Lubetzky also noted KIND's plans to continue to expand its horizons across categories.
"Soon you will discover KIND in other unexpected places across the grocery store," he said.