Refrigerated Bar Set Grows with New Players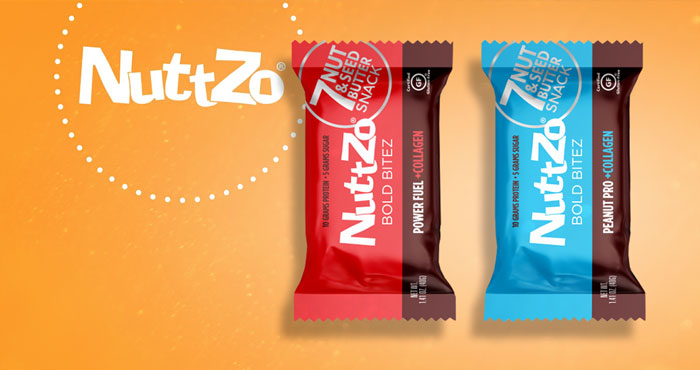 While the refrigerated bars category has progressed over the last year, new brands entering the space think the category's growth ceiling is still high.
Health-centric nut and seed butter maker NuttZo officially announced this month that it's launching a refrigerated bar line, Bold BiteZ, nationwide in ShopRite this January. And while NuttZo may be the most recent entrant to the category, it certainly is not the only newcomer.
Considered a "portable take" on the brand's jarred nut and seed butter flavors, Bold BiteZ are NuttZo's first snack product after eight years on shelves. The bars incorporate grass-fed collagen and pea protein, as well as cacao nibs and rice crisps for texture. The line will be available in two flavors, Power Fuel + Collagen and Peanut Pro + Collagen, which are expected to retail for​ $2.59 to $2.99​. Two additional vegan BiteZ flavors are expected to launch in early 2018.
Danielle Livolsi, CEO and Owner of NuttZo, told NOSH that she was inspired to bring her homemade bars to market after seeing the consumer demand for fresh, convenient and nutritious snacks.
"Now more than ever consumers are learning that eating small, portable and nutritionally dense snacks keeps you energized throughout the day with no crash or 'hangry' moments," Livolsi said. "On top of these trends, our loyal fan base have been asking us to create a handheld snack item using our yummy nut butter. By entering the bar category, we can satisfy not just our awesome fans, but also attract new customers by capitalizing on these trends."
While Perfect Bar created the category over 12 years ago, brands like Wella Bar and Fresh Bar were next to play on the field of "fresh," touting the fact that because they are refrigerated bars, they can emphasize their lack of the binders and preservatives found in shelf stable bars. Though creating small batches at home seemed simple, Livolsi found that taking scaling the concept, without adding unwanted ingredients, was trickier.
"The recipe is only half the battle," Livolsi said. "Some co-packers wanted us to use additional ingredients that help the bars run easier on their machinery, but these ingredients tasted horrible."
Also adding to the difficulty in launching the bars was setting up a distribution network for a cold chain product: NuttZo's original line of spreads are shelf stable. However, unlike other chilled bars, because Bold BiteZ's ingredients are shelf-stable, the company was able to keep the same operational procedures.
The formulation of Bold BiteZ also addresses some of the pain points consumers and retailers have had with the category — namely that the "fresh" quality that gives the category its edge directly contradicts with consumers' desires to snack on-the-go because the product must be kept chilled. Many of the other chilled bars can only be kept out of a cooler for roughly 24 hours. However Bold BiteZ are shelf-stable for up to two weeks.
NuttZo is not the only company launching bars for the refrigerated set. Pro Bar, which makes functional nut butters, bites, bars and chews, recently announced the launch of its newest — and first refrigerated — line: a probiotic nutrition bar called P.O.P. The bar plays to numerous consumer trends with its added probiotics, plant-based protein and no added sugar.
On the other end of the trend spectrum, cheese creme maker Yooli announced its second product, Farmer's Cheese Bars, will arrive in the refrigerated and frozen sections of stores this fall. The bar is a soft white cheese coated in dark chocolate that caters to consumers looking for guilt-free indulgent dairy options and stands out among a sea of nut-based refrigerated bars.
Given all the new entrants, to the category, Livolsi said retailers, who were once hesitant to give up limited and costly cooler space, "are finding creative ways to broaden the shelf space to accommodate more brands."
Richard Gilmore, director of center store category management at Gelson's Markets, which stocks Perfect Bar, Wella Bar and Nelly's Organic Bar, told NOSH that the "consumer response has been huge."
"This is not surprising considering how well the shelf stable bar sets have done over the past five years. The only road block now is space. There is not much available refrigeration space so the number of SKUs will be restricted as the category becomes crowded," Gilmore said. "[Refrigerated bars] are an important part of our grab-and-go category but there are so many new entries into this space… As we continue to add refrigerated merchandising space we would anticipate an increased assortment in bars, but it will be a slow growth due to equipment needs."