KIND Takes on the FDA, While Clif Takes on KIND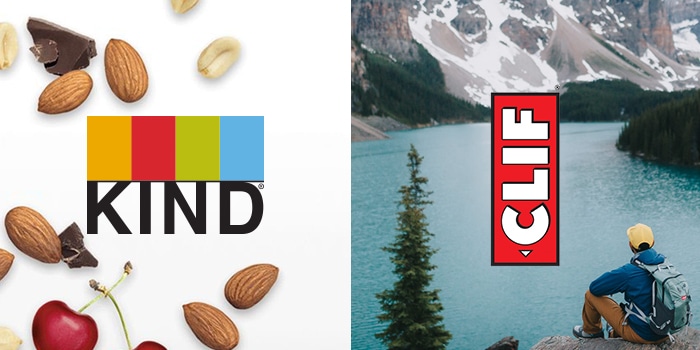 Talk about a bar brawl.
What constitutes a "healthy" product has long been contested in the snack industry, but a recent back-and-forth on the issue between KIND Snacks and Clif Bar has expanded the debate, bringing environmental causes and outside financial backing into the mix while putting two significant natural food brands on opposite sides of more than one issue.
For almost a month, the two nutrition bar companies have sparred — online and in print — over their products' ingredients. And KIND is continuing to push another group, the FDA, trying to change its stance on nutrition labels, an effort that might also rub Clif the wrong way.
It started earlier this month, when Clif ran an audacious full-page ad in The New York Times challenging KIND to use organic ingredients in its products. The ad was structured as an open letter from Gary Erickson and Kit Crawford, founders and co-CEOs of Clif Bar, to Daniel Lubetzky, CEO of KIND.
"We would like to issue a challenge: do a truly kind thing and make an investment in the future of the planet and our children's children by going organic," the letter began. Erickson went on to offer to help KIND by sharing his company's "expertise." The letter also called out KIND minority investor Mars, addressing the letter to "KIND Snacks (Mars Candy)." The company offered to donate 10 tons of organic ingredients to KIND get them started.
KIND promptly responded on Twitter, replying to Clif's tweeted link to the letter with an image of a Clif Bar with the words "31% sugar" printed over it, accompanied by the text: "Brown rice syrup is sugar, whether it's organic or not." The tweet went on to allege that Clif attempting to pass the ingredient off as healthy was "deceptive."
While KIND nut bars each contain less than 10 g of sugar, some Clif Bar varieties contain over 20 g.
Clif spokesperson Drew McGowan said in an email to NOSH that comparing Clif's and KIND's products is like "comparing apples to oranges," stating that while Clif is an energy bar, KIND is a snack. "When sugar is used it's to provide taste and energy—we look to match the amount of sugar to the amount of energy you need," he said. He also noted that Clif's latest snack offering, Whole Lotta, contains no added sugar.
Meanwhile, KIND's ongoing efforts around nutritional claims may be sideswiping Clif's efforts to appear as a healthy choice.
Last week, KIND announced that, along with public health experts, the company had filed a Citizen Petition pushing the U.S. Food & Drug Administration to address "misleading nutrient content claims," according to the press release. Lubetzky told Inc. that the petition was not related to the clash with Clif. KIND has been battling with the FDA on what constitutes a "healthy" product for several years, trying to get the agency to bring its regulations in line with new dietary findings around fat and calories.
"It all dates back to our first engagement with the FDA a few years ago," Stephanie Csaszar, a registered dietitian and health and wellness expert at KIND, said in an email to NOSH. "Even before that, KIND was committed to increasing transparency on food labels."
In 2015, the FDA issued KIND a warning letter requesting the company remove the word "healthy" from its labels because of the products' total and saturated fat content, the product of the bar's nut-heavy ingredient list. In response, KIND petitioned the FDA to update its regulation of the use of the word "healthy," as the fat content of foods like nuts, salmon and avocados prevented products containing them to be described as "healthy" under the regulation. The FDA reversed its stance in May 2016, allowing KIND to use the term on its wrappers again.
In the new petition, KIND stated that nutrient claims often ignore high added sugar or sodium in favor of nutritional benefits like vitamins or fiber. The petition asked that the FDA regulate these claims to only allow those items which contain "a meaningful amount of at least one health-promoting food," such as fruits, vegetables and whole grains, as well as add disclosure levels for added sugar and trans fat.
"Dressing up empty calorie products by emphasizing a singular nutrient, like protein or fiber, versus the overall quality of the food is unfair to consumers," said Lubetzky in the release. "[The] FDA can increase label transparency and help people better identify foods that contribute to a healthy diet."
According Csaszar, the goal for KIND is to create products that "incorporate sugar responsibly, modestly and transparently." She said KIND believes a healthy product "contains a meaningful amount of nutrient-dense foods, such as whole fruits, vegetables, nuts, legumes and seeds," though KIND's petition leaves it up to the FDA to determine the definition of "meaningful."
McGowan said Clif supports transparency in labeling but is also committed to helping companies go organic.
"Our goal is to improve the food system— it's good for people and the planet," he said, noting reducing people's exposure to toxic pesticides and job creation as a few benefits.
Csaszar did not comment on whether organic or sustainable ingredients played into KIND's idea of a "healthy" product, and McGowan said the company has not accepted Clif's challenge to go organic.
"The offer still stands," said McGowan. "If they commit to going organic, we'd be happy to share our expertise and we'll send ten tons of organic ingredients. We thought they would want to create a healthier, sustainable food system, like us."
Bob Burke, owner of Natural Products Consulting and former VP of sales and corporate development at organic brand Stonyfield Farm, noted that CPG rivalries — even between venerable natural, cause-oriented brands — are nothing new.
"In the early days of organic dairy, our rival was Horizon," he said. "They were doing more of a campaign against conventional milk and they were saying things like 'Our cows don't take drugs.' That kind of approach didn't really sit well with us. Not that we're so virtuous, but we thought having a positive message about organic in general, good for the planet, good for animal welfare, good for farmworker health, good for the consumer, was a much more positive message than anything that might resemble fear-mongering."
Burke also noted pushback from large scale dairies like Monsanto when Stonyfield and Ben & Jerry's started advertising that their products used milk from cows not treated with synthetic bovine growth hormones.
However, the concept of brands calling each other out by name has historically been a less common practice, as Burke noted there is "always the potential for it to backfire."
"At least from my time, there was this sort of sensibility of not denigrating somebody else, and more talking about what's good about your product and your brand," he said.