Distribution Roundup: Kidfresh Expands to Publix, Whole Foods
In the latest distribution news, Publix gears up for back-to-school with the addition of Kidfresh, while Walmart adds new condiments, crisps and ice cream brands.
Kidfresh Launches at Publix and Whole Foods
Kids frozen meal brand Kidfresh has expanded its retail footprint with Publix and additional Whole Foods stores. Four Kidfresh SKUs — Wagon Wheels Mac 'N Cheese, Super Duper Chicken Nuggets, Mighty Meaty Chicken Meatballs and SuperBlastin' Pepperoni Pizza Bites — launched at Publix in June. The mac n' cheese and chicken nuggets will also be available at 300 Whole Foods locations this month, along with the brand's Fun-Omenal Chicken Sticks and Mamma Mia Cheesy Pizza.
The brand, which adds extra "hidden" vegetables to every meal, also launched its new mozzarella sticks and cheese at select Target locations in May and recently launched its own ecommerce platform.
"Moms and parents are looking for great tasting kids' meals that are convenient and available where they shop," said Kidfresh founder Matt Cohen in a press release. "That's what we are all about. And with our eCommerce site, they'll now be able to buy Kidfresh from their own home."
Kidfresh announced in February the close of a new funding round led by existing investors. At the time, the company said it planned to use the funds to accelerate growth and for product innovation. The brand's products are currently available at over 10,000 retailers nationwide, including Walmart, Giant, Hannaford, Kroger, ShopRite, Safeway, Wegmans and Target.

Rubicon Bakers Launches at Northern California Targets
Baked goods maker Rubicon Bakers has launched its line of filled cupcakes, including its three vegan flavors, into 117 Northern California Target locations.
"We're thrilled to partner with Target to provide our line of delicious, hand-finished cupcakes to its customers," said Andrew Stoloff, Rubicon Bakers president, in a press release.
The company made the move into plant-based last year with the launch of its Vegan Chocolate Blackout and Vegan Vanilla flavors at select Whole Foods Markets, Sprouts, Northern California Safeways, Natural Grocers locations, and added its Vegan Neapolitan flavor earlier this year.
Rubicon Bakers, founded in 1993, employs those who have been incarcerated, homeless, or recently recovered from substance abuse. Rubicon Bakers baked goods are available in more than 2,500 stores nationwide, including Whole Foods, Lucky's Market, Sprouts and Safeway.
Walmart Adds Foraging Fox
British condiments brand Foraging Fox announced last month its Beetroot Ketchup will now be available nationwide at Walmart and on Amazon.
"Our Beetroot Ketchups started out as a homemade recipe and remain simple and delicious," said CEO and co-founder Desirree Parker in a statement. "We're bringing new flavors and ideas to make everyday meals better in the United States and the world."
The line will be available in three flavors — Original, Hot and Smoked — in 9 oz. bottles for $6.98.
Foraging Fox entered the U.S. market with Whole Foods in 2017. The brand told Forbes last November that it is considering other international markets such as Austria, Belgium, Denmark, Germany and Holland. Foraging Fox also said it hopes to export more than 40% of its product by 2019 and with a goal to double that number by 2020.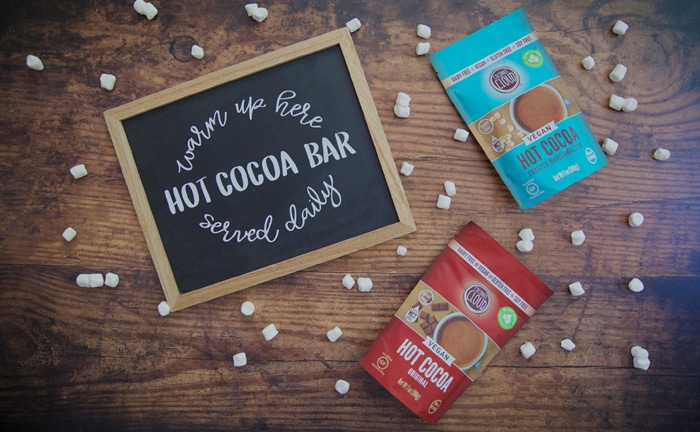 Coconut Cloud Hot Cocoa Now Available at Publix
Coconut Cloud, maker of dairy free, plant-based and allergen-free creamers, cocoas and instant lattes, has hit shelves in over 1,200 Publix stores. The Denver-based brand's Original and Toasted Marshmallow hot cocoa mix flavors will be available at Publix locations in Florida and the East Coast region.
"We are excited to see our cocoas on shelf next to conventional options like Swiss Miss and Ghirardelli, as our product will now also be readily available to the growing number of consumers looking for a lower sugar, allergen friendly, and mom-approved version of a classic chocolatey treat," said Lauren Durso, Coconut Cloud managing director.
The brand also recently announced several new product launches, including Chai Tea Latte mix and bulk-sized version of its vanilla coconut milk creamer, now available on Amazon and Coconut Cloud's website.
Coconut Cloud's Vegan Hot Cocoa launched on Amazon last June, and debuted single-serve versions of the mix on the site in March.
34 Degrees Sweet Crisps Hit Shelves at Walmart
Cracker brand 34 Degrees' sweet snacking line has been added to 1,500 locations nationwide, including Walmart, Wegmans and Meijer. Walmart has added Chocolate and Sweet Lemon Sweet Crisps flavors, while Vanilla and Sweet Lemon flavors will hit shelves at Wegmans this month. The Vanilla flavor will launch in Meijer locations this summer.
"We're thrilled to be expanding our distribution nationwide, as the response to our Sweet Crisps has been overwhelmingly positive," Craig Lieberman, founder and president of 34 Degrees said. in a press release. "Our new retail partnerships are making it possible to be even more accessible to consumers looking to find an elevated way to snack this summer."
34 Degrees Crisps are also currently available in retailers in the U.S. and Canada including Whole Foods, Kroger, Publix, Sprouts, Target and Safeway.
34 Degrees told NOSH in 2017 that it planned to use funding from a Fresca Foods investment to expands its flavor portfolio and packaging formats. The brand made the switch from boxes to bags for its Sweet Crisps packaging last year, and debuted single-serve Sweet Crisps bags in May for its Vanilla and Sweet Lemon flavors. It will debut redesigned packaging for its Savory Crisp line later this year.
Brothers Ice Cream Expands into Walmart
Brothers Ice Cream, a division of Brothers International desserts, has expanded into 2,000 Walmart locations nationwide. Five of the California-based brand's SKUS — Chocolate Chip Ice Cream Sandwiches, Brownie Ice Cream Sandwiches, Vanilla Ice Cream BonBons, Salted Caramel Ice Cream BonBons and Mint Ice Cream BonBons — will now be offered in Walmart's frozen food section.
"Our partnership with Walmart is a remarkable step forward and a great validation for the Brothers Ice Cream division," said Gary Winkler, founder and CEO of Brothers International Desserts, in a release. "We have been in the ice cream industry for 45 years, so we like to think with all of our experience and knowledge we have created frozen treats that will be loved and enjoyed by consumers of all ages!"
The brand launched new packaging for several of its products in March in order to pay homage to the 1970s roots of the brand, which was founded in 1973 by brothers Brooklyn, Gary and Errol.
Other distribution news includes:
Hummus brand O'Dang launched its hummus dressings line, including roasted red pepper, Greek tzatziki, honey mustard, Caesar, ranch and buffalo ranch flavors, at all Midwest Hy-Vee and Jewel Osco locations.
Watcharee Thai's Thai sauces are now available at all Whole Foods locations.
Bee product brand Bee & You launched its food and supplements in 3,000 CVS pharmacy locations, as well as on Amazon and the brand's website.
Monsoon Kitchen's basmati rice bowls and samosas have been added to Fairway's freezer section in 15 locations.
Better-for-you ice cream brand Arctic Zero announced last month its low-calorie Light Ice Cream is now available at Walmart nationwide.
Costco added Country Archer's Mini Meat Sticks to its shelves shelves in May, as the brand builds on its goal to expand its mass retail presence.
Farming company Bowery's indoor-grown produce will be available for delivery through Peapod and Amazon Fresh to all New York City boroughs as well as northern and central New Jersey.
Plant-based fruit jel brand Zellee Organic is now available in 325 Sprouts Farmers Markets nationwide.