Distribution Roundup: Field Trip's Everything Bagel Jerky Launches Nationwide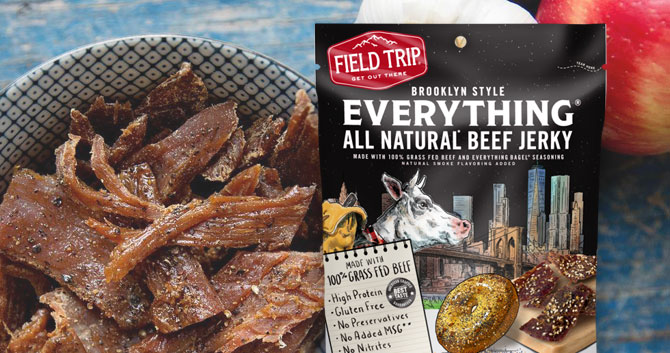 Field Trip's Everything Bagel Jerky Launches Nationwide
In January meat snack brand Field Trip announced the launch of Everything Bagel seasoned jerky. Now the new flavor, which joins Field Trip's portfolio of 20 jerkies, meat sticks and pork rinds, will launch nationwide in all CIBO airport markets, 500 RaceTrac convenience stores and the San Diego region of Costco. Field Trip co-founder Matt Levey told NOSH that he believes consumers will be drawn to the unique flavor, which is particularly popular with millennial shoppers.
"While everything flavors are very hot in salty snacks and the seasonings are being commonly used on meats, there still isn't a product on the market that actually sells an everything bagel meat snack until now," Levey told NOSH.
Levy pointed to the success of private label "everything" seasoning blends at Trader Joe's and Costco as a reason for Field Trip's innovation. Levy believes that Field Trip is the only "Everything" jerky on the market, and will remain so because the brand has trademarked the use of "everything" and "everything bagel" in relation to meat snacks.
Better Bites Takes Treats Nationwide at Whole Foods
Allergen-free treats from Texas-based dessert brand Better Bites Bakery are now available in the bakery department in all 479 Whole Foods Markets locations nationwide.
Founded by Leah Lopez in 2011, the free-from desserts maker quickly caught the attention of fellow Austin company Whole Foods Market, which first accepted Better Bites into the Southwest region and in 2014 provided Better Bites with $33,000 in funding through the Whole Food's Local Producer Loan Program.
Lopez said in a release that the funding was "instrumental" to Better Bites' growth.
"I can't believe how far we've come in the past few years," Lopez said in a release. "All I wanted to do was to make something my son could enjoy at birthday parties, and now there are people across the country sending me letters and emails telling me how much it means to them that they and their kids can have dessert."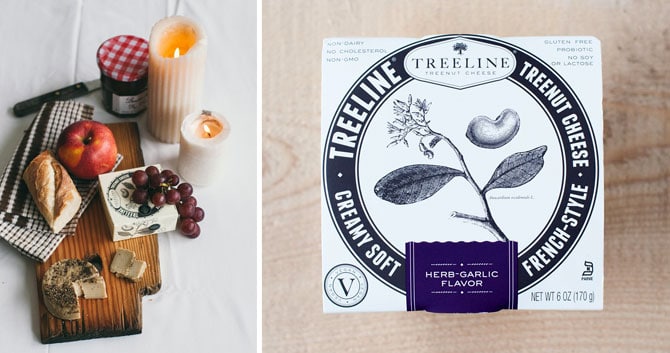 Whole Foods Expands Treeline's Reach
Artisanal plant-based cheese brand Treeline Treenut Cheeses announced that its cheeses have expanded to 85 Whole Foods Market stores in the Southeastern U.S. region this winter. The vegan cheese brand was already sold in 360 Whole Foods stores.
The cheeses, made using fermented cashews, are kosher, soy-free, gluten-free and made without stabilizers, thickeners or added oils. They are available in six varieties, including a recently launched New York-style cashew cream cheese.
According to Treeline, the company recently doubled the production capacity of its "plant-based dairy" in New York. Treeline products are also sold at select locations of Wegmans, Kroger, Meijer and Fred Meyer.
Wegmans Adds Two Emerging Brands to Shelves
In November, Wegmans added products from two emerging brands: sports nutrition company Ascent and Rule Breaker, maker of vegan bean-based snacks.
Ascent products are now sold in all 98 Wegmans locations. The Northeastern retailer added Ascent Native Fuel Whey in vanilla bean, chocolate and lemon sorbet flavors and Ascent Native Fuel Micellar Casein chocolate.
Rule Breaker Snacks will be added to 30 Wegmans locations. The retailer is adding four SKUs: deep chocolate brownie, chocolate chunk blondie, birthday cake and p'nutter chocolate chip treats.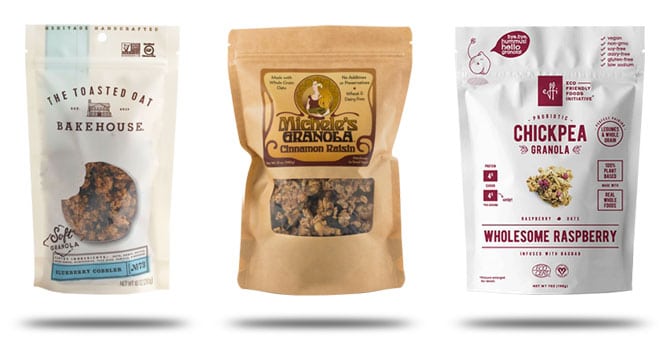 Whole Foods Expands Granola Offerings
Whole Foods Market took a fresh look at its granola offerings late last year, adding three new brands, The Toasted Oat, EFFi Foods and Michele's Granola, to its breakfast set.
The retailer has picked up he Toasted Oat's soft-baked, gluten-free granola as well as Effi Foods' chickpea granola in all regions. Effi Foods will also launch a sweet heat (cacao and cayenne) SKU as a Whole Foods exclusive.
In addition, Baltimore-based brand Michele's Granola will sell its small batch granola in 350 Whole Foods Market stores across 28 states, including on the West Coast.
In other distribution news:
Peckish, the protein-play from Sonoma Brands, launched its "perfectly boiled" eggs and crunchy dip sets in Southern California Erewhon Markets, Northeast Equinox gyms and Whole Foods' 365 stores.
Cece's Veggie Co.'s has launched into the produce department of Whole Foods Markets nationwide. The pickup of the brand's vegetable "zoodles" and rice comes soon after former Whole Foods Market co-CEO Walter Robb invested in the brand.
Protein wellness brand Designer Protein's original product, Designer Whey, has hit the shelves of Target stores nationwide.
Uber passengers will now have more options for on-the-go snacks. In-car commerce company Cargo has added naturally caffeinated bar brand Better Than Coffee to their snack assortment in select New York City and Los Angeles Uber vehicles.
Wolo' Protein Wanderbars, the protein bars made to aid travellers' immunity, digestion, and blood flow, are now available in all Sprouts markets nationwide.
Sprouts Farmers Market has also added the Jersey Tomato's low-sodium pasta sauce line to their shelves nationwide. Sprouts will carry three flavors: marinara, tomato basil and spicy.
WW, formerly Weight Watchers, introduced six new WW Fresh quick-prep meals this month at over 200 Hy-Vee locations across the Midwest. WW Fresh is part of the WW Healthy Kitchen portfolio along with WW's partnership with meal delivery service Blue Apron.
Happi Foods Oatmeal, a line of high-protein frozen microwaveable oatmeal bowls, is now sold at all 597 Sam's Club locations. The full Happi Foods line is available at Walmart and Sam's Club locations nationwide.
Sprouts Farmers Markets has added Olivia's Croutons to shelves nationwide.