Cece's Lands Former WFM Co-CEO as Investor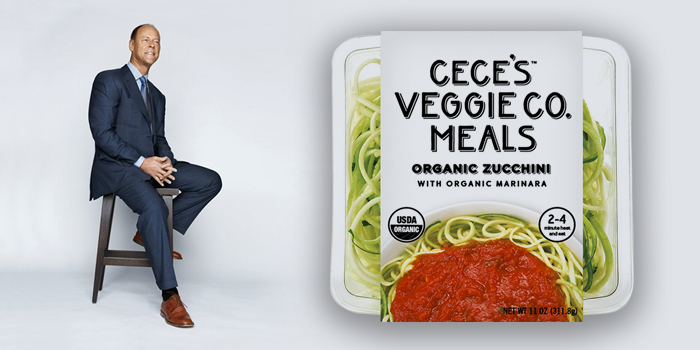 The produce category is competitive with limited shelf space available, and any insight into a retailer's mindset can be an advantage. Cece's Veggie Co will have just that, with the announcement today of an investment by Walter Robb, the former co-CEO Whole Foods Market. Exact terms of Robb's investment were not disclosed, but founder Mason Arnold told NOSH it was a "meaningful" amount.
Cece's previously raised $14 million from investors including private equity group Encore Consumer Capital. Arnold told NOSH that he wasn't actively seeking more capital for the company, but when the opportunity for Robb to invest came about, both he and the board were enthusiastic about the idea.
Robb has invested in companies including Heat Genie, Apeel Sciences and FoodMaven since departing Whole Foods in 2016.
"In this new chapter, I'm really drawn to young entrepreneurs who are doing interesting and exciting things. I think part of my role in the world now is to help mentor, or help participate, in some of those companies or however I can be helpful," Robb told NOSH. "I like the foundation that [Mason's] laying and how he started the business. And I like the way he's created the product so far and the attention that he's given to being innovative."
2018 was a transitional time for Cece's. Over the course of the year, the company gradually introduced its new name — it was previously The Veggie Noodle Co. — in order to offer a wider portfolio of products then just noodles. The brand also launched a set of meal kits, which come packaged with sauce, and completed its first full year at its new 42,300 sq. ft. production facility, which employees over 250 people.
Cece's is currently in over 4000 stores including Target, Sprouts and Albertsons, and recently launched nationwide into Whole Foods Market. Arnold told NOSH that he believes Robb's understanding of the retail landscape will help the company continue to see distribution growth.
"He helped grow, to what it is now, [Whole Foods] — our best partner in the marketplace," Arnold said. "Walter's philosophy and vision on where organic and natural food and fresh food should go, is extremely aligned with us. We're excited to work with him on what the future of retail looks like and how we can help retailers help their customers."
In addition to direct to consumer offerings from players including Hungryroot, Cece's faces competition from private label products,such as Trader Joe's, as well as large strategics, like B&G's Green Giant, who offer consumers other riced and noodle vegetable solutions. Arnold has tried to separate his company by offering patented, creative shapes that mimic their grain-based analogues and by focusing only on organic, fresh products.
But in addition to retaining current shoppers in the face of this competitive environment, Cece's also has a huge opportunity in converting new shoppers who have never tried any veggie noodle or rice product, according to Arnold and Robb.
"I still think there's a lot of storytelling and discovery left for [Cece's]." Robb said. "In my experience as a grocer, I see the market bifurcating into value and premium with the 'muddled middle' going away. But I also think the customer wants both. They want private label sometimes, they wanted branded sometimes. They love their brands. So it's up to Mason to build a brand that resonates with customers."