Veggie Noodle Co Founder Talks $14M Investment & Produce Passion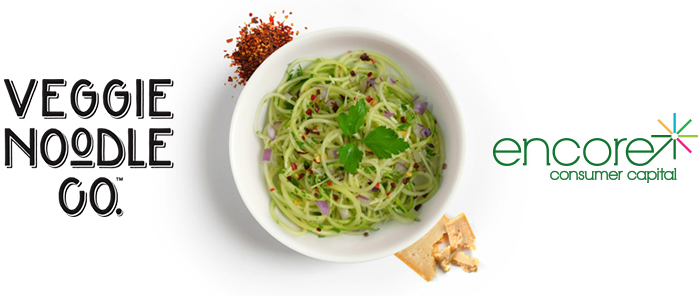 Last week, produce-centric brand Veggie Noodle Co. announced a minority investment from Encore Consumer Capital. Today, the Austin, Texas-based company released more details surrounding the deal, which was revealed to be a $14 million investment closed in May.
This is the first round of equity-based investment for Veggie Noodle Co., which until now was funded through debt. Spurring the need for capital was the company's need to move into a new production facility, founder and "Veggie Nerd" Mason Arnold told NOSH.
Veggie Noodle Co, founded in July 2015, has been producing their line of spiralized vegetable noodles out of its existing, retrofitted facility. Now the company plans to move into a new plant that will greatly improve their production speed and process because of its size — the custom built plant is over three times the original —  and because it's fitted to Veggie Noodle Co's exact specifications.
In the process of developing their lines that are sold in 30-40 retail chains for a total of 2,000 doors, the company has developed several patent pending machines that both improve the production of the noodles as well as the quality and taste of the noodles.
"We're having to create our own machines to make the perfect noodle," Arnold said, "but we think that's going to give us long term competitive advantage. This is what we do all day, every day."
A lack of a custom factory has impeded the company's growth in distribution. Arnold said that rather than steady growth, it's come in spurts.
"It's a stair step [growth pattern] as we build capacity," Arnold said. "So we'll have a quarter or two that's flat and then we implement new processes and we'll take a big jump up and be able to take on new customers. And then rinse and repeat."
The new facility will hopefully, he noted, allow the company to just see continuous growth.
Along with the plant, Arnold said raised funds will go toward expanding the company's current 200-person headcount by 25 percent. In the past year, the company made several key hires, including former Whole Foods Market global produce coordinator Chris Romano as COO and Anish Sheth, founder of pulse snacks brand World Peas Snacks, as VP of sales.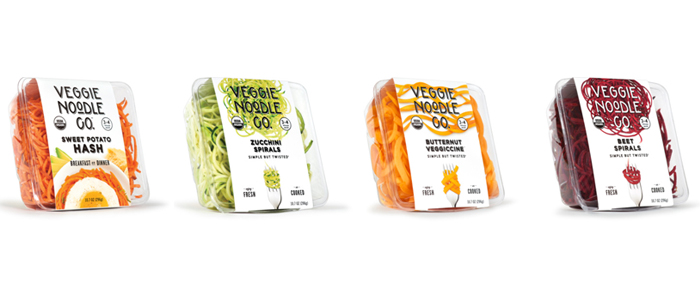 In addition to a focus on team, Veggie Noodle plans to invest in R&D and develop more innovative products. Arnold told NOSH the goal is to create items that will continue to help consumers explore new ways to make vegetables part of their lives. While the company's name has somewhat restricted them to noodles, he said they are exploring other categories while in a "healthy debate" regarding whether a name change or brand repositioning is needed.
"When it comes to R&D, we're a processing and consumer insights company. So we are inventing novel ways to process vegetables and we're combining that with customer demand," Arnold said. "Our DNA and culture is around fresh. We want to help get people to eat more vegetables in any format or way that they can, but we think there's a lot of opportunity for fresh vegetables."
Arnold told NOSH Veggie Noodle Co's team is excited to pull from Encore's background in the food and beverage industry, particularly with fresh food companies such as frozen strawberry processor California Splendor, produce distributor FreshKO and shelf stable juice concentrate producer Juice Tyme.
"Produce is a very competitive industry and to be successful, you need have excellence in purchasing, operations, food safety and marketing," Scott Sellers, managing director of Encore Consumer Capital told NOSH. "You can't be weak in any of those areas. We feel that we can leverage our experience in those four areas to guide the company through its current growth phase."
While Encore will bring strategic guidance, Arnold said he thinks he already has a leg up on the competition thanks to a substantial investment in consumer research and his own previous experience in CPG as the former co-founder of Greenling, a local and organic food delivery service.
Before starting the company, Arnold spent six months researching consumer preferences on pack size, noodle taste and texture, and brand positioning. He came away with a belief that while some may say the "spiralized" noodle is a fad, the product fits a rising trend of consumers who are dealing with food allergies and looking to consume more healthy, whole foods.
With a solid foundation in place, Arnold added that the company's narrow focus on this category helps the brand stand out on shelf among the growing private label veggie noodle options.
"The way that we differentiate ourselves is that this is our world. We are constantly focused on our noodles where most of the private labels have other products in their set, where we geek out on the minutia of what makes a good vegetable noodle," Arnold said.
SaveSave