Buff Bake Launches New Line After Year of Major Brand Moves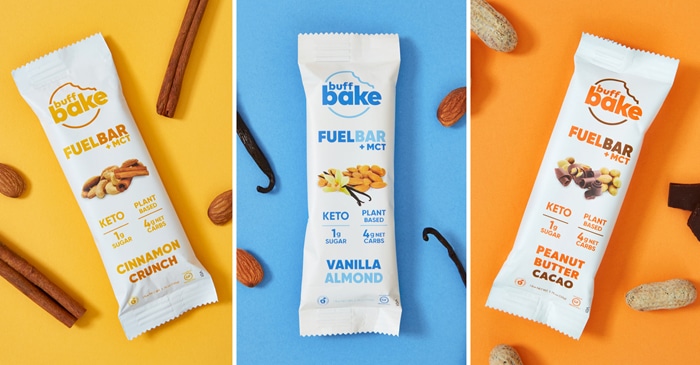 After what proved to be a pivotal year in 2018, better-for-you protein snack brand Buff Bake is looking forward with a tighter focus. This month, the company launched a new keto bar line and earned a space in 7-Eleven's emerging brands store refresh, both moves it hopes will serve to build off the product rebrand, reformulation and leadership changes made over the last year.
With the launch of its new FuelBar + MCT line, the brand is zeroing in on trends it has yet to explore. According to Ryan Queen, Buff Bake co-owner and VP of sales and finance, these include keto-friendly, plant-based and low to no added sugar products, as well as the energy-boosting benefits of healthy fats. The new bar line was inspired by Buff Bake's heritage, as the brand first launched with nut butter in 2014 before moving into other high protein snacks. With the FuelBar, the brand wanted to integrate nuts as the first ingredient in an on-the-go snack, a category Queen said is a key focus moving forward. The bars were also inspired by the realization that Buff Bake's products did not meet the dietary needs of its own employees, many of whom followed diets free of gluten, dairy or whey.
"It became a relevant part of why we wanted to build something better that also naturally aligned with what's happening in our office," said Buff Bake CEO Chris Bernard.
The new bars, available in vanilla almond, peanut butter cacao and cinnamon crunch flavors, are currently sold on the brand's website and are set to launch soon on Amazon. Buff Bake's Crunchy Protein Cookies, which are sold in roughly 5,000 stores, also racked up a new retail partner this month after the SKU was selected to be part of 7-Eleven's "Sips & Snacks That Love You Back" set. The new campaign highlighting better-for-you items from emerging brands is currently being tested in 125 stores in the Los Angeles area. Queen told NOSH the brand has been working to enter 7-Eleven for several years.
"This program is an incredible opportunity, because it shows a retailer really choosing to evolve their business and what's happening in the marketplace," said Bernard. "They're asking their customers to evolve with them, but they're also going out and trying to bring in new customers."
While Bernard said Buff Bake has had conversations about putting the new keto bar line in the store, for now 7-Eleven is featuring only the cookies.
The new moves come after what Bernard called a "difficult year for the brand." Last July, co-founder Ashley Boeckle announced she had left Buff Bake to focus on her new company, Spudsy Sweet Potato Puffs. Bernard said he felt that Boeckle's descision to step away was a "responsible thing for a co-founder to realize and do."
"There was definitely a misalignment of everything from the level of work each partner and each manager was bringing to the table, to focus, to direction, to the future," he added.
The management shakeup, Bernard said, helped the brand make the decision to rebrand and reformulate its products.
"We weren't aligned as a team, and we had to make significant changes there and as part of that, we took a really hard look at our products and our packaging and said 'Okay, we need more transparency here'," Bernard told NOSH.
After examining the competitive landscape, Bernard said, the team realized most of its product packaging featured brightly hued, saturated colors. Buff Bake's makeover went the opposite direction, introducing a label design that is largely white and highlights nutritional benefits. According to Bernard, the new packaging, introduced in December, has been selling ten to one over the old version.
The rebrand kicked off a larger discussion about improving product quality through a cleaner ingredient deck. Buff Bake's reformulated cookies now contain 30% less sugars; across all the company's lines, the number of ingredients utilized is down by 25%. The keto bars, Queen said, are the culmination of these efforts and feature the smallest ingredient list of all the brand's products.
Having emerged from a year of changes with a solid foundation for future growth, Buff Bake now plans to zero in on building distribution and retail wins.
"Right now it's all about focus," Bernard said.