People Moves: Buff Bake Co-Founder Exits to Start Puff Brand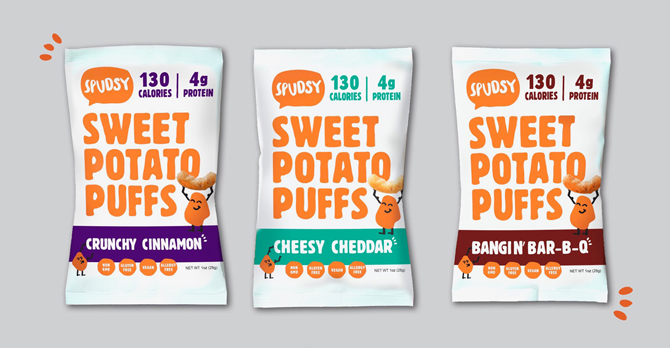 From a food entrepreneur's newest journey, to the addition of a confectionary veteran at a leading trail mix brand, here's your latest in food industry hiring news.
Buff Bake Co-Founder Leaves to Start New Brand
Ashley Boeckle is going from buff to puff. The co-founder of Buff Bake announced this month that she has left the protein-infused nut butters and cookie brand to focus full time on her new company, Spudsy Sweet Potato Puffs. Buff Bake will remain under the leadership of her cousin and fellow co-founder Brittany Boeckle.
Boeckle launched Buff Bake in 2014 and took investment from fund AccelFoods to fuel its growth in February 2018. The brand is now sold in over 10,000 stores across the U.S., Canada, the U.K. and the United Arab Emirates including in Vitamin Shoppe, Wegmans, Giant Eagle, H-E-B, Ralphs and Sprouts. Though the brand was seeing success, especially among the fitness community, Boeckle said she saw a white space in the booming puff category that she couldn't ignore.
Cue Spudsy, a gluten-free, non-GMO sweet potato puff line. Boeckle will fund the company's launch with a Kickstarter campaign in early August. The products will be sold in three flavors — cheesy cheddar, crunchy cinnamon and bangin' Bar B Q — at $3.99 for a 4.5 oz bag. To launch, Boeckle plans to focus on direct-to-consumer sales as she does not currently have confirmed retail partners.
Boeckle told NOSH that she felt confident in starting a new company because of the lessons she learned while building Buff Bake.
"You cannot just ship your product into stores and expect it to sell. You need to figure out how to get consumers to buy your products," she said. "That and persistence. If someone tells you 'no' come back a day or week later and ask them again. Eventually they will say yes if they can see your passion."
Century Snacks Hires Former Mondelez Exec as CEO
Snack mix brand Century Snacks announced late last week that it has hired 20-year CPG veteran Valerie Oswalt as CEO. Oswalt was formerly the president of North American confections at Mondelēz International. Century Snacks produces the Snak Club, California Naturals and Muncheros, a lines of trail mixes, dried fruit and roasted nuts.
The hiring comes just over a year after Century Snacks was acquired by Insignia Capital Group, which has also previously acquired food companies such as meat snack brand Tillamook Country Smoker and chip and salsa brand On The Border's parent company, Truco Enterprises. David Lowe, chairman of the board of Century Snacks and CEO of Insignia Capital Group, said via a release that the company hired Oswalt because they believe her experience will help propel the company into its next phase of growth.
"Valerie is a dynamic leader with a unique background that spans marketing, sales, operations and finance," Lowe said in a statement. "She has a long-standing track record of building brands, leading high-performing diverse teams and establishing strong customer relationships to deliver both top and bottom line results."
In the announcement, Oswalt outlined her initial strategic plan for Century Snacks. To begin, her team will focus on leveraging the company's new U.S. based manufacturing facility, expanding the company's private label presence and flexing the brand's newly updated packaging.
Amin Talati Names New Managing Partner
Chicago-based regulatory and intellectual property law firm Amin Talati Upadhye announced last week that it has named Ivan Wasserman as the successor for managing partner Rakesh Amin.
Wasserman has been in the firm's growing Washington, D.C., office, representing some of the most recognized brands in food in addition to acting as general counsel of the International Probiotics Association.
"I first met Ivan almost 15 years ago, and ever since have been impressed by his proven ability to inspire, build teams, advocate for his clients and, of course, make people laugh," Amin said in a statement. "On top of all that, he also has great business judgment and is the natural choice to lead our incredibly talented team."
As for Amin, he told NOSH he is "still practicing every day and loving it" at Amin Talati.
Sabra Hires Exec to Drive Innovation Beyond Dips
Hummus brand Sabra Dipping Company has added Cherie Floyd to its executive team as Chief Technology Officer. Floyd will take charge of the company's product development strategy as it seeks to transition into new categories.
Prior to joining Sabra, Floyd served as VP of R&D for Kellogg North America Snacks. Tomer Harpaz, Sabra CEO, said Floyd's background in innovation and supply chain that made her the best candidate for the role.
"This hybrid of skill and sentiment are core to what drives success at Sabra's Center of Excellence," Harpaz said in a statement. "We are on the cusp of an evolution in hummus consumption as consumers begin to embrace this plant-based food as the base for a delicious meal. We are thrilled to have Cherie helping us lead the way."
Other notable food industry additions include:
Walmart Looks Outside Food for New Hires: Walmart is tapping two leaders from outside of the food industry to join the company's executive team. Former American Express executive Janey Whiteside announced via LinkedIn that she is joining Walmart as the company's new chief customer officer. Whiteside's main focus will be thinking through the customer experience to increase customer acquisition and retention. Barbara Messing, the current CMO of Trip Advisor, will also join the Walmart team as CMO in mid-August.
Beanfields Sees CEO Changeover: Mark Rampolla left his role as CEO of the company earlier this month and former Califia executive Arnulfo Ventura has stepped into the role.
Campbell's Hires New CMO: The Campbell Soup Company announced earlier this month that it had appointed Diego Palmieri as VP and CMO of U.S. meals and beverages, effective last week. Palmieri joins Campbell from SC Johnson.
Not So Gentle Tea Focuses on E-commerce: The bold flavored tea brand announced earlier this month that it has brought on Ryan McLellan as VP of marketing. The company, which launched on Amazon this month, aims to expand its online presence under McLellan's direction.
Obvious Ventures Promotes New Managing Director: Nan Li has been promoted to managing director at Obvious Ventures, a venture firm investing in startups that combine "profit and purpose." The firm's portfolio includes Beyond Meat, Good Eggs, Miyoko's Kitchen and Urban Remedy.
Little Secrets Hires Nestlé Vet: After a 13 year career at Nestle, Jeremy Vandervoet is now the president and COO of chocolate company Little Secrets effective last week. He will focus mainly on innovation, marketing and operations.