After Year of Growth, Lavva Rebrands to Broaden Appeal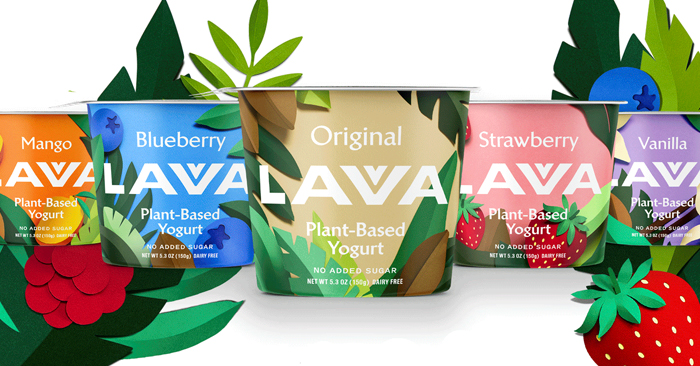 After of a year of fast growth, plant-based dairy brand Lavva has undergone a rebrand that places a greater emphasis on taste as it seeks to expand its consumer base in 2019.
The brand has enjoyed success since launching roughly a year ago, growing to 1,000 doors in retailers including four regions of Whole Foods, Safeway, Albertsons, Wegmans, Erewhon and Fairway. However, co-founder and CEO Liz Fisher and CMO Nicki Briggs told NOSH, to get to the company's next stage of growth, a new point of view and look was necessary.
"We have this really beautiful delicious cup of plant-based yogurt that happens to meet all these dietary needs, so we [thought] there's an opportunity to not only be really specific with people that want our products but also much broader," Briggs said. "We don't want to alienate that dairy consumer that's also looking for more plant-based products. We wanted the positioning to really scream delicious."
The new look was designed by Brooklyn design firm Gander along with internationally recognized cut-paper artist Hattie Newman.
More colorful and clean, the new packaging decreases the emphasis on the pili nut itself, shifting imagery of the nut from being front and center to peeking out from some foliage. That move, Briggs said, was in response to feedback that while discovering a "new" nut was a novelty for shoppers, consumers purchase Lavva based on taste and broader health benefits, such as having no added sugar.
As a result, the new packaging is about creating a strong brand point of view rather than emphasizing that Lavva is missing traditional dairy ingredients.
"There's been an approach to making non-dairy yogurt that was more about what it wasn't, then what it was. So we didn't go at it that way," Fisher said. "It does happen to live in the yogurt case and it is cultured, but its very different then trying to copy yogurt."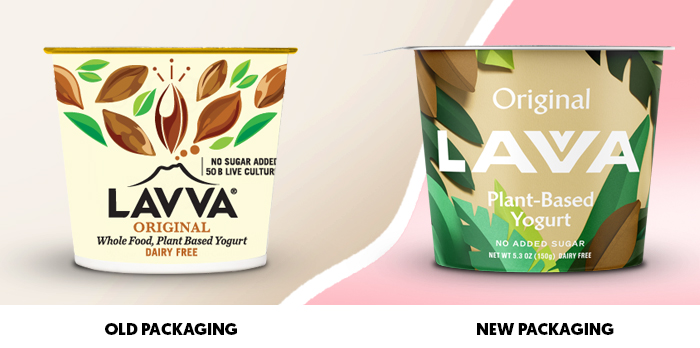 With a new look in hand along with investment, the brand plans to spend 2019 primarily focusing on increasing velocities and distribution. Lavva raised $3.5 million in April 2017 and closed a convertible note of roughly $2.3 million in early 2018 from investors including S2G Ventures, Collaborative Fund and Asian PE group Green Monday.
It's thanks to the the latter that Lavva will expand into Hong Kong in the first quarter of 2019. It also worked with a co-packer to open a second plant on the West Coast and brought on Heather Dean, former director of sales for fermented food brand Farmhouse Culture.
Although Briggs and Fisher declined to comment on when Lavva might expand beyond yogurt, both said that entering other categories is part of the company's roadmap. Although the pili nut can be used to create other non-dairy products, Lavva may look to other plant-based ingredients in the future. The redesign, Briggs said, now allows the brand to have that flexibility.
Although there's a broad swath of options in terms of next products, Briggs added, all would be clean label, only use ingredients found in nature and likely involve gut health.
"We've created [a brand] that's so much more than just yogurt," Briggs said. "Lavva is a different kind of food technology company, one that really takes things from nature and uses them in creative ways. [So] what we can do there is really endless. There's so much innovation that can be had when looking at it that way."