That's It Doubles Down on Clean Label With Redesign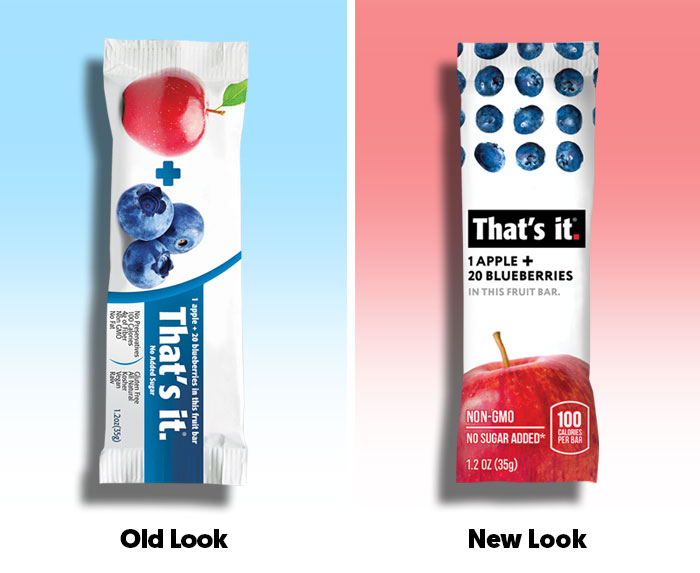 A month after fruit bar maker That's It was hit with a lawsuit centered around its clean label branding, the company is sporting a new look that more zealously embraces the same characteristics it was sued for. Debuting tomorrow at the Sweets and Snacks Expo in Chicago, That's It's packaging will now sport a new wordmark and design that doubles down on the "simplistic" nature of its products, which only contain one to two ingredients each.
The new look, designed by Tennessee-based design agency Humanaut, will hit shelves in the late summer at retailers like Starbucks, Target, and Whole Foods Market. The brand's bars and bites are currently sold in over 35,000 locations nationwide.
That's It founder and CEO Lior Lewensztain told NOSH that the company had not updated its packaging in over five years so they wanted to modernize it, while still staying true to the brand's core values. To do that, the brand has most notably reduced its front of package callouts from 11 attributes to only a handful to create a sleeker and less cluttered look. The company has also embraced a more neural, black-and-white color scheme — with only small pops of color — in a strategy that is different from other brightly hued competitors in the bar set, according to Lewensztain.
"We are going to contrast ourselves to a lot of the color blocking that is going on," he said. "That was something RXBAR was so successful [with]."
Lewensztain told NOSH that the packaging update was already in the works prior to the lawsuit. Last month a plaintiff filed a complaint in the U.S. District Court for the Eastern District of New York, arguing that the brand was too generic and using deceitful marketing tactics. The plaintiff alleged that the company was committing fraud when it listed fruits like "blueberries" and "apples" on its ingredient label. According to the complaint, That's It would have to processes its fruits and vegetables into sub-ingredients — such as binders and powders — in order to make their bars. While the ingredients themselves may be derived from an apple, for example, the plaintiff alleged that they have been sufficiently transformed to no longer resemble the fruit itself. That's It had addressed these kind of processing questions by citing "a proprietary process."
Though Lewensztain declined to comment on the suit itself, he did say that the brand did not let the suit influence what they sought to achieve with the rebrand or whether they would bring the new look to market.
"Everything that is on our packaging, there is complete merit to it," he said. "There was no reason for us to alter anything because that is who we are and that is what we use."
The design evolution is a natural progression, according to Lewensztain. Now more than ever, consumers are attracted to succinct and simple packaging that embraces minimalism, he told NOSH — and the research supports his claim. Market intelligence agency Mintel named minimal and simplistic designs as one of its global packaging trends for 2018, and bar brand RXBAR attributed its own simplistic packaging as part of the reason for its success — and eventual $600 million sale to Kellogg's last year.
"The images of the fruit or the vegetables and the chocolate, those were things we had on the front of our packaging from day one, but in retrospect, I think we were probably a little ahead of the curve in terms of the transparency of labeling and minimal ingredients," Lewensztain said. "Now everyone [is] trying to simplify not only the ingredient deck but [they're] also being more transparent about what is in their products."