Modern Food Trends Prove Kosher for Passover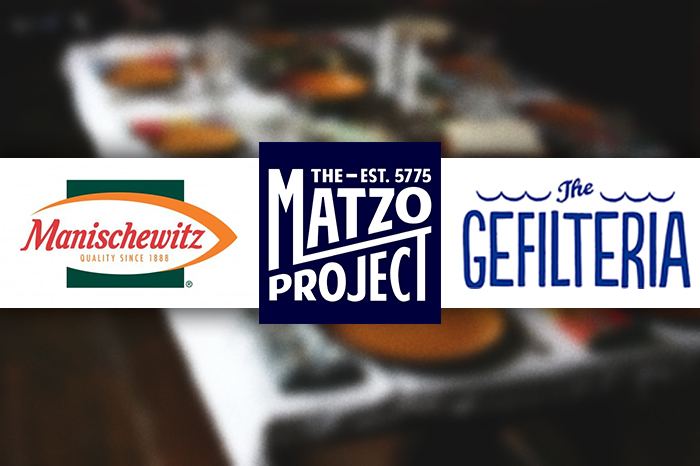 As Passover comes to a close, those observing the holiday can say farewell to classic recipes such as matzo brei and Charoset for another year. And while traditional dishes at the Seder table may stay the same from generation to generation, food brands don't have the luxury of remaining complacent. As consumer dietary trends shift and new brands come to market, stalwart brands must also adjust their offerings to remain contemporary.
While some brands, such as the Matzo Project or The Gefilteria, aim to stand out by appealing to more gourmet or health-centric kosher foodies, others, like Manischewitz, are looking to more interactive options that commercialize traditionally homemade dishes.
Change is necessary in order to keep up in a lucrative market. In 2012, there were more than 23,000 Passover food items in stores. This year, that list has more than doubled with new offerings from established players and young brands. There's a financial lure for these seasonal-focused brands; of the $12 billion kosher food market, Passover foods accounted for $1.3 billion of sales, according to data from Lubicom Marketing Consulting.
Even Passover staple matzo has undergone transformations. Retailers now carry everything from gluten-free to whole-wheat options. The Matzo Project has taken the category evolution a step further with a lineup of three flavors of "better-tasting" matzo — plain, everything and cinnamon sugar– and matzo chips. The brand launched last June and in less than a year has grown from a home-kitchen operation to a brand sold in more than 100 stores in 28 states.
Creative flavors are also being embraced by larger brands. David Most, vice president of marketing for Manischewitz told NOSH that the pressure is always on the more than 120-year-old brand to be forward thinking.
"Once upon a time, the macaroon was just your three primary flavors of almond, coconut and chocolate. And now we have over 15 different flavors," Most said. "We look at ourselves as the Ben and Jerry's of exotic macaroon flavors. And we pride ourselves every year to make an effort to do something different with the macaroon. Consumers anticipate that and look forward to that."
This year, the brand launched matzo pizza kits, a dish that's a staple in households observing the holiday, but had yet to be commercialized. It's a beloved dish made even more convenient.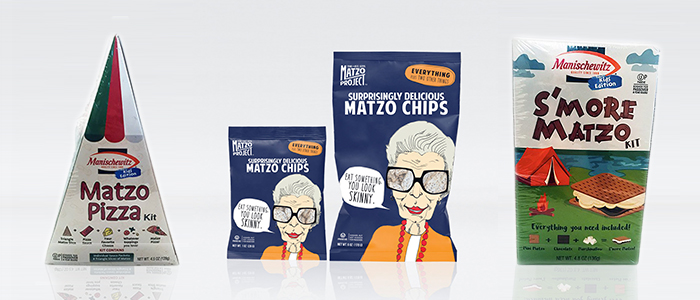 However, there's still a balancing act between being innovative and being unfamiliar. Jeffrey Yoskowitz, Gefiteria owner and co-founder, told NOSH that when he and his partner started their artisanal gefilte fish company, they considered additions such as curry or turmeric. Ultimately they decided that the flavors were too far afield to be widely accepted.
Brands have also begun to play with the classic Passover packaging of food. The Matzo Project features a humorous illustration of a Jewish mother with matzo-lensed glasses. Meanwhile, Manischewitz launched a kids-focused line of matzo s'mores, pizzas and mini matzohs that feature colorful and fun illustrations. Both brands' packaging encourages discussion and interaction.
"Manischewitz is about food, it is about the holiday and it is about memories and we touch upon all of that," Most said. "But, in this day and age, we're learning especially with social media, it's about the interactive and engaging with your audience. Food isn't just about eating, it's about that engagement."
Although Passover comes once a year, some brands have decided to position their products as year-round options. For example, the Matzo Project's matzo is not kosher for Passover and co-founder Ashley Albert hopes it becomes more of an anytime snack.
On the other hand, Yoskowitz and Gefilteria decided it was better to focus their efforts on Passover and the High Holidays since their product is made with expensive and sustainably raised ingredients rather than possibly having them go out of code. The company sells out of every production run and "thousands" of loaves a year despite just two selling periods, Yoskowitz said.
Although consumers have an enthusiasm for newer Passover products, brands remain conscious of the strong emotional connections to traditional foods shoppers may have due to its association with family and deep-seated rituals.
"People have a lot of expectations and a lot of family history and a lot of cultural connections caught up in what they think of in terms of gefilte fish," Yoskowitz told NOSH. "We tell people this will never compete with your grandmother's gefilte fish because nothing will ever compete with your grandmother's gefilte fish, probably not even your grandmother's gefilte fish today!"
But Albert said she's not intimidated by consumer expectations and instead looks to help consumers find new ways to connect with their cultural identity.
"I think the people who are excited to embrace their culture and tradition more than they are looking to express their religious belief have embraced the product with a lot of excitement," she said. "This is a way for people to be able to embrace [traditional foods] and introduce it to their kids in a way that feels relevant to them."