Kerry Plays To Nostalgia With New Clean Label Cheese Solution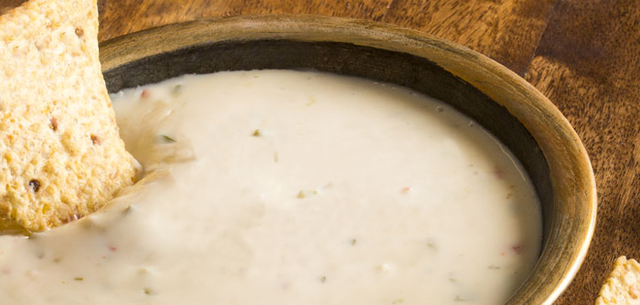 Orange. As in, melty, gooey orange cheese. Whether it's scooped onto a crispy tortilla chip or falling off a pasta-filled fork or unspooling from the middle of a griddled sandwich, it's not exactly the usual image or behavior of "natural food." But Kerry, an ingredient company, is working to change that.
Yes, processed cheese — think "pasteurized processed cheese food," like Velveeta — is coming to the natural channel. Calling it a clean label cheese solution, Kerry is allowing customers to remove all unrecognizable ingredients from their cheese products or menu items that offer the familiar appearance (i.e. light orange), aroma and taste of processed cheese products — without the artificial ingredients and coloring. Kerry showcased the product at Natural Expo West in Anaheim, Calif., last week.
Why chase Velveeta? The spread, which is so far from cheese in composition that, by regulation, it has to be called a "cheese product," still fills the carts of shoppers on tight budgets. Velveeta's sales in the U.S. were up 16.3 percent, with steady growth in club stores and discount retailers, in 2014. Sales have since fallen in traditional grocery.
Though Velveeta bears an affordable price tag and is able to melt like nobody's business, it includes additives like sodium phosphates, citrates, sorbic acid, emulsifiers, preservatives and hydrocolloids– all of which have been linked to health problems such as cancer, asthma, diabetes, and stomach issues. Papao Saisnith, Kerry's Director of Strategic Marketing, told NOSH she thinks the clean label solution allows food processors and foodservice providers to give consumers both what they want in taste and the nutrition they need– without the health risks. "It's bringing real food back to the table," she said.
So the innovation comes at a time when consumers are demanding that their higher-than-ever standards, especially surrounding recognizable ingredients, be met, even in slightly unreal products. In this case, the cheese solution is made up of cheddar cheese (pasteurized milk, cheese cultures, salt, enzymes), skim milk, food starch, salt, cultured whey and cultured skim milk. It does not include any additives. R&D Director Ellen Morgan told NOSH that the company's proprietary technique allows foodservice manufacturers to see no difference from a processing perspective. They simply replace their processed cheese or cheese spread with the new product for a similar functionality without operational challenges, according to Morgan.
"Everyone likes making a grilled cheese for the ooey-gooey melt and the characteristics that processed cheese has, but obviously there is a stigma with some of the ingredients that are in processed cheese," Morgan said.
Aside from the product's clean label, Saisnith said it was also important for Kerry to create a product that appeals to flavor profiles consumers crave and grew up eating. About 62 percent of Americans said their favorite foods remind them of their childhood, and macaroni and cheese is the fourth most common comfort food favorite in the country, according to a recent Harris Poll survey.
"Consumers are really wanting what their moms made, what their grandmas made," Saisnith said, "But there is this whole gap in understanding how to make those products. So we are really into tapping into and focusing on those products that remind [consumers] of what mom used to make."
Saisnith added that this product is only the first in Kerry's innovation pipeline. More clean product solutions are expected to start to roll out later in the year, including a plant-based protein that will launch in July.
The demand for clean dairy products is affecting the "big cheeses" of the industry, as well. Kraft was sued in 2016 for allegedly labeling its cheese products falsely as natural when they contained artificial coloring. The U.S. Food and Drug Administration's defines "natural" as meaning no artificial ingredients like color additives, and, according to a Consumer Reports survey, two-thirds of Americans think the word "natural" on the label of a packaged or processed food product means it contains no artificial ingredients, pesticides or genetically engineered organisms.
But can you call it "cheese?" Technically yes, but because it's processed it must also be labeled as a solution. But does it really matter, as long as it's melty?