Halen Brands Acquires OWYN, Launches S.A.F.E. Platform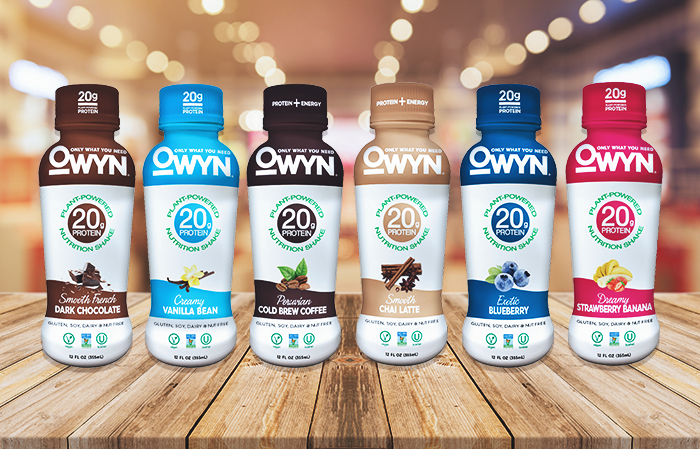 To give consumers what they want, and perhaps what they need, CPG collective Halen Brands has acquired plant-protein centric brand Only What You Need (OWYN). The brand debuted at Natural Products Expo West as part of Halen's newly launched, allergen-friendly brand platform, Safe Allergen Friendly Environment (S.A.F.E.).
As part of the acquisition, OWYN's founders Jeff Mroz and Kathryn Moos have joined the S.A.F.E. team as minority owners and co-founders.
Halen, which was founded by serial entrepreneurs Jason Cohen and Leigh Feuerstein in conjunction with Clearlake Capital Group, had been looking for an entrance to the plant-protein market. "We went into the stores and were trying to figure out what was going on in this plant-based world," Cohen told NOSH. "All these brands that were getting great press and getting visibility, we went out and purchased them and, no pun intended, I couldn't stomach them."
Cohen and Feuerstein discovered OWYN's protein drinks and shake powders just as the brand was preparing to enter retail and looking for capital. Normally, Cohen noted, Halen doesn't acquire brands that are pre-revenue, but he felt the product far outshined its competition in terms of taste and functionality. "They got us 18 months ahead of where we'd be [if we started from scratch]," Cohen said.
Mroz and Moos told NOSH that selling a company before launching is a bit "unconventional" but that they were drawn to the Halen team's "bulldog approach" as well as their personal and professional values. Mroz said that he thought about the end result for the company, and who could get them there the fastest.
The product line will be easy to quickly roll out onto shelves, Cohen said, because Halen has pre-existing relationships with retailers and distributors. The company will first focus on natural retailers and then move into conventional stores in the second half of 2017.
OWYN's line uses a unique blend of flax, pea protein and pumpkin seed powders for total of roughly 20 grams of protein per serving. The shelf stable line of products use cane sugar rather than artificial sweeteners, but still come in at 4 grams of sugar and under 200 calories per serving. While currently the platform is focused on beverages and powders, Cohen said the brand hopes to expand to other formats such as bars, ready-to-eat meals or cookies.
Mroz and Moos were inspired to start the line after Mroz fell ill and was told to cut back on his consumption of animal products. He quickly realized that different proteins had different drawbacks, such as spiking insulin levels or causing inflammation, and wanted to create a cleaner option for the market.
"Kathryn and I are both former professional athletes and we both had a very minimalist approach to training," Mroz said. "We had the same approach in our everyday lives and used this mentality in the development of these products. With OWYN it's only what you need to achieve all that you can and leave behind the things that hold you back."
While their background as athletes was an important factor in the product's development, Moos and Mroz wanted the line to cater to all segments of consumers. OWYN has typical protein beverage flavors such as chocolate, vanilla and strawberry to appeal to gym goers looking for an alternative to the conventional competition, but the line also has a unique play for caffeine seeking consumers. The chai, green tea and cold brew coffee options have as much caffeine as a cup of coffee. Mroz described them as a simple, clean solution for consumers who need a quick morning breakfast or afternoon snack.
OWYN also represents Halen's first entrance into the allergen-friendly space. The line is free of the eight most common kinds of allergens. Cohen saw that a large segment of consumers were dealing with dietary issues, but he felt they were being "alienated" by only having limited options that separate them from their peers.
"[Consumers] don't want to walk around with something that's geared to an allergen community. They want something that's broad based, but also can be eaten or drank by them as well," Cohen said. "It's similar to what [Hain Celestial] did twenty years ago creating a healthy way of living with organic products. We think simple, clean, allergen friendly products are our platform for the next twenty years."
The Halen team is actively looking for allergen-friendly brands to acquire and bring into the S.A.F.E fold. But Cohen has one piece of advice for brands before they approach his team.
"Before you send us the product, make sure your six or seven year old kid likes it," he said. "It's got to taste good to have full sustainability."