Dave's Gourmet Goes From Fiery to Natural Foods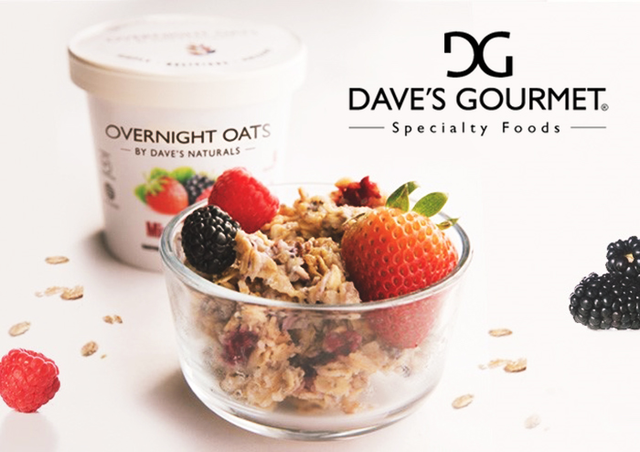 Award-winning food entrepreneur and creator of Dave's Insanity Hot Sauce, Dave Hirschkop, is hoping to fire up the natural food aisle.
After successfully launching both a hot sauce and a gourmet pasta sauce line, Hirschkop is launching Dave's Naturals with a line of no-cook overnight oats.
Hirschkop has a long history in the food industry, starting with his quest 24 years ago to make the world's hottest hot sauce in order to torment drunk patrons at his Maryland-based Mexican restaurant, Burrito Madness. The resulting hot sauces are now sold in about 1,000 stores, including Whole Foods Market, Safeway, Target, Wegmans, Krogers and Dean & DeLuca.
In 2001 Hirschkoff introduced six specialty pasta sauces, which are now sold in more than 9,000 locations. Sales of the pasta sauces now top the brand's hot sauces. But as Hirschkop's taste matured and knowledge of nutrition grew, so did his interest in expanding his portfolio.
"We've always been naturally oriented, but really a specialty sauce company with our hot sauces and pasta sauces, so while we always are focusing on innovation and trying to do something special, this was our chance to run with that," Hirschkop said. "[The company] will really focus on healthy items and helping to change people's behaviors to some degree."
Hirschkop debuted the Dave's Naturals line at Expo West in March, and he's now working to bring the product to customers. Hirschkop hopes to capitalize on the convenience of the already trendy "easy" breakfast with the 2.1-ounce packaged version of overnight oats, which require no cooking. The oats will be sold individually for $3.49 in four flavors: blueberry vanilla almond, cinnamon raisin, apple nut and mixed berry.
Dave's Naturals isn't stopping with oats, or breakfast for that matter. Hirschkop said he'll launch a snack line later this year, and in 2018, the company is planning to launch "the dinner version" of his overnight oats.
Unlike Dave's Gourmet, which Hirschkoff considers a passion project, Dave's Naturals will "run more like a high-growth food company" with plans to rapidly expand sales and distribution. The company also expects to seek an investment partner in the future.
For now, Dave's Naturals launched a Kickstarter campaign, which runs through May 23, to fund the initial production of the oatmeal line. But the Kickstarter is as much a marketing tool as a financing source. Hirschkop said if he does not meet his crowdfunding goal, he will fund the launch through "personal resources."
"Yes, the money we are raising is the actual activity, but it is more about creating a community around overnight oats," he said. "There's a lot of people posting on the Internet about overnight oats so we wanted to start creating a community around ours to get attention, too."
Dave's Naturals' initial rollout will begin on the company's website and Amazon, which Hirschkop sees as an ideal option for his lightweight oats because the concept already has a substantial online presence with food bloggers and on social media. Hirschkop said he hopes to expand into brick-and-mortar retailers later this year. While the transition from hot sauce to oatmeal may be less conventional, Hirschkop said he is passionate about the category.
"The food pyramid we are supposed to follow, we don't believe it. We think it is wrong, and [through this product] we're trying to slowly move to a direction where we are asking what should you be eating and how can we make it delicious," Hirschkop said. "Flavor is in our DNA, so flavor will always be really important to us. It's something both [Dave's Gourmet and Dave's Naturals] will always have in common."