Exclusive: To Spike Sales, Foodstirs Moves into Retail
Thirteen years ago Sarah Michelle Gellar was attacking supernatural villains as the star of the television show Buffy the Vampire Slayer. Now, with no less enthusiasm, she and her business partners Galit Laibow and Gia Russo are facing a new set of adversaries: Duncan Hines and Betty Crocker.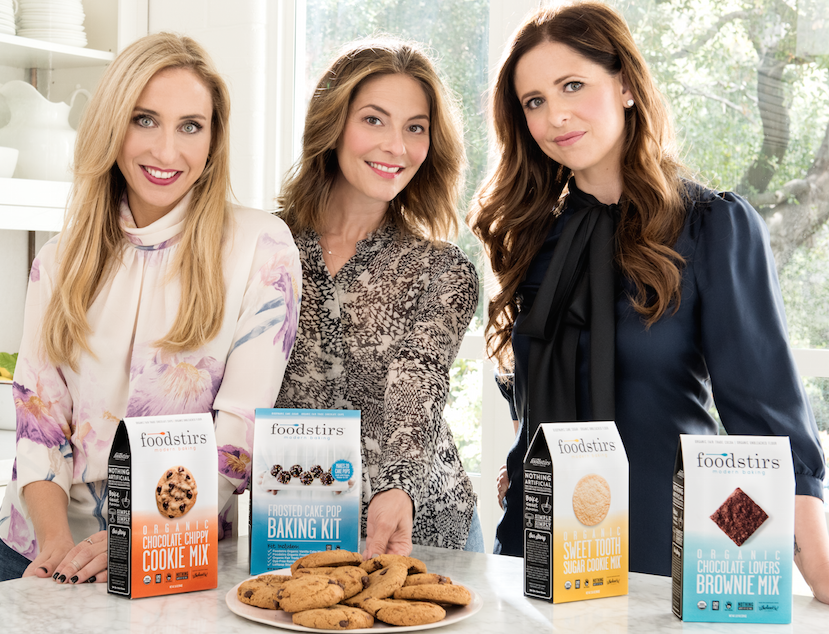 The three entrepreneurs, who are longtime friends, founded Foodstirs as a direct to consumer baking mix and kit brand in 2014. For its initial launch, the line was offered online as a one time purchase or as part of a monthly subscription. Now, armed with data about their consumers, Russo, Gellar and Laibow are taking to the aisles.
Yesterday, the brand launched an exclusive "Brooklyn Brownie" mix in the new Whole Foods store in Williamsburg, Brooklyn,and it will roll out in the rest of the 32 Northeast Region Whole Foods stores on Aug. 15. The natural retailer will carry the full line of mixes (sugar cookie, brownie, chocolate chip cookie, and vanilla cake) which retail at $5.99.
On the West Coast, Foodstirs will launch in all 24 Gelson's locations on Aug. 1. There the chain will carry not only the mixes but also three "kits" for cake pops, cupcakes and brownie popsicles with an MSRP of $17.99. In key Gelson stores, the brand will have displays of hutches highlighting the mixes as well as recipes that can be developed with the line.
It's this personalization and creativity that Foodstirs wants to pull over from its direct to consumer play into its retail push — the brand encourages bakers to take them to the next level through customization. For example, Foodstirs brownies can easily become matcha brownies, brownie ice cream sandwiches or brownie fries.
"There's this whole media play for us with content," Russo noted.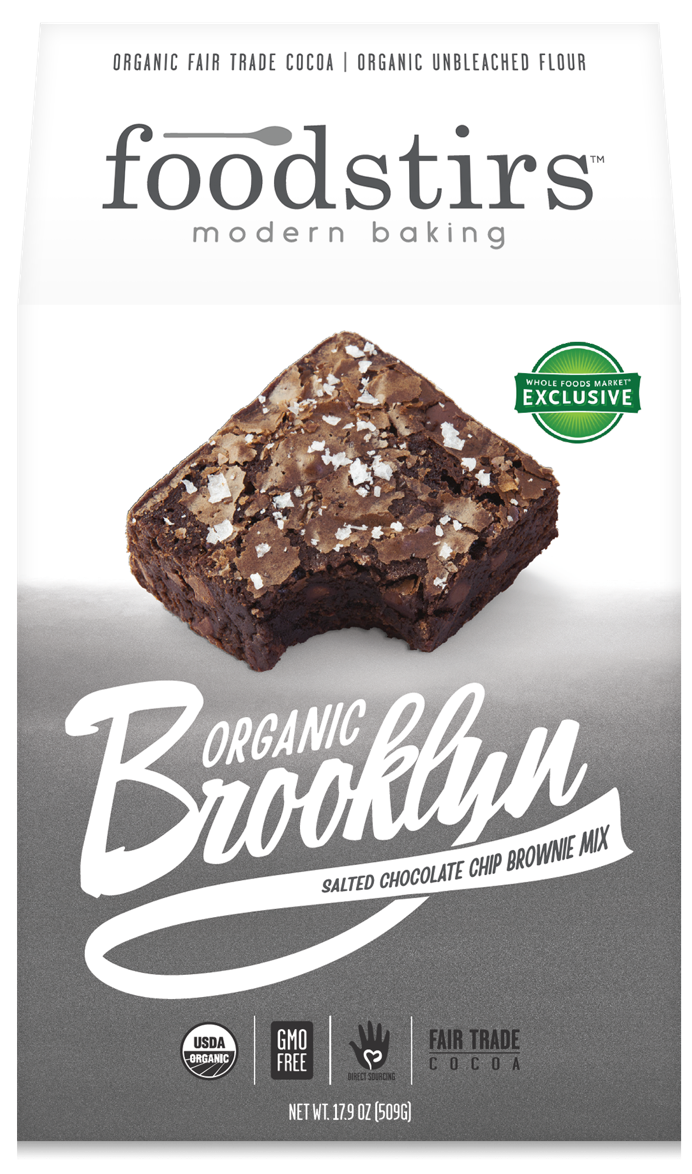 If these baking projects seem picked from Pinterest, it's because they're meant to be. While Foodstirs aims to making baking easy, the founders recognize the pressure on consumers to have perfect, photography-ready food that garners likes and pins on social media sites.
"We say that we're Pinterest-worthy projects in less than six steps," Laibow told NOSH.
Still, the brand needs to live on-shelf, the partners agreed. "People are still buying baking mixes on shelves," Laibow said. "It's great for brand and scale."
The brand was formed when Laibow's daughter wanted to watch Food Network rather than cartoons and bake rather than color.
"Sarah and I always joke that we were good at making reservations," Laibow said. "I was actually quite intimidated in the kitchen but I remember growing up and having those experiences. My mom was a working mother but we did do a lot of baking and I remembered how much fun it was."
When the three women looked around the baking set, they realized there was no baking brand that really spoke to them.
"For Betty Crocker and Duncan Hines, you can't build that trust again. You think of it as having chemicals and being poor quality," recounted Gellar. "It all seemed stale and I think 'fuddy duddy' is the only word to describe it."
The new line of Foodstirs mixes try to avoid that trap with slick, modern packaging and a clean ingredient list of no more than six to ten ingredients per box, all of which can be traced back to the source.
"I have no problem with indulgences," Gellar said, "but I want the best quality."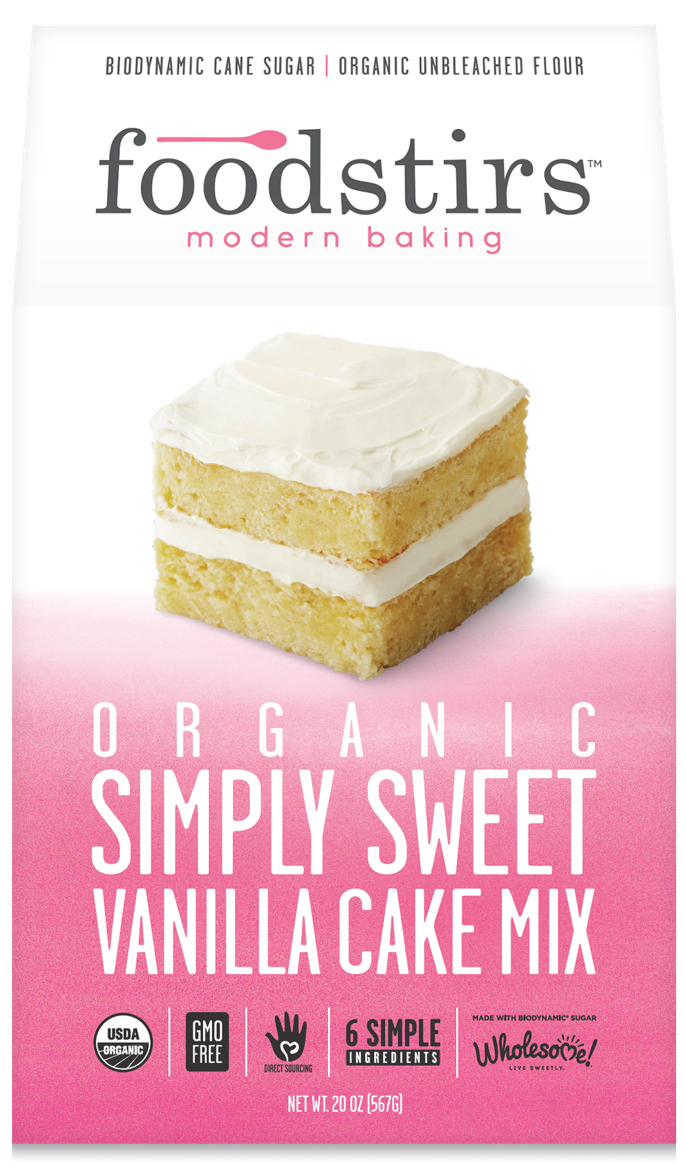 Helping guide the Foodstirs' team through this launch has been Greg Fleishman of Purely Righteous Brands (and former CMO of Suja Juice, Sambazon and Fuze) as well as Bill Weiland, owner of Presence Marketing.
"It's like having the godfather of the industry hand-holding us," Gellar said about Weiland's assistance.
Fleishman believes that the brand is onto something big. "The baking aisle is fairly large at $4.7B, [but it] has not successfully evolved with consumer trends other than gluten-free – which is starting to wane. It is opportunity hiding in plain site," he noted. "As more consumers shift toward 'cleanifying' everything they consume, there is currently no nationally available option that delivers quick-scratch convenience, pure ingredients and amazing taste at an accessible price point."
It's this latter element, keeping the product affordable, that's especially important to the team.
"We're right in the middle [of the price range] and have a very premium [quality] product," Russo noted. "Our whole thing is that we really want to make this mainstream where a lot of families can afford and be able to enjoy our products. Our focus was to really price something that can make that happen."
What they're hoping to offer for that price is baking 2.0 for the young, hip, Millennial and Gen-Xer. If the branding is new and the move from online to on-shelf is unconventional, notes Gellar, that's to be expected. "I live my life rewriting the playbook" she said.