Baking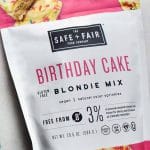 Safe and Fair set out to make quality snacking easy, tasty and affordable for consumers with allergies. Now the food company is expanding its purview to make mealtime and parties better too.
Bluehall Bakery, LLC is pleased to announce the launch of the newest product in the Meli's Monster Cookie family – Meli's Monster Cookie Baking Mixes. Now the delicious cookie so many have come to love and crave is available as a baking mix so anyone can bake delicious, better-for-you, gluten-free cookies in their own home.
Foodstirs, a modern baking solution that makes it easy and delicious to bake sweet, homemade memories in the kitchen with loved ones, is satiating breakfast-lover's palettes with the launch of Organic Sunday Stacks Pancake Mix.
Almond Cappuccino, Cherry Crumble, and Chocolate Banana are the featured flavors of the collection….each kit contains three packets: the donut mix, the topping and glaze packets…add just a few ingredients, and everything else is included to bake gourmet donuts. This Collection begins shipping in January.
After previously being named "best gluten-free find" at the Natural Products Expo West, fast-growing gluten-free baking mix brand Among Friends returns to Anaheim to introduce its newest mix, Patrick's Protein Pancake (MSRP $4.99).
Riding high on its continued success, ColorKitchen is extending its product line to include new colors and combinations. Focused on eco-friendly, healthy, and vibrantly colorful alternatives to traditional food dyes, the future looks bright for this Oregon-based company.
American Key Food Products has for the first time introduced to North America a Brazilian Cheese Bread base for industrial users in the baking and foodservice sectors.
Enjoy Life Foods, the leading brand in the growing Free-From category, showcased new plant-based protein-packed ProBurst Bites and snack-size versions of the brand's best-selling baking chocolate, Baking Chocolate Snack Packs, at Natural Products Expo East.
With the modern family constantly on-the-go, Wholesome! and Surf Sweets brands are introducing timesaving yet craveworthy items to their popular product lines.
Gluten-Free Prairie, a woman-owned and family operated business and gluten-free industry brand innovator, is once again on the cutting edge to meet the growing demand for Naturally Gluten-Free Products with the launch of Simply Wholesome All-Purpose Baking Mix.