Safe and Fair Wants Allergic Consumers to Eat Cake — and Spaghetti, Too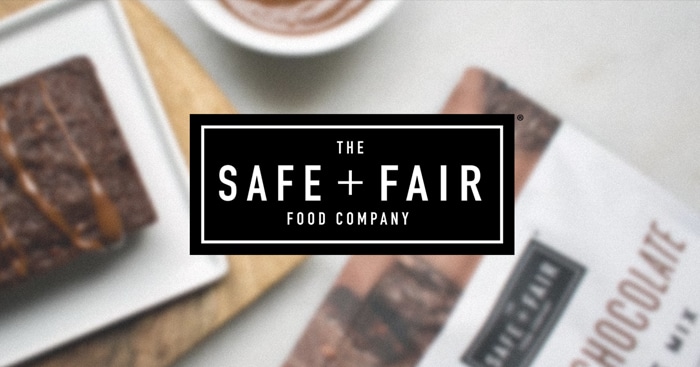 Safe and Fair set out to make quality snacking easy, tasty and affordable for consumers with allergies. Now the food company is expanding its purview to make mealtime and parties better too.
The company, which aims to provide reliable food options for the 32 million U.S. consumers suffering from food allergies, including milk, wheat, peanuts, and tree nuts, is expanding its product set and quickening the cadence of its new releases. Upcoming product lines include items like mac and cheese, pasta sauce, salsa and center-of-the-plate items to accompany its current snack-focused roster.
"We don't think the very thing that keeps you alive should be something that divides you," said Safe and Fair CEO Will Holsworth. "The bar here wasn't what other food allergic companies [do] — the bar is just what's great food, and that's what we set out to do."
Formerly known as Skeeter Snacks, Safe and Fair relaunched under its current branding in 2017. In July 2017, Safe and Fair sold a 10 percent stake to Schwan's, the $3 billion frozen food services leader. It also counts Acre Venture Partners, a venture capital firm funded by Campbell Soup as a board member and lead investor.
Safe and Fair was founded by Dave Leyrer, co-founder of 3L Capital and Pete Najarian, senior VP of Institutions at Xapo, both of whom have kids who suffer from nut allergies, and they brought in Holsworth, former president of MuscleMilk, in 2016.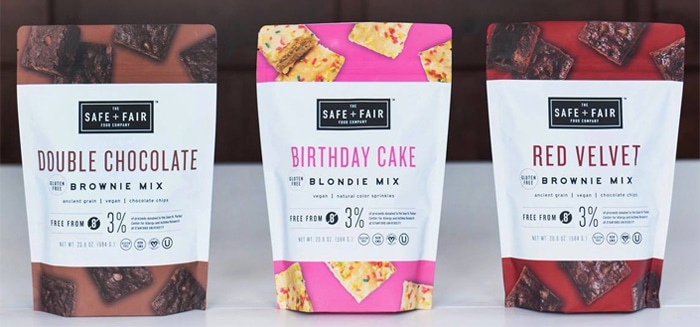 While cookies were the first place the brand went, Safe and Fair now looking far beyond that, notes Holsworth. While it's long had a snack focused roster, including pea protein chips, popcorn quinoa chips, granola, graham crackers, the company also recently launched brownie mixes, which can be made be made without milk and eggs.
"For food allergic families, one of the major issues in life is birthday parties for kids," Holsworth said. "They don't have good baking options and have things that look weird or taste weird or expensive."
Customers can expect more mixes, along with protein powder and drinks, with a new product expected to roll out every six to seven weeks, he added.
For new products, the team looks at current offerings for allergen-free foods and clean label consumers, to find holes in the category, Holsworth said, aiming to create a wide variety of foods across a variety of categories.
Customers are now buying an average of seven SKUs per order, and repeat customers often buy five percent more than their first purchase, Holsworth said.
"If you're food allergic we're literally like magic to you," he said. "We have a very high bar on taste. It's a very easy thing to figure out: you ask your kids."
Safe and Fair's products are available on its website and Amazon, and part of its appeal, Holsworth added, is that the company tries to keep costs in line with traditional options in each respective category.The new brownie mixes, available in red velvet, double chocolate and birthday cake blondie, are $4.99 each.
"I just think it's wrong for allergy companies to try to profiteer from food that can kill [people,]" Holsworth said. "We get to take care of a community that desperately needs to be taken care of."