LoveTheWild Announces Fish Kit Relaunch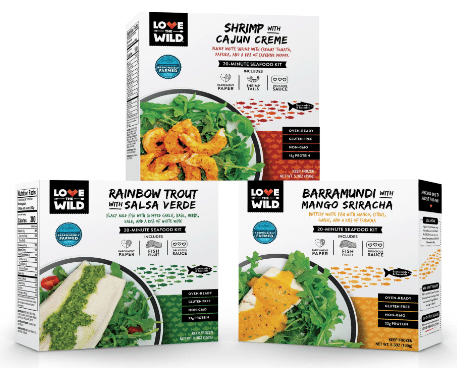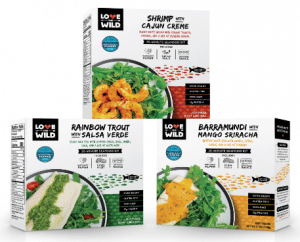 BOULDER, Colo.— An industry pioneer and trailblazer smack at the intersection of sustainability of human health and wellness, environment health and responsibly-raised foods, LoveTheWild has announced the relaunch of its sustainably-farmed fish kits. The relaunch introduces several new uber easy-to-prepare meal solutions to satisfy the bold taste buds of the most discerning, sustainable-centric "foodies" with equally demanding standards for quality, nutrition and convenience. The LoveTheWild national relaunch begins its product rollout in early March at Whole Foods Market nationally, and includes:
Barramundi with Mango Sriracha
Shrimp with Cajun Crème
Rainbow Trout with Salsa Verde
Additional offerings available at other retailers include:
Red Trout with Salsa Verde
Salmon with Maple Mustard
Shrimp with Coconut Red Curry
Barramundi with Red Pepper Almond
Shrimp with Tomato Butter
Salmon with Miso Honey Ginger
Barramundi with Cajun Crème
The LoveTheWild relaunch is not limited to the introduction of gourmet taste and quality, simply prepared, farm-raised fish products from the best sources in the world. As bold and passionate stewards raising the bar for the sustainability of food, health and the environment, LovetheWild is implementing additional sustainability-conscious measures by:
Overhauling its packaging by moving to a smaller box, and shifting from a recyclable plastic sauce tray to a plant-based fully compostable tray and film to significantly reduce waste.
Reducing the portion by two ounces to align with the USDA recommended serving size, and to eliminate leftover waste. Customers indicated the original portion size was too generous for a single meal.
Consumers directly benefit because these measures coupled with other efficiencies being taken by LoveTheWild reduces the price of each product by 30 percent.
"This is such a perfect time to relaunch LoveTheWild. The introduction of several new products, the completely new 'look and feel' of these products, and the positive impact that the new packaging design will have on the environment, all represent our innovative, progressive and bold approach to the market. The relaunch better reflects who we truly are as a brand today," said Jacqueline Claudia, CEO and founder of LoveTheWild.
LoveTheWild remains steadfast on its mission to disrupt the status quo. Through 100 percent transparency, advocating for higher standards in the seafood industry, and providing incredibly tasty, nutritionally packed farm-raised fish products and meals, LoveTheWild is out to eliminate any intimidation that consumers may have with eating sustainably-raised fish from the freezer by empowering them to make better choices for their body and the planet. Try it, you will like it. One taste is all it takes.
LoveTheWild introduces a bold challenge to consumers to "be a little wild," dare to do things differently. Through its "BFC (Better Food Choices) Challenge," the company rallies consumers to make a positive difference to their own health and wellness and to the environment everyday by making better food choices. "The BFC Challenge" promotes making a better food choice by choosing sustainably farm-raised fish. Their challenge reinforces "you can make a difference just by making dinner."
About LoveTheWild
Based in Boulder, Colorado, LoveTheWild is a privately-held company founded in 2014. Guided by a commitment to consistently provide great food from the best farmed-fish in the world, LoveTheWild's award-winning products are disrupting the frozen food aisle and making a positive impact on the health and wellness of people and our planet. Currently their two product lines consist of several easy to prepare, sustainable farm-raised fish kits expertly paired with bold sauces and a second line of microwavable bowls, each prepared to complement the fish species' unique taste and origin, with every fish traceable back to the source. Their products are available online and nationwide at fine retailers like Whole Foods Market, Target, FreshDirect, Wegmans and more. To stay updated on the relaunch and latest news, visit LoveTheWild.com and follow @i.LoveTheWild, @LoveTheWildCo, #LoveTheWild on Facebook, Instagram and Twitter.