O&CO. Unveils Affiorato, the First Olive Oil of the 2017 Harvest
NEW YORK — O&CO., a Provence-based purveyor of premier Extra Virgin olive oils and exceptional Mediterranean culinary products, has just unveiled Affiorato, the very first eagerly anticipated olive oil from the 2017 harvest. Each year, O&CO.'s team of dedicated experts including Éric Verdier, O&CO.'s Sensorial Analyst, travel the Mediterranean to hand-select O&CO.'s Extra Virgin olive oils from the regions' finest artisanal growers. This year, O&CO. has chosen a truly remarkable Affiorato, from the OLIS domain, pressed from 100% Nocellara de Belice olives and produced by Sicily's Massimiliano Geraci, whose family has been producing Extra Virgin olive oil since the late nineteenth century. The Nocellara del Belice – an indigenous and precious olive cultivar – can be considered as a symbol of the Sicilian tradition. The 2017 Affiorato is just the first of a variety of oils from the new harvest, which will include over 25 additional hand-selected oils from a variety of countries, including France, Italy, Greece, Portugal and Spain, and will be available at retail locations and online in the U.S. in March 2017.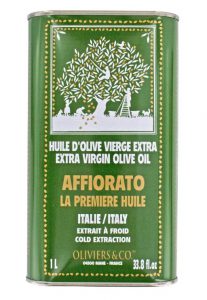 The term "Affiorato" means "surfacing" in Italian and is used to describe a traditional oil pressing technique. Once the olives have been picked and pressed, oil naturally separates from the olive juice and rises to the surface of the storage vat. The "floating" oil – Affiorato – is then skimmed, processed and bottled. O&CO. worked alongside grower Massimiliano Geraci to produce this unique, grassy oil, which was harvested in mid-October 2016 and was just recently bottled and shipped to O&CO. boutiques around the world. O&CO. adheres to a rigorous selection process to determine the quality of the estate's terroir and the craftsmanship of the product. The Geraci groves are situated in Partanna, in the province of Trapani, Sicily, a region known for its green and intense olive oils- an area perfectly adapted to an early harvest, with its volcanic, fertile soil and long periods of Mediterranean sunshine, resulting in ideal growing conditions and an outstanding quality of oil, which have been recognized with numerous awards and prizes. Due to O&CO.'s meticulous sourcing process, which preserves the integrity of the oils and ensures the highest quality product, production of the new Affiorato is strictly limited in quantity (only 500 tins are available in the U.S.) and is exclusive to O&CO.
About O&CO.'s Affiorato
O&CO.'s Affiorato is an all-occasion finishing oil with notes of freshly cut grass, tomato leaf, and almond. A genuine nectar with a perfectly balanced taste and a creamy, soft finish. This fresh vegetal flavor profile makes it a great match for vegetables, soups, tomatoes, goat cheese, roasted meats and poultry, mashed potatoes, and of course, for bread dipping. Packaged in a beautiful olive green tin, the 2017 Affiorato is a rare monovarietal oil, which epitomizes the freshness and quality for which O&CO. is known. The Affiorato is available in O&CO.'s 2 retail locations in the U.S. as well as online (www.oliviersandco.com).