Annie Chun's Unveils New Look and Expanded Line of Snacks and Entrees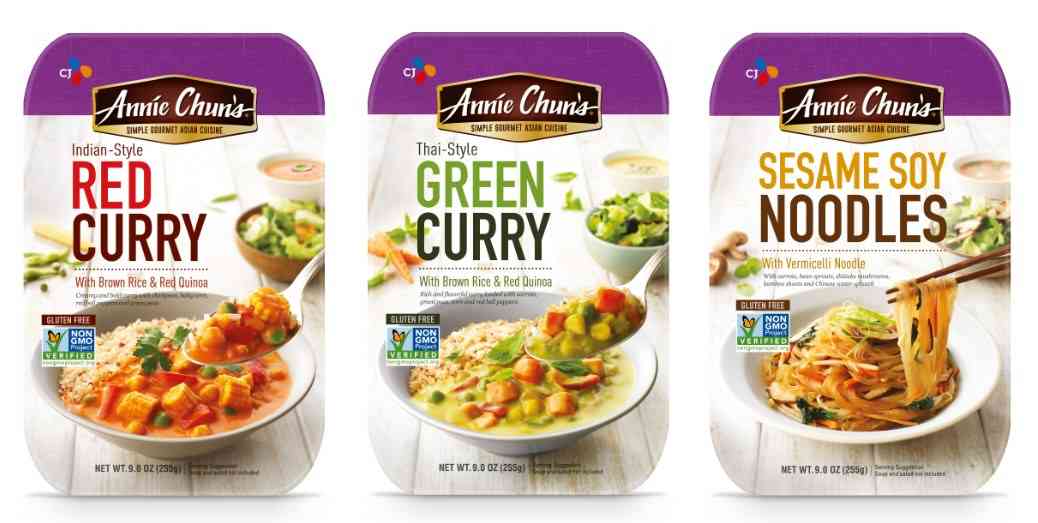 ANAHEIM, Calif.– Annie Chun's, leading maker of convenient and better-for-you Pan-Asian snacks and meals, today unveiled a new look and several new product innovations—Asian Entreesand Sea Salt and Sea Salt & Vinegar Organic Seaweed Snacks—at the annual Natural Products Expo West (booth #3143) in Anaheim, March 10 – 12.
"At Annie Chun's, we're responding to the growing demand for shelf-stable Asian foods and snack options that not only taste good but are better-for-you," said Nayoung Shin, head of corporate marketing and planning for Annie Chun's. "We're taking bigger strides by providing customers with more flavors of our popular Organic Seaweed Snacks and introducing new Asian Entrees that are not only deliciously packed with high-fiber grains and vegetables, but also made with non-GMO and gluten-free ingredients. Our expanded line provides more choices for those with dietary restrictions since we know it's difficult to find Asian options in this category."
Annie Chun's rebrand, which reflects the brand's mission to offer Asian-style foods that deliver on the taste and nutritional profile consumers crave, features updated graphics, sleek and modern packaging, and a bold color scheme. The new aesthetic is a timely update to the Annie Chun's brand as the company incorporates cutting-edge processes to improve upon their line of Pan-Asian offerings, from adding nutrient dense ingredients like brown rice and red quinoa to utilizing innovative technologies to keep vegetables in their natural state to retain flavor and texture.
Annie Chun's new products include:
Asian Entrees ($2.99)—Gluten-free and non-GMO Project Verified, each Entree is packed with fresh vegetables and conveniently easy-to-prepare in just 1 minute, making it a deliciously simple and nutritious option for lunch or dinner. The new Entrees are available in 3 varieties:

Red Curry—Creamy and bold Indian-style curry loaded with chickpeas, green peas, baby corn and red peppers on a bed of brown rice and red quinoa
Green Curry—Rich and flavorful Thai-style curry infused with carrots, green peas, corn, red bell pepper and basil
Sesame Soy Noodle—Made with Vermicelli noodles and a mix of vegetables, including shiitake mushrooms, bamboo shoots, carrots, and mung bean sprouts, topped with a savory sauce and extra sesame oil

Sea Salt and Sea Salt & Vinegar Organic Seaweed Snacks ($1.99)—Annie Chun's expands its line of USDA-Certified Organic Seaweed Snacks with two new varieties: Sea Salt and Sea Salt & Vinegar. These new offerings are certified gluten-free, dairy-free and certified vegan.
Annie Chun's products are available at fine and national grocery retailers through the U.S., including Whole Foods, Publix, Gelson's, King Soopers and SuperTarget, among others. For more information about Annie Chun's products, visit the Annie Chun's booth #3143 at Expo West and www.AnnieChun.com.
About Annie Chun's
Annie Chun's is the leading producer of gourmet Pan-Asian foods whose mission is to create snacks and entrees that are not only convenient to make and eat, but also more nutritious and better-for-you. The complete line offers snacks and meal solutions with a variety of Non-GMO Project Verified, USDA Certified Organic, vegan and gluten-free options. Annie Chun's offerings are available nationwide in gourmet, natural and mass market grocers such as Kroger, Safeway, Whole Foods, Giant Foods, King Soopers, Fred Meyer, Meijer, Publix, SuperTarget, Mollie Stone's, Gelson's, Fairway Market and many others coast to coast. Visit www.AnnieChun.com for more information.