88 Acres Expands Platform with Protein Play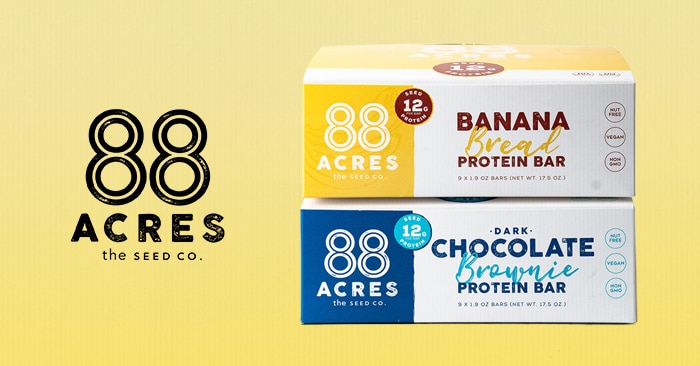 88 Acres is further spreading the power of the seed, launching a line of protein bars online on Tuesday, January 14, and as an exclusive offering in Whole Foods Market globally next month.
Since starting as a direct-to-consumer (D2C) platform in 2015 with a line of snack bars, 88 Acres has since expanded its allergen-free portfolio to 26 seed-based products, including seed bars, seed butters and Seed'nola (granola), available in 3,000 stores nationally. Its latest higher-protein offering was a collaboration with Whole Foods Market, using pumpkin seeds as a protein source.
Available in Dark Chocolate Brownie and Banana Bread flavors, the bars will be sold at $26.50 for a box of nine on the brand's website, or for $2.99 each at Whole Foods. They will be merchandised in the bar aisle alongside other 88 Acres bars.
Co-founder Nicole Ledoux told NOSH that the brand's fresh take on protein bars differentiates itself in the crowded category by avoiding using protein isolates, a commonly used ingredient that she feels compromises taste.
"Our philosophy is deeply rooted in real whole foods," Ledoux told NOSH. "As we looked at the landscape of protein bars, we personally just were disappointed with the lack of options for a bar that had more than 10 grams of protein — but didn't use ingredients that we don't believe in."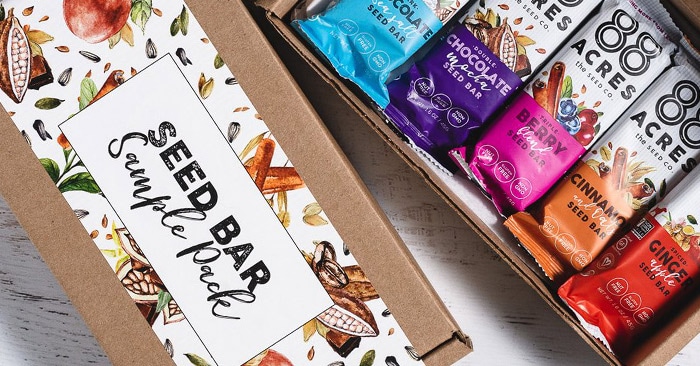 The resulting clean-label, real-ingredient-based, allergen-free bar will also complement the brand's core seed bar line, co-founder Robert Dalton added, and help build awareness of the brand.
For Whole Foods, the allergen-free and low-sugar attributes are also key draws, Anna Fagan, Whole Foods' category manager, told NOSH. Particularly attractive, she said, was the idea of pumpkin seeds as a protein source, avoiding common allergens such as whey and soy protein.
"When I was reviewing the assortment for February 2020, I continued to see the sales for 88 Acres grow," Fagan said. "We've seen an increase in the need for allergen-friendly items across all categories, especially with snacking categories like Nutrition Bars. We also know that protein is an attribute that most shoppers in the Nutrition Bar aisle look for."
Despite avoiding protein isolates, the new bars still have 12 grams of protein per bar, a significant boost from 88 Acres' Seed Bars, which have five grams of protein.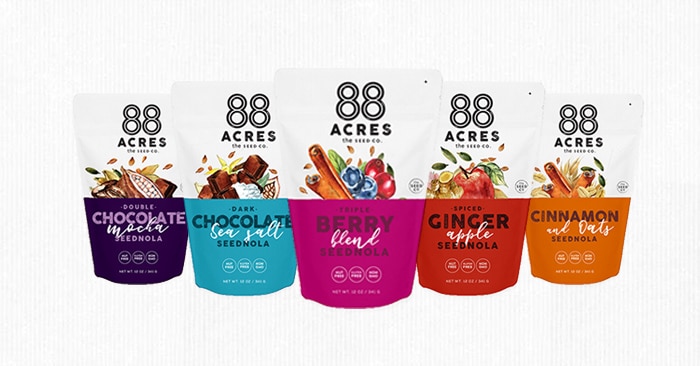 The past year has been busy for the brand, with expanded distribution and sales helping lay the foundation for the new launch. While the brand focused mostly on regional distribution in New England during its first three years of business, Dalton said, it expanded further into retail in 2019, with key launches in Pennsylvania, Washington D.C. and parts of California. Product mix expansions include the launch of both sweetened and unsweetened watermelon seed butters and unsweetened pumpkin seed butter in early 2019, along with Seed'nola. The granola alternative has been an online offering, but will launch in Sprouts this month. Additionally, the team launched single-serve seed butter pouches to help drive trial and position the brand as a snacking platform.
"Bringing the convenience factor to something that was more of a pantry staple was really important," Ledoux said.
Although the protein bars represent a move into functional foods, the platform is still grounded in seeds, Ledoux said.
"We don't launch where seeds can't be front and center for that particular product," Ledoux said. "We think seeds are incredible from so many different standpoints. We are just scratching the surface."