Tyson to Launch Functional, Chilled Snack Line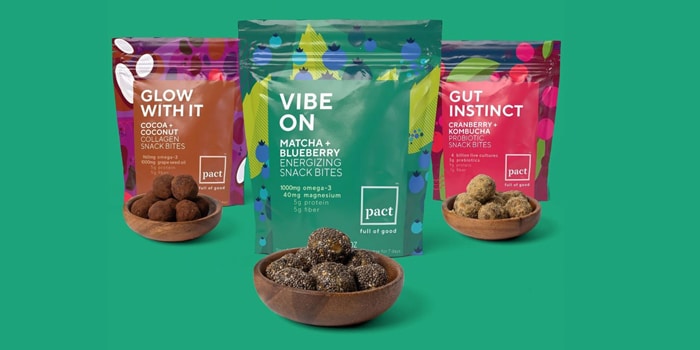 Tyson is gearing up to launch a line of functional snacks later this year under a new brand called Pact.
According to the brand's website, Pact will launch with four varieties of Snack Bites — Gut Instinct (cranberry kombucha with probiotics), Gut Ahead (turmeric ginger with prebiotics), Vibe On (matcha blueberry "energizing") and Glow With It (cocoa/coconut with collagen). Each 1.8 oz bag of 8 bites will be sold refrigerated, but last at ambient temperature for up to a week.
A Tyson spokesperson told NOSH that Pact is currently "in a preliminary test phase to understand consumer targets and to begin to collect emails from interested parties."
Pact is positioned at the intersection of "taste and function without compromise," emphasizing the products' limited ingredient lists of fruits, nuts, extracts and seeds, with no preservatives. Functional callouts on the front of the pack include protein (which ranges from 8 to 11 grams per serving), fiber (4 to 7 grams per serving) and omega 3's (350 to 1000 mg per serving), along with probiotics or magnesium, depending on the SKU.
The website does not mention Tyson's involvement in the product directly, but rather on the terms and conditions and privacy pages. Tyson filed for the trademark earlier this year, noting that the Pact brand could be used on snacks, dietary supplements and meal kits. Consumers who visit Pact's site are prompted to sign up for an email list and are then sent a survey to help determine pricing, positioning and use case. This data may be used to adjust the final product format, with a disclaimer on the site noting that the company is still "fine-tuning" the Bites.
"This page accurately describes the Pact Bites, but there could be minor changes in the final product," the website states. "This likely would be minor things, such as the amount of each ingredient or packaging design."
According to the spokesperson, Pact will initially be available on a crowdfunding platform later this year — a familiar launch strategy for the company. Last year Tyson used Indiegogo to launch its line of chicken chips. At the time, Rizal Hamdallah, then head of the Tyson Innovation Lab, told NOSH that the crowdfunding site was a marketing and research tool. (Hamdallah now heads up innovation for Ocean Spray.)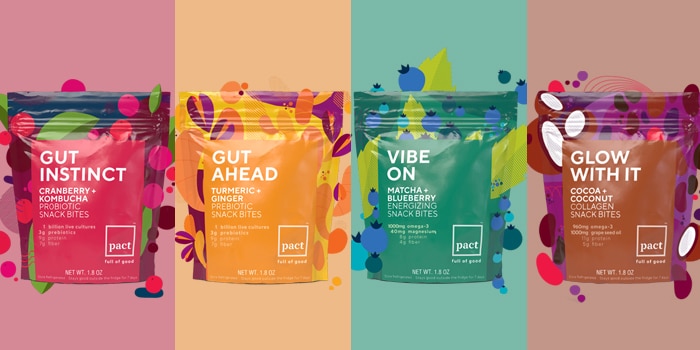 In some ways Pact would be an ingredient departure for the Tyson, which bills itself as a "protein-focused food company." Tyson had $40 billion in sales for fiscal year 2018, with key brands including Aidells, Ball Park, Hillshire Farm, Jimmy Dean and Tyson, According to the company's website, Tyson produces "1 in 5 pounds of all chicken, beef, and pork in the U.S." with 37% of its sales from beef products, 12% from pork products, 29% from chicken products, 21% from protein products and 1% from "other" products.
But the company has tried to move beyond formal meal times over the past years and embrace snacking,, launching several snack lines out of the cooler case, including Jimmy Dean hard boiled egg protein packs and Hillshire Snacking charcuterie board inspired snack packs. Since its launch in 2016, the latter has become a $115 million retail business, growing over 15% a year, Noelle O'Mara CMO of Tyson Foods, said at the company's summer investor day last month.
"Over two-thirds of people say fresh is important and we are meeting that demand with fresh innovation that can temporize our existing portfolio, while also creating new categories," O'Mara said. "We used to talk about snacking as a separate eating occasion, but the distinction between breakfast, lunch, dinner and snacks has blurred beyond recognition."