Smashmallow Closes Funding Round from ACG, Launches Low-Sugar Gummies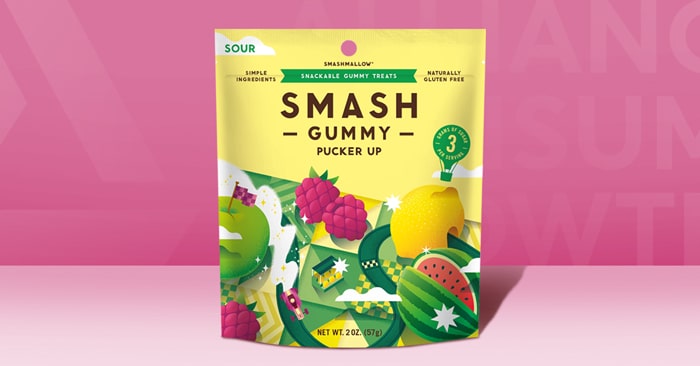 Smashmallow is ready to move beyond its marshmallow roots. The snack brand announced today the close of a minority round of funding by CPG venture firm, Alliance Consumer Growth (ACG), in part, to support the launch of a line of low-sugar gummies.
The company declined to disclose the investment amount. However, as part of the investment, ACG managing partner Julian Steinberg will join Smashmallow's board of directors.
With the investment, Smashmallow executives that were formerly a part of ACG-backed brands Krave and barkthins will be returning to the fold. Smashmallow founder Jon Sebastiani also founded jerky brand Krave, while CEO David Lacy was the meat snack company's CFO. Stephanie McGregor, Smashmallow's VP of marketing, previously served as the director of marketing for barkTHINS.
Steinberg told NOSH that the ACG team had been looking for a way to work with Sebastiani again.
"We've followed what [Jon's] done very carefully, and are huge fans of the Smash brand. So as soon as there was an opportunity for us, we were thrilled to become their partner," Steinberg said. "We look for really best-in-class brands that are disrupting large and iconic categories, and Smash fits squarely into that."
Smashmallow was originally incubated — and funded — as part of Sebastiani's investment and incubation group Sonoma Brands. In January 2018, the company was spun off as its own entity and picked up Lacey as CEO. As part of the shift, Smashmallow closed a $10 million round, with $5 million from Sonoma Brand's Fund II and $5 million from venture firm VMG.
The company's flagship marshmallow line is sold in 17,000 stores, including Target, Whole Foods, and CVS, while its Smashcrispy marshmallow treats are available in over 9,500 stores, such asWFM, Publix and Walmart. The brand's newest addition, dark chocolate dipped marshmallows, hits Target shelves in September. Portfolio-wide, Smashmallow sales are "north of $10 million," Sebastiani said.
The new investment, he explained, was needed for supply chain efficiencies.
The company originally produced its clean label marshmallows at co-packers using traditional equipment, but found consistency varied too much from plant to plant and margins were slimmer then desired. To rectify this, by fall 2019, Sebastiani said all Smashmallow marshmallows will be made in one dedicated copacker, on customized machinery that Smashmallow has purchased. Smashmallow "co-engineered" the equipment with a Dutch supplier, and carries the exclusive rights to the machinery's use in North America.
"This manufacturing change allows Smashmallow to significantly grow and solve the seamless nature of quality out of one plant as well as, from a cost standpoint, finally commercialize the manufacturing," Sebastiani said. "[For example] as you look at the landscape of jerky brands today, the ones that survived are the ones that are vertically integrated."
Meanwhile, over the last 18 months, the company has diversified beyond its flagship marshmallow line, launching the Dipped and Smashcripsy lines.
The new investment will also go toward the brand's largest leap: gummies. It's a move that Sebastiani said will allow the brand to begin to build a larger platform.
Smashgummy will initially launch with two blends: a fruit variety and a sour option. Rather than traditional worms, rings or bears, the gummies will be hot air balloon shaped, a nod to Smashmallow's packaging. Each 2 oz. pouch will retail for roughly $2.99 to $3.29 and is expected to hit retailers' shelves in early 2020. Exact formulation is still being finalized, but the gummies will be made with organic ingredients and likely contain kosher certified bovine gelatin.
But what's perhaps most notable is what's not in the line. Despite having only 3 grams of sugar per serving of 15 gummies, Smashmallow will not use the sugar alcohols or stevia found in many other low-sugar confectionery options. Rather, the brand will use a combination of organic cane sugar and the naturally occurring sugar in prebiotic tapioca fiber. Sebastiani told NOSH that the company did so to avoid the gastric distress some consumers report after consuming products with sugar alcohols.
Moving forward, Sebastiani said, the focus will be on creating great-tasting, non-chocolate confectionery products with a "wow factor." While the company plans to keep an eye on sugar levels, some products will continue to be more indulgent snacks.
"Certainly there's a construction here of a brand that wants to be viewed as an iconic confection brand in the better for you space," Sebastiani said. "We envision this non-chocolate confection space to be a big area of qualitative and ingredient based disruption and Smash will remain true to its non-GMO, wholesome ingredients."