Popchips Founder Aims to Remake Rice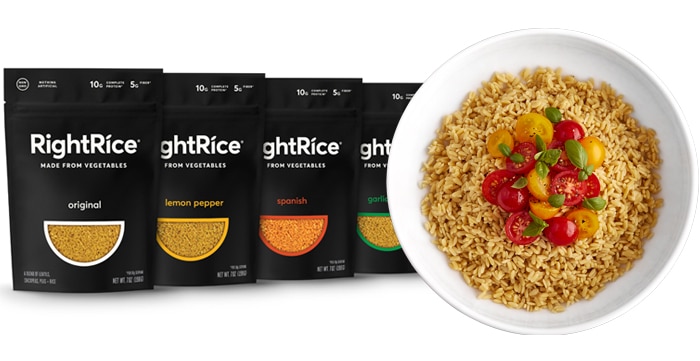 In 2007 snack innovator Keith Belling felt guilty eating potato chips and decided to do something about it. The result, which spawned a slew of imitators and helped revolutionize the snack set, was Popchips. Now Belling has moved on to his next meal and is rethinking a popular staple, rice, with the launch of RightRice – a healthier version of the grain that launches today in Whole Foods Market and on Amazon.com.
Belling told NOSH that for his next foray into food, he wanted to focus on improving a product that is universally beloved.
"Rice appeals to every age group, every demographic and every culture," Belling said. "It absorbs every sauce and flavor. It's chameleon-like."
Here's the challenge: creating a rice that was nutrient dense and not simply a source of empty carbohydrates.
Belling said he had tried cauliflower that had been riced, a popular substitute, but found that the "grain" was not right texture. So he's developed RightRice, a shelf-stable grain that's a mix of legumes and just under 10 percent rice.
Each 7 oz. bag (roughly four servings) will retail for roughly $3.99. Debut flavors include original, Spanish, lemon pepper and garlic herb varieties. Each serving contains 10 grams of protein, 5 grams of fiber and 40 percent less net carbohydrates compared to white rice. Although RightRice can be used in dishes just as traditional rice would be, the cooking varies slightly, with only a 10 minute soak in boiling water needed.

While rice may be a standard part of many cultures' diets, when it came to the packaging Belling decided to think creatively. He enlisted innovation firm IDEO to develop the brand, messaging and packaging and design firm Argonaut to create the creative campaign. The result is a stark, modern, black bag that features a window resembling a smile or bowl.
Belling said the reason for the departure from typical rice packaging was to catch consumers' attention, as he feels many of them simply walk past the rice set without a second glance.
But packaging isn't the full extent of RightRice's marketing plans. Belling said the company has also developed a robust social media plan with influencers. For example, both actress and model Molly Sims and fitness trainer Jillian Michaels have posted about the new grain in the past 24 hours.
Belling told NOSH that the role social media plays is perhaps the biggest change from his Popchips days, although influential actors and singers (Ashton Kutcher, Katy Perry) still gave that brand a boost. With the snack brand, he said, field marketing was key. Now, it's about virtual reach.
"When done correctly the marriage of influencers and social media is really impactful," Belling said. "The one thing I learned with Popchips is that word of mouth can be a very powerful way to build great brands."
But it's not just influencers who are excited by the brand. Whole Foods Market agreed to pick up the line nationwide. After a period of exclusivity, Belling said, RightRice will explore launching with other retailers. Time will only tell, however, if Belling can make center store magic happen again.
"I've always felt that there's one more 'Popchips' in me," Belling said. "The revolution is simmering."