Oregon Ice Cream Goes 'All In' on Alden's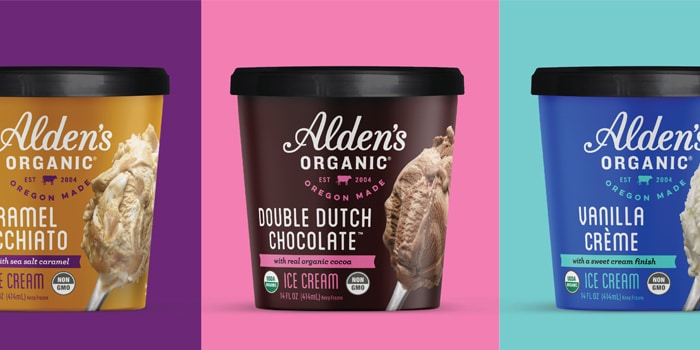 Oregon Ice Cream has been around for a long time, so maybe it was time to make some changes. The company announced this month a rebrand, a new pint line and the consolidation of its entire branded portfolio under its bestselling Alden's line.
Now owned by Branch Brook Holdings, which is a strategic partnership between Swander Pace Capital, United Natural Foods Inc. (UNFI), and Jefferson Capital Partners, Oregon Ice Cream's heritage dates back to the 1930's. Acquired by Branch Brook in 2014, the company also produces Cascade Glacier (a food service line of ice cream) and has copacked novelties for brands such as Tillamook, Yasso, Coconut Bliss.
Alden's is sold in over 10,000 retailers nationwide and its line previously consisted of novelties and 48 oz. "squround" tubs (referring to the product's rounded square shape).
Oregon Ice Cream president and CEO Eric Eddings told NOSH the rebrand was the first step in Alden's 2.0. The company had undertaken a smaller rebrand in 2016 but wanted to go further. That packaging lacked images of the ice cream itself, and consumer research revealed that shoppers wanted more insight into the product. The new bold colors, he added, were selected for both their ability to complement the new product shots as well as stand out from behind the freezer door.
"What it was lacking was that irresistible [nature]. You couldn't see the ice cream," Eddings said. "If your belief system is centered around being irresistible, then show [consumers] that."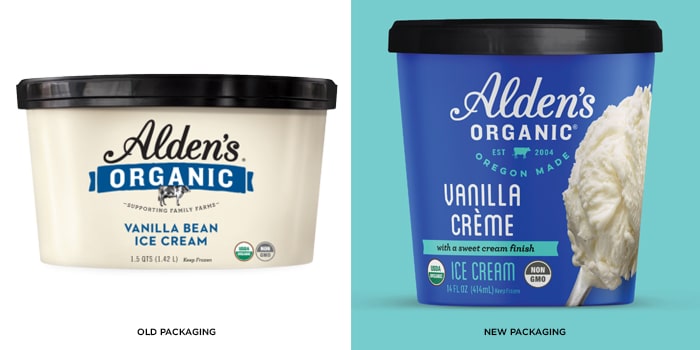 Along with the new look comes a new range of pints. Eddings and Michelle Hunt, VP of marketing/innovation for Oregon Ice Cream, said that the new line was in response to consumers' desire for more variety. Meanwhile the smaller sizes, Hunt said, allows consumers to purchase multiple flavors and consume different products for different moods or use cases.
"In [ice cream] there are so many emotional and functional need states," Hunt said. "And all those need states may actually be within one person."
Alongside the additions, Alden's sister brand, Julie's Organic Ice Cream, will be discontinued. The line of novelties, which was sold in over 10,000 stores nationwide, will be folded under the Alden's brand. Pricing will remain the same and only three "fringe" SKUs have been discontinued. Retailers who were selling Julie's products, Eddings said, have already agreed to carry the new Alden's alternative.

The hope is to provide a consolidated range of products for retailers who often brought in some products from one brand but potentially not the other, Eddings said. Now the sales team only has to represent one book going forward. Eddings also believes that having one broad portfolio will give Alden's an edge over the competition, which tends to hit some combination (but not all) of pints, tubs and novelties.
Consumers will hopefully follow, Hunt added, noting that now there's an Alden's product for every occasion.
"Alden's is a one stop shop for flavor exploration across a whole portfolio of formats," Hunt said. "We have pints where they can try and explore, the larger sizes where they can share a flavor and then snacking on our novelties."