More Brainpower: IQBAR Expands Distribution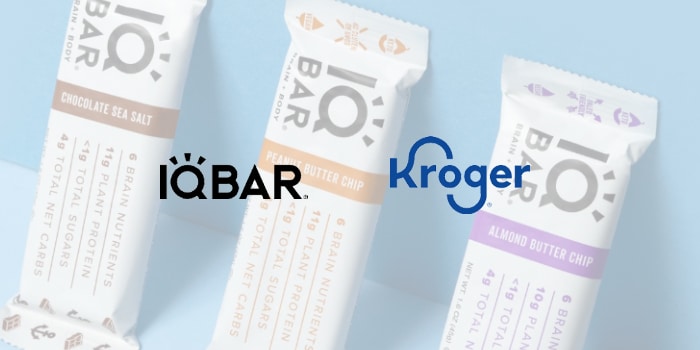 IQBAR is allocating some of its brainpower to the retail shelf. Though the Boston-based brand has so far garnered half its business from e-commerce, it recently entered 1,000 Kroger stores, increasing its retail footprint to about 6,000 doors.
After demoing at the retailer's quarterly Natural Products Innovation Summit in April, IQBAR launched into Kroger, Fred Meyer, Smith's Food and Drug and Mariano's banners across the U.S earlier this month. The launch, founder and CEO Will Nitze told NOSH, gives the brand its first national grocery presence.
Despite adding national distribution in 4,000 CVS locations in March, up until now, the brand had the most retail presence in the Pacific Northwest and Northeast. The new Kroger banners help it play into previously underserved regions like the Midwest and Texas, Nitze said.
That's not to say that e-commerce won't remain an important channel — it's been key to growing the brand tenfold since 2018 and reaching multi-million dollars in revenue in 2019, Nitze said. But the move into Kroger could potentially push the company to evolve its online-focused strategy, Nitze said.
"If it takes off that very well might tip the scale toward brick-and-mortar," he said. "[But] online is always going to be the most profitable, so we are more healthy financially the more we do online; we don't have to be living in stores to succeed."
IQBAR is the brainchild of Nitze, a Harvard graduate with a neuroscience degree who, via his own experience with brain fog and energy crashes, found the snack market lacking in brain-focused foods. After spending months researching ingredients, he raised $73,664 via Kickstarter — far surpassing his $10,000 goal — to launch the brand.
Last November IQBAR was chosen for Pepsi's Greenhouse Nutrition Accelerator's inaugural class, and the Kroger expansion was fueled by a recent $1 million fundraising round from angel investors, Nitze said, which was also used to help with hiring and R&D. The company previously raised $700,000 from angels as well: Nitze said the company decided to focus on individual investors — such as Mark Andrus, co-founder of Stacy's Pita Chips and Anthony Ackil, founder of regional Boston-based casual restaurant B.Good, rather than going after private equity funding, helping gain access to capital more quickly.
"It allowed us to be more nimble and move faster," he said. "We try and stick with people who have believed in us. The whole goal was to raise as little as possible while still being able to achieve what we want."
To stand apart from the enormous amount of competition in the bar category, IQBAR focuses on function over flavor. The brand sticks to familiar flavors — Chocolate Sea Salt, Peanut Butter Chip — with each bar offering brain benefits from flavonoids, lion's mane, MCTs and other ingredients, Nitze explained. He prefers to avoid "getting cute" with unusual flavors and instead offer "more nutritionally dialed in" popular flavors, relying on real ingredients to provide the flavor. New flavor offerings are created based around ingredients high in flavonoids; the lineup already includes cacao, berries and matcha, for example. The brand removed caffeine from its bars in early 2019 due to a lack of traction — many consumers are avoiding caffeine and others prefer it in beverages, Nitze explained.
That functionality seems to be resonating. Amongst those hungry for IQBARs are Millennials, who care about focus and clarity, and older consumers, who are concerned about brain health issues, Nitze said. Unfortunately most consumers don't think about brain health until they're forced to, he noted.
"Threading the needle across demographics is the real challenge," he said. "There is no silver bullet answer to that other than 'make it appeal to both of them.'"
Given the limited time to catch a consumer's attention, IQBAR leads more with the general idea of brain health versus specific educational points. With its recipes backed by scientific research, the brand aims to avoid over-educating about its benefits — instead providing a succinct description a la SparkNotes — or playing to trendy diet fads, Nitze said.
"We err on the side of simple rather than complex," he said. "We want to guide them without being pedantic and sort of intimidating."