Bonafide Launches Keto Broth Cups and Rebrand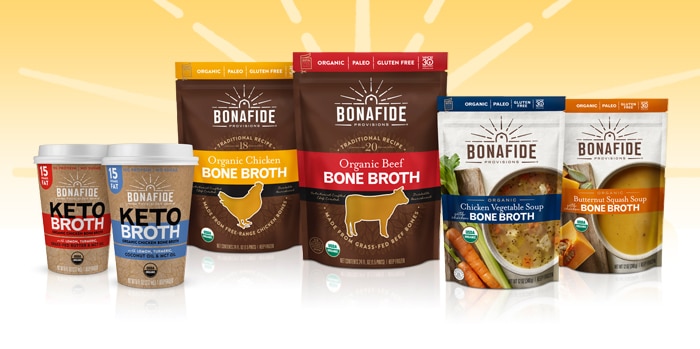 Bonafide Provisions is convinced it can offer consumers an easier way to drink bone broth on the go. After having to make the hard choice to discontinue its Drinkable Veggies beverage line last year, today the company announced the launch of a line of Keto Broth Cups, which are frozen, heat-and-drink cups of bone broth and MCT oil.
CEO Sharon Brown told NOSH that the Keto Broth, which was inspired by how her husband drinks his bone broth, is the natural next product launch for the company.
"Our R&D is really what we're doing at home and how we are consuming these products with our families," Brown said. "We're just taking these products and launching them widely."
Available in paper heat-and-go cups, the frozen Keto Broth will retail for $4.99 to $6.50 and initially be sold exclusively on the brand's e-commerce site, before launching in retail in the second quarter. The line will use a base of organic chicken bone broth and come in three varieties: grass-fed butter and MCT oil; turmeric, lemon, grass-fed butter and MCT oil; and turmeric, lemon, coconut oil and MCT oil.
While the line may seem to be playing to the keto crowd, Brown said that, while she does encourage patients in her nutrition practice to follow a ketogenic diet, the cups are more about "deep nutrition" and finding an on-the-go snack that has the right mix of healthy fats and protein.
The cups are Bonafide's second attempt to enter the beverage space; the first, a line of bone broth-based Drinkable Veggies (which combined bone broth and pureed vegetables in a cold beverage), was discontinued last spring. Amanda Luke, Bonafides' VP of marketing, told NOSH that, at the time, the company had limited resources, which made entering a new category set difficult. Furthermore, she added, the company has solid awareness in the frozen category, so sticking to one temperature state was not only operationally easier, but also a better marketing strategy.
But Brown believes that Drinkable Veggies was ahead of its time and could potentially return one day as an online-only item. It was hard, she said, to compete with sugar-filled drinks on the shelf and catch consumers' attention long enough to explain the concept and savory flavor.
"In hindsight, it was a bit early in the life of the brand to launch a product in a different part of the store. The beverage set is very competitive with a consumer who loves sugar," Brown said. "I would love to go up and down the entire store, disrupt every category, but [that's not possible]."

The launch of Keto Broth will also provide the first look at Bonafide's revamped branding. Last year during Natural Products Expo West, the company unveiled a new design that featured flat bottom bags for its broth, a "nostalgic country feel" across the portfolio and a new logo. Designed by Bex Brands, that redesign never made it to shelves, aside from the frozen soups. Luke told NOSH there were several issues with the rebrand, namely consumer confusion. For example, the broth packaging's new size bag and lack of a window made customers think it was a smaller serving and powder.
"When we looked at the brand at the highest level, it didn't express the true positioning of our brand, which is really first and foremost about healing food," Luke said. "So that, we felt, was a missed opportunity."
The redesign, which comes courtesy of Otto and Co., keeps the Bex Brand logo but little else. Bonafide's bone broth line is largely untouched, from its original design, though slightly "punched up" to be more visible from a freezer door, Luke said. The soups now feature a hero shot of the product and then images of the ingredients used. But most of all, the rebrand emphasizes the quality of the products, Brown added.
"It made all the world of different to not only capture what that product is but also who we are as a brand," Brown said. "Whether you're grabbing our soups or our bone broth or now our keto cups, you know it's bonafide provisions and there's integrity behind that product."