Beyond Meat to Raise Up to $183M in IPO, Updates SEC Filings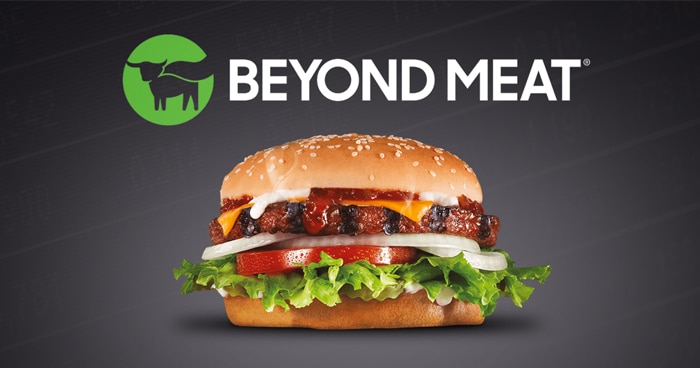 Plant-based meat producer Beyond Meat is seeking to raise up to $183.8 million from its initial public offering (IPO), according to recent filings with the U.S. Securities and Exchange Commission (SEC). The company initially announced its IPO in November 2018; over the past month it has submitted updated filings that provide more insight into the company's sales and progress to date, as well as its plans for the future.
The company plans to offer 8.75 million shares, which are expected to be priced between $19 to $21 per share, valuing the company at more than $1 billion. Assuming a share price of $20, the filing estimates net proceeds from the offering to be approximately $158 million. The stock will be listed on the Nasdaq under the symbol "BYND."
In 2018, the company reported net revenues of $87.9 million with a net loss of $29.9 million. For that year, the Beyond Burger (the company's "flagship" product) accounted for 70 percent of gross revenues — an increase from 48 percent in 2017. Net revenue from retail sales increased to $50.8 million in 2018 while net revenues from its restaurant and foodservice channel increased to $37.1 million in 2018. The company has also added 199 employees over the last fifteen months.
Beyond Meat plans to use the proceeds from the IPO to continue to grow and scale the business. The company will invest $40 to $50 million in its manufacturing capabilities, $50 to $60 million in R&D sales, and marketing and use the remainder of the capital towards "working capital and general corporate purposes including funding our operations and to potentially repay indebtedness."
The filing also notes that the net proceeds may be used to fund potential acquisitions or investments in "complementary technologies or businesses," although it has no present commitments to do so.
Beyond Meat previously raised $122 million from investors, including Tyson Ventures, S2G Ventures, Obvious Ventures, Kleiner Perkins, Cleveland Avenue, DNS Capital and Bill Gates. Most recently it announced that current and former NBA stars Kyrie Irving, Chris Paul and Shaquille O'Neal, as well as football player DeAndre Hopkins and skier Lindsey Vonn had invested in brand.
Although the IPO will bring new shareholders, the company's existing directors and executive officers will continue to play a significant role in the company's direction. At the close of the offering, Beyond Meat's directors and executive officers and their affiliates will own, in the aggregate, roughly 16 percent of the outstanding capital stock, the filing states.
"These stockholders will be able to exercise significant influence over all matters requiring stockholder approval, including the election of directors and approval of significant corporate transactions, such as a merger or other sale of our company or its assets," the filing notes. "This concentration of ownership could limit stockholders' ability to influence corporate matters and may have the effect of delaying or preventing a third party from acquiring control over us."
The filing also gives some insight into its plans to expand into other fresh proteins beyond beef. Beyond Meat discontinued its frozen plant-based chicken offering in the first quarter of 2019. The company also has struggled with meeting demand for its products, and while it has "significantly expanding [its] production capacity to address production shortfalls" the filing notes that production capacity has "significantly constrained net revenue growth relative to [its] total demand opportunity."