Beverage Vet Lance Collins to Launch CORE Foods at Expo West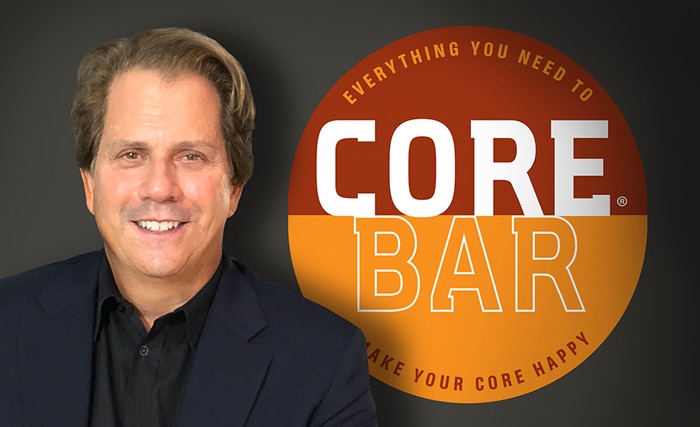 Beverage veteran Lance Collins is ready to disrupt the cooler yet again — this time from a different angle, the fresh nutrition bar set. The founder of beverage brands BodyArmor, Fuze and CORE Nutrition announced today the launch of his newest CPG venture, Core Foods, which will launch its first product, Core Bar, at Natural Products Expo West.
Collins told NOSH that CORE had tried to launch a bar in 2014, but was stopped by Corey Rennell, CORE Food's then owner, for trademark infringement. After Collins sold CORE Nutrition to Keurig Dr Pepper (KDP) for $525 million last year, Rennell reached out and offered to sell the trademark. And with the brand in hand and KDP agreeing to a co-existence agreement, Collins couldn't resist giving the concept another shot.
Those who are familiar with the older CORE Bar will find the product drastically changed, with new branding, flavors and formulation. The resulting product is an chilled, overnight-oats inspired bar enhanced with probiotics. Each bar will retail for $2.99 and has five to eight grams of protein with no added sugar. Whole Foods Market, Amazon and CIBO Markets nationwide have picked up the line, which has six flavor options to start.
Collins told NOSH the desire to start the brand came from an appreciation of the potential of the category and seeing how his former BodyArmor business partner, Mike Repole, was able to convert his skills to the snack set with brands such as Pirate's Booty.
"I love the bar business but I looked around and didn't see anything that I really loved in the marketplace," Collins said. "And I thought, 'we can do better.'"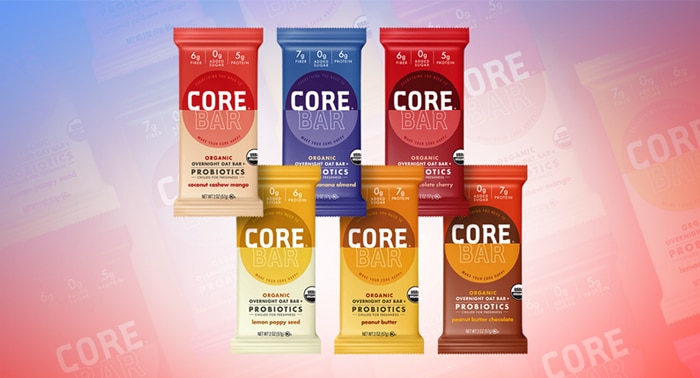 Supporting Collins, who has the title of chief visionary officer, is CEO Jesus Delgado-Jenkins, the former chief merchandising officer of 7-11; CMO Brett Hartmann, the former VP of marketing for snacks at Hain Celestial; and SVP of sales John Davidowitz, the former director of sales for PUR Gum & Mints. Delgado-Jenkins will pull double duty, remaining on as the CEO of Collins' other business, Outlaw Energy.
Although there are other bar players in the fresh-snacking set, Hartmann said there is plenty of room for growth. His team is focusing on competing with the $3 billion shelf-stable protein bar category, rather than focusing on the smaller $100 million fresh snacking set.
And there's the potential to go beyond bars or the chilled set. Hartmann said the company will likely explore other savory, salty or sweet categories in the next year. He added that the connecting thread between all products will be emphasizing added benefits (such as probiotics in the case of the bars) instead of focusing on "less" or low-calorie.
The CORE team believes it has a natural advantage in the cooler, which has seen other brands struggle to get the turns necessary to retain the high-value shelf space: Collins himself.
"Lance built his career on single-serve instant consumption products. And that's what this product is as well," Hartmann said. "We're going to be in the same coolers and on shelf next to all the brands Lance has built."