Better Breakfast: Love Grown Rebrands, Refines Mission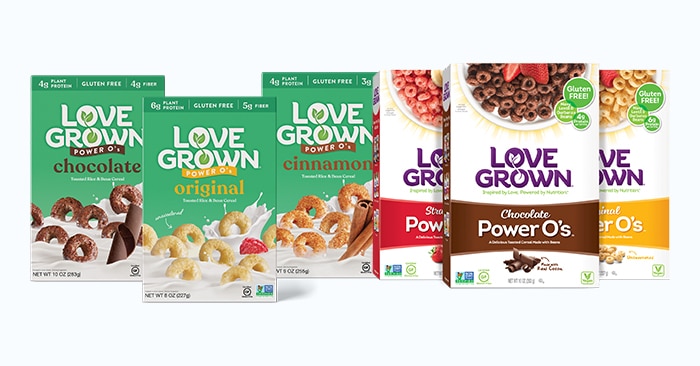 Gluten-free breakfast brand Love Grown wants to wake up the tired cereal aisle. The brand, which first launched its better-for-you take on the breakfast staple in 2008, sees a bright future fueled by beans and other novel, nutritionally-dense bases. To better educate consumers about the benefits of these ingredients, while maybe toning down their incongruence with category staples, the brand is launching new packaging — a key move as it prepares to expand into Walmart early next year.
The Denver-based brand needed a fresh look and updated messaging ahead of the launch, CEO Lance Palumbo told NOSH. Although bean-based cereal Power O's is its top-selling product, consumer research found that the concept of eating beans for breakfast wasn't appealing to everyone. Additionally, the new look unites all 15 SKUs, which include bean-based kids' cereals, along with granola and oatmeal, to create a more unified brand block on shelf.
"Beans are polarizing," Palumbo said. "We decided to bring the nutritionals forward and on the back talk about 'by the way, we do that with the magic of a bean blend.'"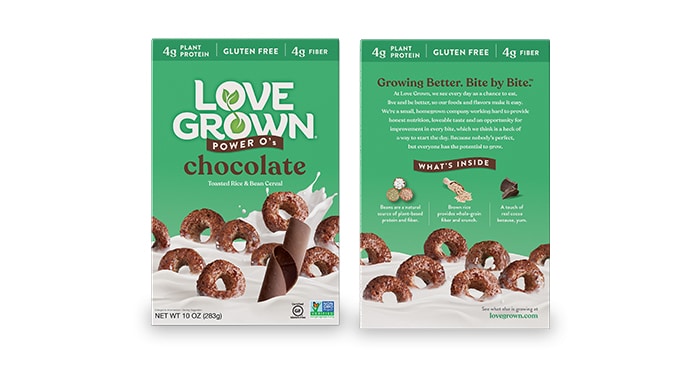 The packaging, which will roll out next month, now features front of pack callouts for broad dietary trends such as "plant-protein" and fiber benefits. Love Grown's efforts to boost the cereal category follow a similar playbook to ingredient-driven snack brands like Beanitos and PeaTos, which have "laid the groundwork," Palumbo noted, with better-for-you but category-consistent messages.
Having rebranded already in 2012, with this iteration the company wanted to be more forward thinking — creating branding and messaging that could support a widening portfolio.
"A goal of this was to bring Love Grown under one roof and make sure we had a master brand that really worked," Palumbo said. "We didn't want to be the 'beans for breakfast' brand anymore…We're in no way tied to just using beans."
Founded in 2008 by college students Maddy and Alex Hasulak, who now serve on the board of directors, Love Grown was in 1,300 stores by 2011 and started expanding its portfolio beyond granola. Now sold in over 12,000 — mostly conventional — stores nationwide, including Safeway, Albertsons and Sprouts, the brand has shifted its focus to more traditional toasted cereal, driven by the popularity of Power O's.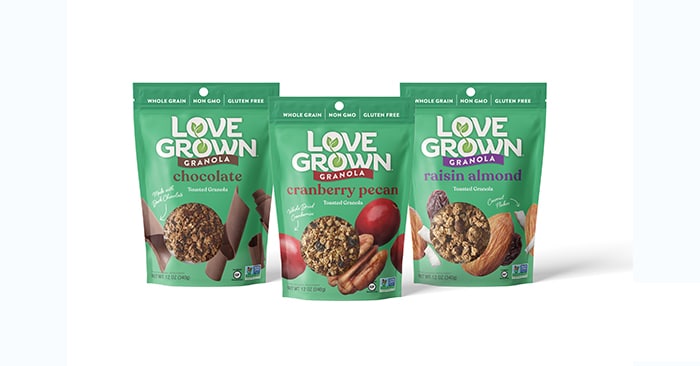 The cereal, which launched in 2014, uses a blend of navy, lentil, and garbanzo beans for higher nutritional value than the standard corn and rice-based offerings on the shelf and retails for $4.99. The brand believes that the popularity of Power O's Original flavor, with zero grams of added sugar, "speaks to where the category is going," Palumbo said. The brand's products range from $2.29 (oatmeal cups) to $5.99 (ancient grain granola), with the original granola line selling for $4.59.
When Palumbo was hired in 2017, the brand's sales had stalled due to internal errors, he said. But after spending 16 years in branding and marketing for sports nutrition brands under Premier Nutrition, Palumbo thought Love Grown's nutrient-dense cereal had "legs for the mass consumer" via its focus on real nutrition. Other issues — such as restructuring the organization and revamping its branding and marketing — he felt could be addressed.
Another challenge was educating consumers about a new product in the cereal set — especially with shoppers seemingly less interested in cereal. According to research firm Mintel, the $10.4 billion cold cereal category in the U.S. will likely decline 5% between 2018 and 2023. Indeed, large cereal brands like Kellogg have seen less North American consumption in recent years (though cereal is growing in emerging markets, Kellogg CEO Steve Cahillane noted during the company's recent third quarter earnings call.) But perhaps there's room for smaller, truly better-for-you innovations. For example, keto cereal brand Magic Spoon has seen initial success with a low-carbohydrate, high-protein cereal line.
"If we have the opportunity to look at really strong nutritional cereal that's got a base made from other ingredients, we would pursue it," Palumbo said. "Call it paleo, or keto or whatever, it's really about getting more from each meal."
Since taking on the leadership role, Palumbo has doubled the company's gross margins and helped it regain some momentum in-stores. To date, the brand has raised about $9.4 million in investment, Palumbo said, most recently $600,000 from private investors in December 2018 to support the rebrand and increases in distribution. Seeing success in Walmart and with the new branding will help prove the concept works — and likely fuel further investment and ingredient innovation, he noted.
"It's really about getting more from each meal," Palumbo said. "I think what we're trying to do is more about bringing real nutrition to everyday foods…we've got a real way to stem those declines in the cereal category."