Post Sale, Brazi Bites Adds Justin's President to Scale the Brand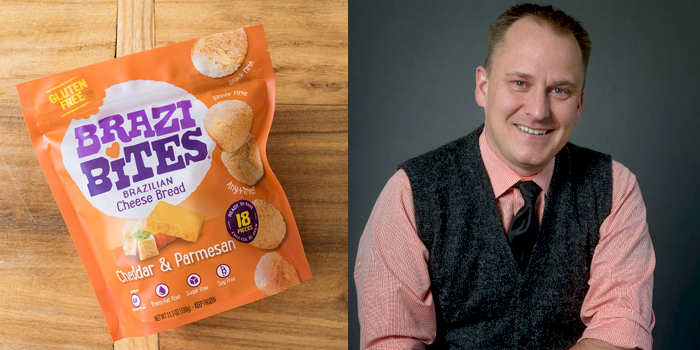 Four months after selling a majority stake to San Francisco Equity Partners (SFEP), frozen food brand Brazi Bites announced today it has brought on Michael Guanella, the former President of nut butter brand Justin's, as CEO.
In July, when the deal closed, Brazi Bites co-founder Junea Rocha told NOSH that the sale would be vital in helping the brand scale. "The company was hitting an inflection point," Rocha told NOSH. "It became apparent to us that we were missing opportunities out in the marketplace and we were just working off of low hanging fruit."
In an interview last week, Rocha told NOSH that once the deal closed, she, co-founder Cameron MacMullin and SFEP sat down to discuss the mechanics of growing the company, which currently produces several flavors of "Pão de Queijo" or Brazilian cheese bread. Together the group decided the company should look for a "qualified CEO," but thought the process would take 12 to 18 months.
But Guanella, who was transitioning out of Justin's, came onto the radar sooner than expected. "When you find the right person and the right match for your company, you have to make the move," Rocha said, adding that she will shift her focus to marketing and the consumer-facing aspects of the company.
Guanella told NOSH his family will remain in Boulder, where Justin's is based, for at least a few more years while he commutes to Brazi headquarters in Portland, Ore. Guanella added that after serving at Hormel, Justin's parent company, for over a decade, he was eager to work with an emerging brand.
"It's not a unique situation, I think, when you have someone with big brand experience or a strategic… to look at the otherside of the table and want to take a run at that," Guanella said. "To want to find a fast growing company and take the lessons that I learned at a strategic and apply it to the next stage of growth."
That next phase will start to become apparent in Spring 2019. As part of its evolution from a single product company to a platform of better-for-you Latin frozen foods, Brazi will launch its next innovation at Natural Products Expo West 2019. Rocha told NOSH the new snack line will be "the next best friend of the Brazilian cheese bread" but that "what will remain are the qualities of the ingredients and the qualities of the brand."