How The Original Soupman Turned 'No Soup For You' Into 'Soup For All'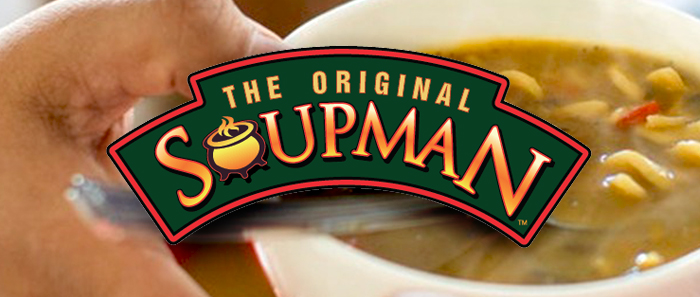 Just a few months after filing for bankruptcy, The Original Soupman — the soup franchise and producer made famous by the TV series "Seinfeld" — wants to make sure they never have to say "no soup for you" to consumers again. With a new executive team and a new strategic focus on retail and food service, Joseph Hagan, the newly named president of The Original Soupman, believes he won't have to.
The brand has a long — and at times contentious — history. Thirty-three years ago Al Yeganeh founded New York City's historic Soup Kitchen International restaurant and became the inspiration for Seinfeld's "Soup Nazi" character. He started selling his soups beyond his single storefront in 2004, and in 2009 Yeganeh sold the concept, which became the The Original Soupman, to a team that wanted to bring the same quality, small batch soups that Yeganeh served on the streets of New York to consumers nationwide through franchise restaurants and retailers across the U.S.
However, after a boom in 2014, business started to cool as the company's management team battled financial struggles including toxic debt and misallocation of funds that resulted in the brand missing or not fully filling orders for customers. After a change in CEOs in 2015 still did not solve the company's problems, investors reached their boiling point. In September, they agreed to acquire the company, along with $4.7 million of the debtor's secured debt.
"We had to repair a lot of relationships," Hagan said.
Hagan, who has been along for the brand's entire journey as a consultant, investor and now president, said despite its struggles, he believes its hardships were never a reflection of the product, but rather the prior management team's inability to channel the company's pop culture appeal into a profitable, center-store brand that followed through on its promise of quality.
"We are all motivated. It's our money; we were the investors in it for years," Hagan said. "We bought it because we said this is a thoroughbred that just needs a really good jockey, someone who cares, someone who has skin in the game and someone who's going to just operate with complete transparency and morals to take this brand to the next level."
The new management team includes Hagan as president, Bryan Guadagno as COO and Mitchell Cohen as Chief Strategic Advisor. The brand's former executive team, except for the current operations manager, was dismissed from the company.
The company also dissolved its franchise business, and said in the future they will relaunch the locations and offer greater varieties. For now, the new leadership team plans to focus on reaching consumers at retail, both in-store and online. The company announced earlier this month that they have signed with Island Fresh Foods, a wholesale food and beverage distributor and manufacturer that will enable the brand to dramatically expand its NYC-based distribution.
Currently, the line of TetraPak soups are sold in under 5,000 stores including Kroger, Publix, Ahold and HEB — a far lower number the height of the company's previous distribution. The company hopes its new strategy will restore faith among retailers that experienced missing or unfilled orders under the previous management team.
"We had to repair a lot of relationships," Hagan said. "We spent a lot of money on slotting and promotions to get in."
The company also launched its revamped e-commerce site and a new Soupman Soup Club loyalty program in late December. Both of which the company hope to be a channel for feedback and insights. Soup club members get access to new, seasonal or limited-edition lines, free-shipping on monthly soup orders and merchandise such as "no soup for you" memorabilia.
Select members will be part of a "tasting team" that provides feedback on the flavors to see if they are worthy of hitting store shelves, a key element to the business as the company plans to expand its offerings. Hagan said the company is in the process of developing an organic line, in addition to expanding its low-sodium and gluten-free offerings. While classic staples like Lobster-Bisque will always remain, in 2018 the company will also launch a "melting pot" series that embraces global flavors. The first, a chicken tortilla soup, will launch online in time for Cinco de Mayo.
Though the company is changing up its innovation and marketing, , Hagan said for now the company will continue to use its familiar branding and its TetraPak packaging.
"We not only want to bring Soupman soup to more channels from grocery to bulk to reach more people… but we want to bring all varieties to all people," he said. "We want to make sure it is not 'no soup for you,' but that it is 'Soupman soup for all."