Love Good Fats Raises $5M, Launches Nationwide in U.S.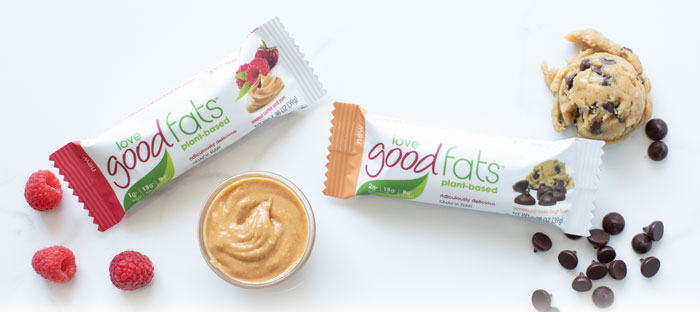 Just under two years after its launch, The Good Fat Company, producer of the Love Good Fats brand, is putting on some weight. In addition to its nationwide launch into the U.S. market, the ketogenic diet-focused company today announced the close of a $5 million round of funding and the launch of a new product line.
Including this latest round, Love Good Fats has raised a total of $9.4 million from a pool of 40 undisclosed investors. Founder and CEO Suzie Yorke told NOSH the investors are "CEO's, founders, retailers, or main drivers in iconic Canadian companies." Although offered investment by five U.S. venture firms, Yorke said, she decided against pursuing investment from a firm at this time in order to maintain more control of the company.
Love Good Fats has enjoyed rapid sales growth since this summer, going from being sold in 200 doors in Canada to roughly 2,500, including Walmart, Whole Foods, Loblaws and Costco. It has also grown from offering two bars to six, including two plant-based options, and added 15 employees.
Yorke told NOSH that, after directing previous funding towards supporting product and sales growth, this round, which Yorke estimates will take the brand through 2019, was needed for its next phase of expansion.
That includes the brand's U.S. retail debut at Whole Foods Market in January. The retailer will have a 90-day exclusive (excluding online sales) for Love Good Fat's bars. Yorke believes the brand will add at least 1,000 more doors over the next year.
"The vision is to be a brand that changes how people eat. And we have a phenomenal product that we can't keep on the shelves in Canada, so to scale in a big way in the U.S. and to go fast, you need more capital," Yorke said. "If I wanted to do the same that I'm doing [now] over a five year period, I wouldn't have need to raise much."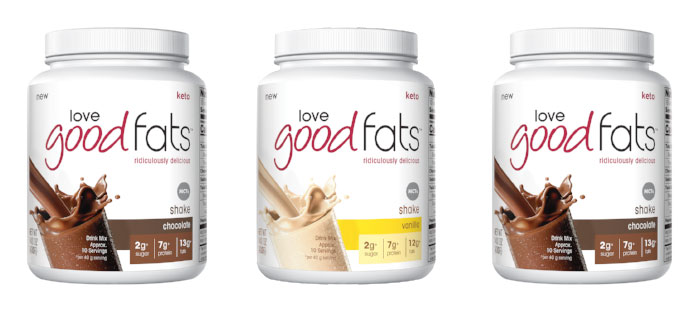 Love Good Fats will also launch two new shake powders this week, which the brand suggests consumers mix with cream.
The new line is the first step in Yorke's plan to expand Love Good Fats' selection of high-fat, low carbohydrate, clean, convenience-oriented foods throughout the store. Eventually the portfolio will include fresh and frozen options as well. Unlike diet options of the past, such as Atkins or Snackwells, Love Good Fats plans to only use ingredients consumers can understand and that are "natural." That means, Yorke said, no sugar alcohols — a commonly used ingredient in bars and shakes.
Yorke, a former performance athlete who has competed in 11 triathlons and formerly was a VP of marketing at Weight Watchers, told NOSH that she understands how hard it is for consumers to stick with a healthy diet. However, she added, new research shows that much of the old low-fat messaging was actually incorrect.
"A Ketogenic or low-carb diet is bar none better for your health in the long term," Yorke said. "Eliminating sugar and reducing carbs has a tremendous positive impact and that's what the brand message really is: it's okay to eat and love good fats and embrace that. Because we've all had forty years of misinformation."