Iwon Organics Puffs Up Product Portfolio and Distribution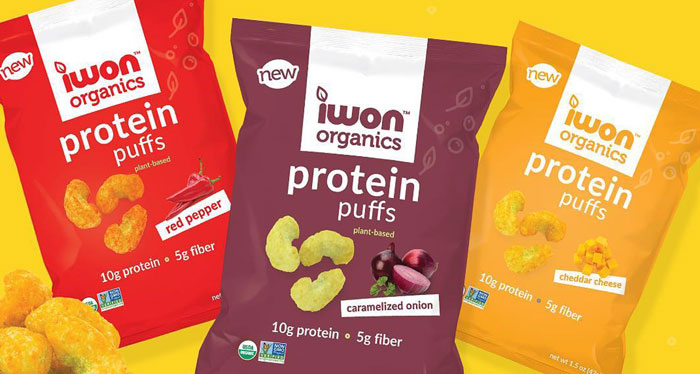 Iwon organics, a high protein chip brand targeted at athletes and health conscious consumers, announced this week that it's bringing protein to a new salty snacks category: puffs.
The puffs will be available in more than 4,500 GNC stores in October, and the three flavors — cheddar cheese, caramelized onion, and red pepper — will retail for $2.49 per 1.5 oz. bag. The line is made from peas, rice flour and pea protein, and touts claims such as gluten-free, organic, and non-GMO. The launch with sports nutrition leader GNC comes shortly after the retailer added the brand's protein chip line to 2,500 stores in July.
The puff category has been growing quickly with many new entrants as of late, but iwon founder and CEO Mark Samuel told NOSH that he thinks the new line differentiates itself with organic ingredients and a higher protein and fiber content.
"The puff snack just fit exactly who we are," Samuel said. "We are really going after the savory protein snack category and with the puffs I saw had a void with anything that has to do with protein so I thought it would be a really good opportunity for us."
While high protein and winning macronutrient ratios have been the foundation of the brand since its launch in 2016, Samuel said the company has become more focused on flavor for both its chips and puffs. The iwon chip line was reformulated numerous times, the most recent being last year's rebranding. Samuel said that since iwon is his first foray into the food and beverage space, he's made some mistakes along the way, including formulating his product to compete with other protein snacking brands like Quest.
"I wanted to have a product that was better than theirs because that was all I could really reference. But I didn't do what I should have which was to forget about everyone else and create a great tasting snack," Samuel said. "Whether it is now the puffs or the two or three other things in the pipeline, it is now taste first and all the bells and whistles that support who we are and our mission as just the cherry on top."
The most recent rebrand and reformulation was part of an "overall strategy reset" for the brand in which it focused on the sports nutrition channel. A year later, iwon can be found in over 5,000 stores with retailers like GNC and Vitamin Shoppe, as well as independent nutrition stores and military bases via a partnership with the U.S. Armed Forces. According to Samuel, revenues have grown 300 percent in the past 12 months since the rebrand and "reset" compared to the previous year.
While Samuel thinks his products would also be good fit in the natural grocery channel, he said the single-serve, on-the-go nature of his portfolio is not synergistic with that channel yet.
"This sounds crazy but if Whole Foods called me today and said we would like to bring in your product I would probably say no because we are not prepared for Whole Foods and Whole Foods is not prepared for us," he said. "I think we would be highly successful in a 5-ounce bag sitting on the shelves next to Luke's. But right now they wouldn't know where to put us."
As iwon continues to scale, more innovation is expected by the end of this year. The company is also working to make all the products within its portfolio vegan. Though there are many goals with innovation, Samuel said the brand will always focus on offering athletes and other health-conscious consumers snacks with good nutrition, taste and texture. He credits the brand's recent growth and newfound strategy to "getting his butt kicked."
"We have learned from our mistakes," he said. "I learned about distribution in food and beverage; I've learned about how you can quickly put yourself out of business if you are not very aware of how things work, and by us taking a step back, we know where we are at and what we want to do."