EnWave Uses Moon Cheese Innovation to Flex Tech Capabilities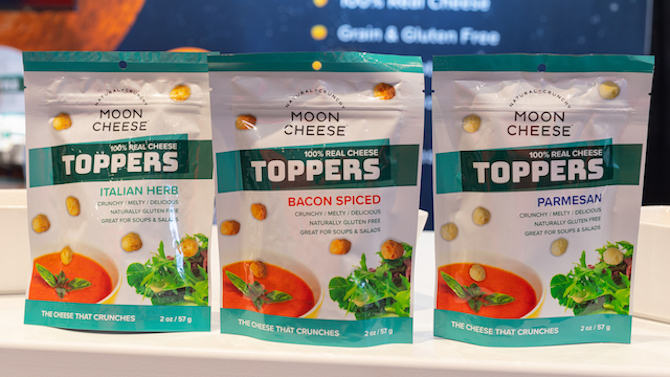 Sometimes seeing is believing, even in the food industry. Vancouver-based EnWave Corporation has built its business model on that notion, which has fueled the development of its proprietary Radiant Energy Vacuum (REV) technology and Moon Cheese, its internally developed crunchy cheese snack brand that highlights this technology's use cases.
Launched in 2014 by NutraDried Food Company, a wholly-owned subsidiary of EnWave, Moon Cheese was initially created as a proof of concept and testing ground for REV technology. For years, Moon Cheese sold one product line: snackable, single-ingredient crunchy cheese crisps sold nationally in three flavors in Starbucks stores.
In 2017, EnWave brought in $16 million, $7 million of which came from the sales of Moon Cheese and the rest of which came from machinery sales and licensing agreements. For the next phase of its growth, Moon Cheese is launching new products and expanding its retail footprint to not only grow its own business, but also to illustrate REV's commercial viability for potential global licensing partners with new ingredients beyond cheese.
At this month's Summer Fancy Food Show in New York City, the brand debuted its two newest products — toppers and mix-ins — to expand the product into new eating occasions and appeal to customers with bolder palettes. The salad and soup toppers stick to the same base ingredient of dehydrated cheese, but in three new varieties — bacon, parmesan and italian herb — and larger package sizes. The mix-ins line utilizes the REV technology on both cheese as well as other produce to make a protein-heavy, trail mix alternative. The lines are expected to hit stores by early 2019 and will retail for $3.99-4.99.
Brent Charleton, senior VP of Business Development and Sales at Enwave, told NOSH that one of the goals behind the innovations was to build brand recognition and consumer awareness by introducing Moon Cheese into new areas of the store such as the produce section.
"Starbucks allowed us to raise the level of the brand and product types in the mass market," Charleton said. "The hope for us is that we can continue to offer the market this more premium offering in different formats that are attractive for different occasions."
Retailers have responded well to the products, Charleton noted. This month, Whole Foods Market and Publix Markets both added Moon Cheese to all stores, bringing the brand's store count to over 25,000 locations. Moon Cheese has also added club accounts, launching into select regions of Costco in a larger package.
To meet this new demand, NutraDried announced this week that it is doubling its production capacity by bringing online new, additional REV machinery to increase output. The expanded facility will be fully operating by September.
In terms of future product innovations, Charleton noted that any lines made with cheese will continue to be launched under the Moon Cheese brand. However, the company is not ruling out sister brands to Moon Cheese to highlight the technology's use cases, even beyond dairy.
"We are sticking to our core competency, which is innovative, crunchified, healthier snack products that are typically single ingredient [or] a very short ingredient deck," Charleton said. "But the diversification of products that you are going to see from NutraDried Food Company is going to be a representation of what this technology can empower a company with."
Beyond Moon Cheese, Enwave is also focusing on licensing opportunities, which currently account for over half of the company's revenue. Currently the company has more than 20-royalty bearing licencing agreements in the food, cannabis and pharmaceutical sectors. Within the food space, companies include AvoLov, an emerging avocado snack company, Arla Foods, the world's largest manufacturer of organic dairy products, and government agencies such as the U.S. Armed Forces.
Charleton told NOSH that Enwave is in discussions with companies in the fruit, meat snack and spice sectors. However, he said he is particularly excited to watch the growth of Canada-based Agropur Dairy Co-operative's Ultima Foods, which launched its iögo Protein Crunch yogurt snack products in April.
"I really feel this has the same potential as Moon Cheese in terms of replication and multiple geographic locations with different partners," Charleton said. "It is the first of its kind yogurt snack where we have been able to preserve the viability of the yogurt cultures in shelf stable form so they can make the marketing claims for the health benefits associated with it."