A Breakdown of the USDA's GMO Labeling Proposal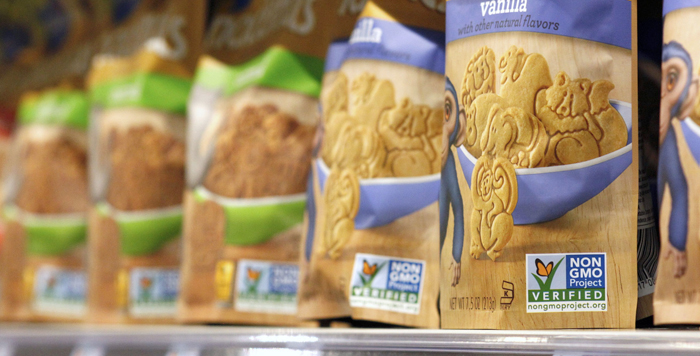 Mandatory labels for genetically modified organisms (GMOs) are finally coming to your food.
Yesterday, the U.S. Department of Agriculture (USDA) published a proposed rule to establish standards for the disclosure of bioengineered foods on packages in places where consumers can easily find them. However, the long-awaited proposal leaves industry leaders with just as many questions as it does answers.
"This rulemaking presents several possible ways to determine what foods will be covered by the final rule and what the disclosure will include and look like," Agriculture Secretary Sonny Perdue said via a release.
Don't worry; the NOSH team read the more than 100-page document so you don't have to. Here are the main takeaways.
There's now an official definition for bioengineered food.
To define bioengineered food, the USDA first needed to define "bioengineered" and "food" independently. The result: "bioengineering," with respect to foods, refers to "a food that contains genetic material that has been modified through in vitro recombinant DNA techniques" and material that cannot "be obtained through conventional breeding or found in nature."
Under this definition, all foods that "mainly consist" of crops predominantly planted in biotech varieties would be required to be identified as bio-engineered food. Think canola, field corn, soybeans and sugar beets. One important thing to note: "genetically modified," a more recognizable phrase to consumers, is not the phrase included in this labeling effort.
There are some exceptions for what actually triggers the need for a bio-engineered food label.
The USDA is leaving itself some wiggle room here. The agency is seeking comment on whether it should exempt highly processed foods, such as high-fructose corn syrup, which the department suggests may have lost its GMO/bioengineered content.
It is also unclear as to the amount of GMO content in food that would require the use of a label. There is debate around whether labeling should be triggered when GMO ingredients make up more than 0.9 percent or 5 percent of the product's weight, according to the USDA. The department is seeking more comments on the issue.
The USDA is also still exploring how it should handle the labeling of enzymes, yeast and a number of foods produced in controlled environments that use bioengineering. The decision could ultimately affect products from breads to fermented foods and yogurts.
There are also categories that will be exempt from GMO labeling requirements. That includes certified organic food makers and foodservice products sold in locations like supermarkets, hospitals, convenience stores, and restaurants.
Mixed food products with meat, poultry or eggs will play by a different set of rules.
According to the proposal, multi-ingredient food products that contain broth, stock or water as the first ingredient and a meat, poultry or egg product as the second ingredient are not subject to labeling. But if the third most predominant ingredient is a meat, poultry or egg product (soup, for example) the company is required to disclose that it contains bioengineered ingredients.
What those animals eat, however, will not see changes under the proposal. Whether livestock feed contains GMOs or not will not affect how these animal-derived foods are labeled.
There are three options for how companies can communicate GMO labeling to consumers.
If a product meets the requirement for labeling, food companies will have three options for how they disclose products' GMO content to consumers. According to the proposal, manufacturers can deploy a one-sentence label declaration, a standardized icon or a QR code, which directs shoppers to a website for more information.
While some interested parties, like the industry group Grocery Manufacturers Association (GMA), praised the USDA for allowing companies to use digital QR codes as means of label communication, others think this method could be deceitful to the consumer since not all shoppers use or want to use their smartphones to make split-second decisions at the store.
The label icon itself is open for debate.
The USDA is proposing a seal that says "BE" (bio-engineered) for any food product that fits the definition. However, the USDA is looking for more feedback on whether the icon should look like a leaf in a field, a sunburst or a smiley face.
What's next?
It looks unlikely the USDA will meet the July 29 deadline to finalize the rule, since the deadline for public comment on this question-laden proposal is July 3. However, if the approval process is anything like the Food and Drug Administration's (FDA) Nutrition Labeling bill, it could take a while for this to come to fruition.