Non-GMO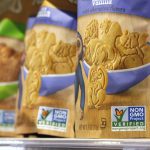 Don't worry; the NOSH team read the more than 100-page document so you don't have to. Here are the main takeaways.
Lightlife today announced that all of its great-tasting, plant-based products have achieved Non-GMO Project Verification and will continue to display the Non-GMO Project Verified butterfly seal across all products at shelf.
Furthering its commitment to help food and beverage customers address growing consumer demand for non-GMO product offerings, Cargill has announced an identity preservation process and several additional Non-GMO Project Verified food ingredients.
Purely Pinole, the first brand to introduce the Aztec power food pinole (pih-nol) to the U.S., is pleased to announce it has earned Non-GMO Project Verification across its entire line of delicious hot breakfast cereals.
With over 500 private brand items now on shelf and hundreds more soon to be launched over the next six months, Earth Fare's commitment to transparency provides shoppers with the best quality food at compelling prices. It is the culmination of two years of research and development to provide healthy food that is affordable and great-tasting, every day.
Coconut Beach, a San Diego-based company that offers coconut water and chips at unprecedentedly affordable prices nationwide, announced today that they have earned non-GMO certification from The Non-GMO Project.
The leading global provider of ingredient solutions to diversified industries announced nine of its key sweetener, texturizer and nutrition solutions have achieved Non-GMO Project Verified status.
Oregon Fruit Products, in a show of commitment to providing the highest-quality fruit products for today's highly-informed, health-conscious consumer, is proud to roll out several key changes to the labels for its retail line.
As demand for non-GMO food rises, Cargill has for the first time taken the step to gain Non-GMO Project Verification for three of its food ingredients.
Smart Flour Foods is announcing Non-GMO Project Verification for its popular pizza crusts.