Coconut Beach Receives Non-GMO Project Certification
SAN DIEGO, Calif.:Â Â Coconut Beach, a San Diego-based company that offers coconut water and chips at unprecedentedly affordable prices nationwide, announced today that they have earned non-GMO certification from The Non-GMO Project. Coconut Beach products, which retail for 99 cents SRP per unit, will now bear a Non-GMO Project Verified seal, the most trusted and recognizable non-GMO label in the natural food space.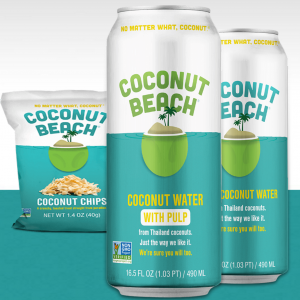 The products that will sport the seal include the 100% Pure Coconut Water, Coconut Water with Pulp, Coconut Milk Drink, 100% Natural Coconut Chips and Dark Chocolate Coconut Chips. The new packaging, updated with the non-GMO label, will also include single-serving nutrition labels.
More than just another coconut water company, Coconut Beach is changing the game by selling its products at less than half the price of their competitors, without sacrificing taste or quality. The products are packaged straight from the coconut in Thailand and are therefore never made from concentrate. They are also vegan, gluten-free and dairy-free, so they can be enjoyed by consumers with a range of dietary restrictions and budgets.
"Our products have been made with pure ingredients since day one, and this third-party verification is deeply rewarding because it proves that quality can come without an expensive price tag," said Coconut Beach Co-Founder, Mitchell Compton. "We're confident that this label will allow us to reach an even wider customer base across key markets and, ultimately, drive sales."
After just one year in distribution, Coconut Beach boasts a retail footprint of more than 15,000 stores. The products are available in Dollar Tree, Grocery Outlet, Foods Co. and Food 4 Less stores nationwide; in 99 Cents Only stores across the Southwestern United States; and on amazon.com and coconutbeach.com.
About Coconut Beach:
Coconut Beach is revolutionizing the way we view healthy food and beverages by offering quality coconut water and snacks at affordable prices to make a healthy, happy and hydrated lifestyle accessible to all. Not so much a location as a state of mind, Coconut Beach is about a shared set of values. The San Diego-based company believes in acting with integrity and strives to produce only the most delicious, naturally flavorful snacks and drinks. The products refresh, replenish, nurture and delight, while complementing an active lifestyle. All Coconut Beach products are made and packaged straight from the coconut in Thailand, meaning they are completely free of concentrate. Coconut Beach supports Thailand's local farming communities by working with suppliers that provide fair wages and safe conditions, and the company does not employ animals in any step of production. The founders are Mitchell Compton II, Michael Reidy and Kent Harrington, who reside in San Diego.