3 Brands Use Innovation to Enter New Aisles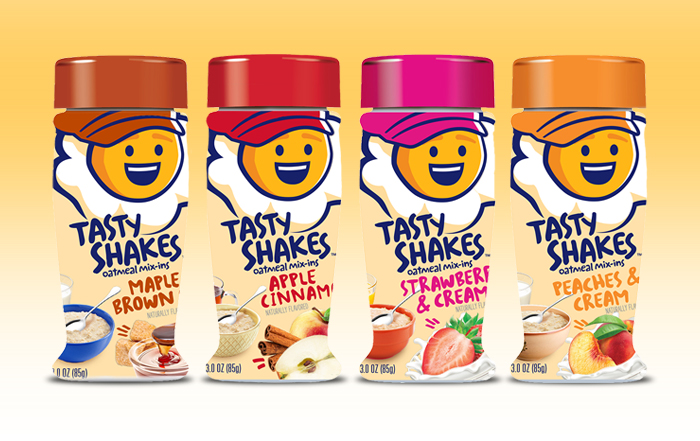 Brands with the ability to transcend their original product line can bring more value to retailers and consumers. This month, three companies announced they are testing that theory as they make move into new areas of the store.
Popcorn seasoning brand Kernel Season's, oat-based food brand Quaker Oats and squeezable applesauce company GoGo Squeez all announced new products to move beyond their legacy offerings, eating occasions and consumers.
Kernel Season's Pops Into Oatmeal Aisle With New Toppers
Earlier this year Chicago Custom Foods LLC, the maker of popcorn seasoning brand Kernel Season's, was sold to private equity firm Highlander Partners. At the time, Kernel Season's CEO Scott Lerner hinted that the company would soon be positioning itself as a leader in the broader seasoning space. Now, the company has announced its first innovation beyond popcorn with the launch of Tasty Shakes, a line of oatmeal seasonings.
"We obviously have a big presence within the microwave popcorn aisle and our products serve as a compliment to blander [products]," Lerner said. "We started to look at categories that maybe had limited innovation or lacked dynamic flavor profiles, and that had an opportunity to take the same game plan that we have done in popcorn and bring it to another section of the store."
The toppers — available in maple brown sugar, apples and cinnamon, strawberries and cream, and peaches and cream for about $3 each — are made with natural flavors. They also clock in at two grams of sugar per serving — far less than many flavored instant oatmeal options. Lerner believes this element of sugar control will resonate with the brand's core consumers, moms.
The toppers are currently being tested in about 300 Walmart locations. Lerner told NOSH that he expects the product to be sold in 3,000 retailers by the year's end, aided in part by the brand's already expansive retail footprint of over 22,000 retailers. Food service will also play a pivotal role in the company's distribution strategy.
"We weren't just looking to grow as fast as we can," he said. "We see this Tasty Shakes business as having the potential to be as big or bigger than popcorn because the category is bigger, it is on trend, and it is growing."
Lerner said future innovations will continue to position the company as a leading seasoning and topper brand across numerous categories in order to reach more consumers across all day parts.
Quaker Announces 'First Foray' Into Chilled Category
Oatmeal leader Quaker is bringing its legacy center store brand to the perimeter. The 140-year-old company has launched a Morning-Go Kit as its "first foray" into the chilled category with its own branded product. Each kit includes trail mix, Quaker Breakfast Flat Bars and a cup of Greek yogurt in an offering that plays to protein and meal kits.
Quaker's parent company, PepsiCo, previously partnered with the Theo Muller Group to create a line of yogurts with Quaker granola toppings, which was released under the Muller name.
Quaker Senior Director of Innovation Strategy Brian Hannigan told NOSH that the goal with this new product is to reflect the priorities of today's nutrition-forward consumer.
"Consumer desires are always at the heart of Quaker's innovations, and we're seeing breakfast in particular increasingly becoming snackified," Hannigan said. "Simultaneously, consumers don't want to compromise on nutrition, so the convenience of a kit allows for Quaker to show up 'beyond the bowl.'"
Quaker's Morning Go-Kits are currently being tested at limited retailers for $3.99, but the product will launch nationally this fall.
GoGo Squeez Looks to Age Up with Tweens
Squeezable applesauce pouch GoGo Squeez is looking to age up with its newest line, BlastZ.
The pouches are made with "tweens," or kids ages 8 to 12, in mind. Made with 100 percent fruit, the new line has bolder flavors — Raspberry Rush, Berry Madness and Tropical Burst — and is served in a larger 3.9 oz package.
While baby food pouches now make up 25 percent of the U.S. baby food market, according to The New York Times, the U.S. adult squeeze pouch fruit and vegetable snack market is still somewhat small, just shy of $450 million. The question has now become which brand can "grow up" the fastest.
GoGo Squeez is launching this innovation because it believes the product has the popularity and market share to stay relevant to its original consumers as they transition to adulthood.
"GoGo squeeZ has been trusted by families for many years, so we wanted to maintain the brand familiarity, while also creating a new sub-brand with BlastZ being the hero name," Helene Helene Caillate, the CMO of GoGo Squeez told NOSH. "For older kids that grew up with GoGo squeeZ, this is the perfect snack to take with them as they move into their tween years that's a little bigger, bolder, and brighter."
Caillate said the company targets its marketing campaigns on parents while still appealing to tweens through branding, packaging and voice.
Because tweens are digital natives, GoGo Squeez is also focusing much of its marketing efforts on social media and building relationships with partners such as USA Surfing, according to associate brand manager Dennis Katsnelson. The company is also sponsoring several Minor League Baseball teams, and sampling BlastZ throughout the country in places such as the ESPN Wide World of Sports Complex in Florida.
"We want to make sure that tweens know this is for them and make [our sites] a destination where they can see how the brand comes to life with its own unique personality, separate from the core GoGo squeeZ applesauce products," Katsnelson said.