People Moves: Teton Waters, Blue Circle and Bonafide Attract Natural Veterans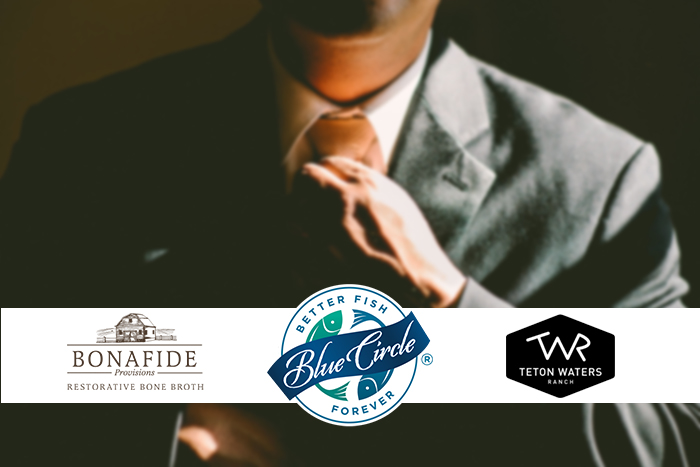 In the post-Expo West hustle, several industry leaders from brands and retailers alike have taken new positions with up-and-coming natural brands. Several of the additions come after recent rounds of funding, which have enable the companies to scale their hiring.
Teton Waters Ranch Ramps Up Hiring
Over the past month, Teton Waters Ranch, a producer of food products made with grass-fed beef, has brought on two natural products industry leaders to fill key leadership roles.
In March the company announced that Walt Freese was joining the company as CEO as Jeff Russell, Teton Waters Founder, shifted his role to focus on supply chain partnerships. Freese joins the Sunrise Strategic backed brand after working at a number of companies, including Ben & Jerry's, Celestial Seasonings, Stonyfield Farm and, most recently, The Sterling Rice Group.
Freese told NOSH that throughout his career he's looked for mission-driven companies with strong values.
"I have really sought throughout my career to be associated with those businesses and brands that were truly going to be transformative in terms of health, the environment, social and economic justice," Freese said. "What excites me so much with Teton Waters Ranch is the tremendous potential of Grass Fed in beef."
Freese connected with Teton Waters through Sunrise Strategic founder and CEO Steve Hughes, who he worked with at Celestial Seasonings. Along with the chance to work, indirectly, with Hughes again, Freese was impressed by Russell's vision for the brand as well as excited by another Teton Waters investor, Armonia, an impact investing fund managed by a family office.
David Ranchlin will also be joining the company as CMO. Like Freese, Ranchlin has spent time at several leading edge natural product companies, including Pete and Gerry's Organic and Nellie's Free Range Eggs, Ben & Jerry's and Boursin Cheese.
While Freese is still charting a course for Teton Waters, he told NOSH that three general areas of focus will be their supply chain, product innovation and expanding the brand's retail presence.
"We're focusing right now on expanding our distribution. One of the consumers we get asked most often by consumers is 'can I buy it at x?'" Freese said. "What we want to be able to do is make sure this product is more broadly available where they shop."
Blue Circle Hires Former Whole Foods Market Global Coordinator
Sustainable Seafood brand Blue Circle Foods announced the hiring of David Pilat as its new VP of Business Development.
Pilat spent over 12 years at natural products retailer Whole Foods Market, most notably serving as the company's first Global Seafood Coordinator and buyer. According to a press release, Pilat helped establish Whole Foods' aquaculture and wild standards for seafood products. Previously, Pilat held the role of regional seafood coordinator for the North Atlantic and Northeast regions, where he helped oversee Pigeon Cove, Whole Foods' seafood processing facility and dock.
"David is a true industry leader and spurred a retail revolution as it applies to creating stringent seafood standards," Bill Cole, President of Blue Circle Foods said in a press release. "His breadth and depth of experience working hand in hand with fisheries to develop greater sustainability practices is the perfect complement to Blue Circle Foods' vision of changing the industry."
Blue Circle, which was established in 2005, is the parent company of the Changing Seas sustainable seafood brand, which is sold exclusively at Whole Foods Market.
Red's All Natural Scales Sales Team
Four years after joining Snack Factory, makers of Pretzel Crisps, Rudi Fischer has left the Snyder's-Lance owned brand to take on the role of VP of Sales for Red's All Natural.
At Snyder's-Lance, Fischer rose through the ranks eventually ending his tenure at the company in dual role as General Manager for the Snack Factory brand and VP of Sales for Grocery Perimeter and Club Channels for all Snyder's-Lance brands. Fischer also previously served as VP Sales for Snyder's-Lance's "Clearview Division" of better-for-you brands.
Bonafide Adds Beverage Veteran
Just after recently launching their first RTD, a bone broth and vegetable drink, Bonafide Provisions has added John Wahl to the company roster. Wahl will join the bone broth producer as a VP of Sales.
Wahl most recently spent time on the sales teams at Brami snacking beans and Bitsy's Brainfood, but previously was the National Sales Manager for Odwalla Juices and Director of National Sales for Mamma Chia.
Bonafide recently closed a second round of funding from Boulder Investment Group Reprise (BIGR), an investment firm founded by the former managers of Boulder Brands' venture capital group.